NBA Trade Rumors: Orlando CEO Kills Dwight Howard to Lakers Rumblings
February 27, 2012

Ronald Martinez/Getty Images
Dwight Howard is not going to play for the Los Angeles Lakers anytime soon, according to Orlando Magic CEO Alex Martins, who told the Orlando Sentinel that the rumor about trading Howard to the Lakers is false.
From the Sentinel:
And they are saying that a rumor making its way around Orlando that they've reached a deal with the Los Angeles Lakers and a third team is totally false. 

The scuttlebutt is that the Magic would send Howard, Hedo Turkoglu and Jameer Nelson to the Lakers and the Magic would receive Andrew Bynum and Pau Gasol. A third team, the Toronto Raptors, could be part of the deal or in a separate trade with the Magic, sending point guard José Calderon to Orlando.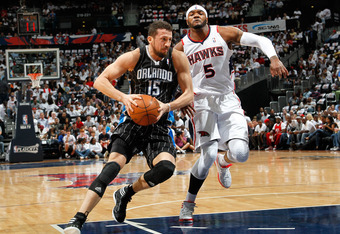 Kevin C. Cox/Getty Images
The rumored trade would have helped Orlando if they would depart with Howard. The Magic would get two talented players in Gasol and Bynum, while freeing Turkoglu's $10.6 million cap hit in 2011 and $11.4 million cap hit in 2012.  
If this projected trade rumor is something that Orlando was offered from Los Angeles, they would be smart to accept it.  
However, the Magic have said they will meet with Howard around the beginning of March. They have until March 15th to make a decision about whether they want to move Howard or keep him in an attempt to re-sign him during the offseason. 
This statement by the Magic's CEO could just be a ploy to keep the door open for other teams to make an offer for Howard.  
If they would come out and say that the Lakers are the front-runner for Howard, it would deter other teams like New Jersey or Dallas from offering a better deal before the deadline. 
Orlando should crush trade rumors about Howard for now. The Lakers are still in the running for the Magics' best player. However, for now, please hold off on pre-ordering those No. 12 Lakers jerseys with Howard's name on the back.