NBA Slam Dunk Contest: LeBron James' Participation Worth a $1 Million Prize
February 25, 2012

Kevin C. Cox/Getty Images
LeBron James haters and LeBron James, um, lovers can all agree on one thing.
Man, how freaking awesome would it be if LeBron participated in the Slam Dunk Contest?
Very awesome. Very, very, very awesome.
But he just won't do it. He's apparently too cool for the Dunk Contest. I say that because I've lost track of all the various reasons he's given over the years.
I assume he's too cool for it because, well, he's too cool for most things (i.e. cutting up his own steak).
LeBron gave his latest reason for not competing in the Dunk Contest on Friday in Orlando:
"It's not me," he said, courtesy of CBSSports.com. "I'm not a dunk contest type of guy. I'm an in-game dunker. I kind of improvise during the game.''
Okay, that's cool. I guess.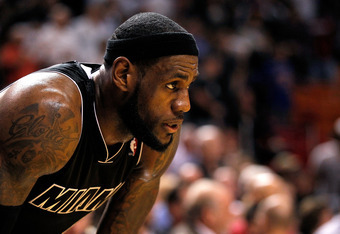 Mike Ehrmann/Getty Images
But would anything make King James change his mind. Like, you know, a million dollars?
Actually, yes.
"Then I'd reconsider," he said when somebody proposed the possibility of a $1 million prize. "Wouldn't you?"
Sigh.
Dammit, LeBron. Don't you realize people are going to take this and turn it into yet another reason to dislike you? This is "Blame it on LeBron" fodder, man!
Some people no doubt will take this as a chance to rip LeBron, but I'm not going to do that.
All I'm going to say is this: Quick, somebody find a dude with a million dollars to spare.
I mean, if that's all it's going to take to get LeBron to even consider the Dunk Contest, I say do it. A million dollars is a small price to pay to give the world a shot at seeing LeBron flying high in the Slam Dunk Contest.
Before you speak even a single word in disagreement, watch this:
Take John Lucas out of the equation, and that's a ridiculous Dunk Contest dunk.
Put John Lucas back into the equation, and that's an all-timer.
And we already know LeBron can do this. Seeing as how Dunk Contests are all about surprises, the possibilities would be endless.
So, who has a million bucks to spare?
If you're a millionaire looking to make this happen, hit me up on Twitter and we'll combine our efforts.