Knicks vs. Heat: How Miami's Dynamic D Contains Attacking Point Guards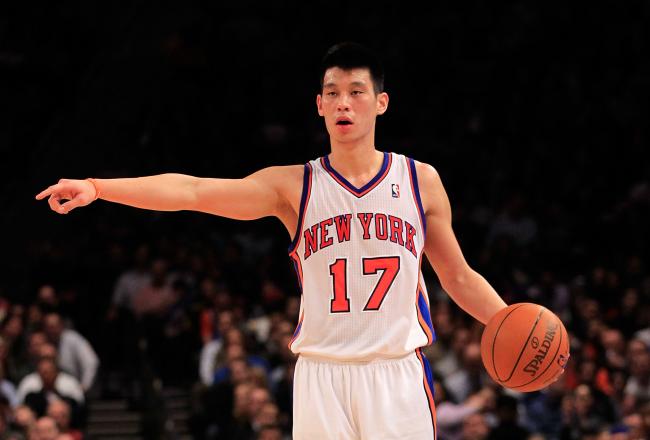 Chris Trotman/Getty Images
All eyes will be on Jeremy Lin and LeBron James as the New York Knicks and Miami Heat square off on Thursday night before the All-Star break arrives.
The two teams have very different records entering the highly anticipated matchup with the Knicks at 17-17 and the Heat sitting at an impressive 26-7.
However, both clubs have been playing a solid brand of basketball of late and most are expecting a closely contested battle.
Miami is currently first in offensive efficiency, while New York ranks all the way at No. 24 in the league.
On the flip side, the Heat rank fifth in defensive efficiency, while the Knicks come in at a much more respectable sixth.
During New York's recent surge, it's been more about the improved play on the defensive end of the floor than an uptick in the offense, but that many are wondering if that is a sustainable trend going forward.
With Amar'e Stoudemire and Carmelo Anthony both back in the lineup and known to be less-than-stellar defenders, the Knicks might not be able to continue to play the suffocating style of defense that the team had boasted previously.
Tommy Beer of Hoopsworld provides a solid breakdown of the issue the Knicks now face.
Amar'e Stoudemire was a below-average defender even when he was fully healthy. Watching STAT this season, it is clear that he has not bounced back completely from the back injury that limited him last season. The spring in his step and the athleticism simply hasn't returned.

Melo has been a labeled a lazy defender since he entered the NBA and hasn't done much to disprove that reputation. Yet, during his short stint in New York, he's made some small strides. Melo exerts energy on the defensive end, but his has poor technique and he often over-pursues leaving him out of position.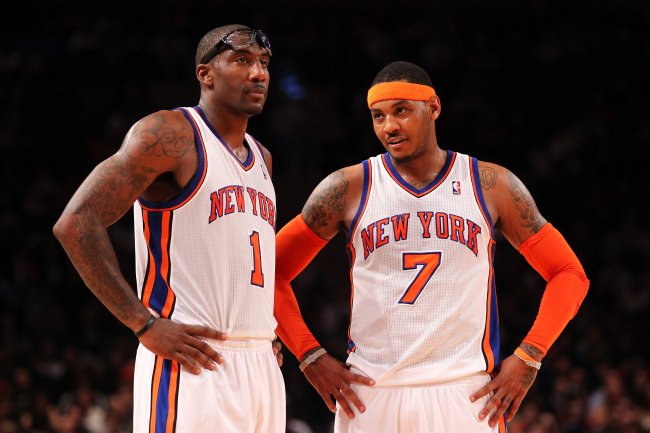 Al Bello/Getty Images
Minutes that had previously gone to plus-defenders Jared Jeffries and Iman Shumpert will no longer be available to them, and that could very well hurt how effective the Knicks can be defensively.
And that's not the only issue.
Mike D'Antoni now has to integrate both J.R. Smith and Baron Davis into the rotation as well, and although Steve Novak has played well on the offensive end, he's not someone who is considered a threat on the defensive side of the ball.
The Knicks have to find a way to slow down Miami's ability to penetrate through the defense while simultaneously paying attention to the perimeter because of the knockdown shooters the Heat have on the roster.
But again, that's not the biggest issue.
Since Lin has taken over the point guard spot for New York, he has made his living attacking the basket in a variety of ways.
He uses floaters to find his points, pick and rolls and the dribble-drive style of offense to find his teammates and has shown no fear in his style of play.
There is one thing that Lin has had trouble doing on a consistent basis—going to his left.
And guess who plans to take on the assignment of guarding Lin? That's right—LeBron will take that challenge.
Although Lin has shown that he's been able to get by a variety of defenders to date, nobody he's faced is anything like James. Frankly, nobody has been even close.
Lin has legitimate size at 6'3" and 200 lbs., but James is a swarming presence at 6'8" and 250 lbs.
Erik Spoelstra has previously made it a point of emphasis in his game plan to keeping a body on the opposing point guard and making sure he stays out of the paint, and that is exactly what the Heat will have to do to Lin.
Miami can live with Lin taking jumpers from the perimeter, because if the team is able to keep him out of the key consistently, it greatly limits what he's able to accomplish using the pick and roll.
The Heat have had a strong defensive approach to the pick and roll since last season, and that hasn't changed for the 2011-12 campaign.
An incredibly quick group, Miami's impressive athleticism allows the team to use traps at various spots on the floor, and that is another way the Heat could look to slow down Lin.
Lin has shown that he has some trouble when forced to make a quick decision with the basketball, and if Miami can force him into using his left hand in those situations, he may be more prone to turning the ball over.
The other element that plays in favor of Miami on the defensive end of the floor is the ability to rotate.
We've seen players get lost attempting to fight through a screen set at the top of the key for Lin, but the Heat rotate on assignments well and rarely leave a clear path to the basket.
It's going to be tough for Lin to penetrate with the same success he has been doing of late against a very strong Miami defense that is capable of defending opposing point guards very well.
This article is
What is the duplicate article?
Why is this article offensive?
Where is this article plagiarized from?
Why is this article poorly edited?