Why Steve Nash for Pau Gasol Works for Los Angeles Lakers and Phoenix Suns
February 21, 2012

Christian Petersen/Getty Images
On December 8, 2011, according to Adrian Wojnarowski, the Los Angeles Lakers acquired Chris Paul in a three-team trade that would have sent Pau Gasol to the Houston Rockets and Luis Scola, Goran Dragic, Kevin Martin and Lamar Odom to the New Orleans Hornets.
This trade was fair for all the teams involved, which was obvious by the case that all three teams, the Hornets, Rockets and Lakers, agreed on the deal.
And while the trade was going to let the rich get richer, in regards to the Lakers, they were giving up a lot.
In trading Pau Gasol, the Lakers were giving up one of the most athletic big men in the league, as he is a four-time All-Star and a contributor in two Finals. In Odom, they were offering up the reigning Sixth Man of the Year and an extremely versatile forward.
But, it obviously did not happen. A few owners balked, and the emperor, I mean NBA commissioner David Stern cancelled the trade, and he had every right to, since the New Orleans Hornets are owned by the NBA up till this point.
Well, here is a trade that the almighty Stern cannot stop, since he does not own the Phoenix Suns. The Lakers send Pau Gasol, Darius Morris and a first-round pick to the Suns for Steve Nash and Hakim Warrick.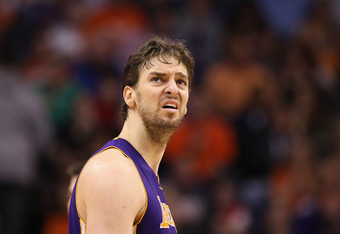 Christian Petersen/Getty Images
How does this trade not make sense?
Los Angeles has already ruined Gasol's season, or at least put a damper on it, since he found out his team was willing to give him up in a very public trade, and it shows.
Gasol does not seem connected to the team, as he once was. Up until this point of the season, Pau is down in scoring, as he is averaging two points below his career average.
Even Kobe Bryant noticed the distraction. After Sunday's loss to the Suns, Bryant had this to say:
"Basketball is such an emotional game, you got to be able to have all of yourself in the game and invested in the game. We didn't have that," Bryant said after Gasol had 17 points and 12 rebounds against the Suns. "Pau, it's hard for Pau because of all this trade talk and all this other stuff, it's hard for him to kind of invest himself completely or immerse himself completely into games when he's hearing trade talk every other day. I wish management would come out and either trade him or not trade him."
Trading Gasol to Phoenix would get rid of the distraction, as it would provide a much-needed upgrade at the Lakers point guard position while also forming the league's new Big Three in Nash, Bryant and Andrew Bynum. 
How can the Lakers possibly not want this deal? Could it be Nash's age?
At 38-years-old, Nash, the Benjamin Button-like point guard, is averaging a career-best in assists per game with 11 and is only off .4 points per game from his career average, as he is scoring 14.2 points per game.
Derek Fisher, the point guard who Nash will be replacing, who was a decent piece in the triangle offense, which has since left with Phil Jackson, is averaging a measly 5.1 points and 3.5 assists per game. 
Nash can come to the Lakers and make up for the deficiencies in their backcourt immediately.
Only this time, between breaks when he rests his back while lying flat at the U.S. Airways Center, he might be able to converse with Jack Nicholson, Spider-Man, the weird looking girly dude from Titanic, who has since grown to fame as major movie star, or sit next to the up-and-coming hot chick at the Staples Center.
The risk for the Lakers is minimal. All they would be doing is clearing the contract of a distracted Gasol off their salary cap, as he is owed $19 million next season and $19 million in the following season for Nash's $11,689,062 expiring contract and Warrick, who is due $4 million over the next two seasons.
Streeter Lecka/Getty Images
Would the Lakers rather have a starting five of Nash, Bryant, Matt Barnes, Warrick/Josh McRoberts and Bynum, or Fisher, Bryant, Barnes, Gasol, Bynum?
I would take the former, and would be comfortable with L.A. being a contender.
So, why would this trade work out for the Phoenix Suns? Sorry if I ignored you for so long Planet Orange, but with a starting lineup of Nash, Jared Dudley, the aging Grant Hill, the no-post game of Channing Frye and Marcin Gortat, combined with a record of 14-19, you are not going anywhere soon.
Under the circumstances, why not give it up and rebuild? Hasn't Nash, the two-time league MVP, done enough for the franchise?
The problem is Nash is loyal to a fault. While most veterans his age would demand to be traded to a contender, he has not even opened his mouth.
Why not be proactive, instead of reactive, and send him to the Lakers to appease him while getting something back in return?
A frontcourt of Gasol and Gortat could be formidable, especially if you can get a point guard such as Austin Rivers in the lottery. You would also come away with Darius Morris' expiring contract, along with the Lakers first-round pick.
In this year's loaded drafted, you might set your team up for the future if you come away with a starting point guard and a starting small forward, a definite possibility.
Phoenix would be able to reload quickly, with a possible starting five of Rivers/draft pick, Jared Dudley, draft pick, Gasol and Gortat.  
That is a ready-made rebuilding team with three veterans ready to go.
How does this trade not benefit both the Lakers and Suns?