L.A. Lakers: Kobe's Comments About Pau Gasol Will Force Mitch Kupchak's Hand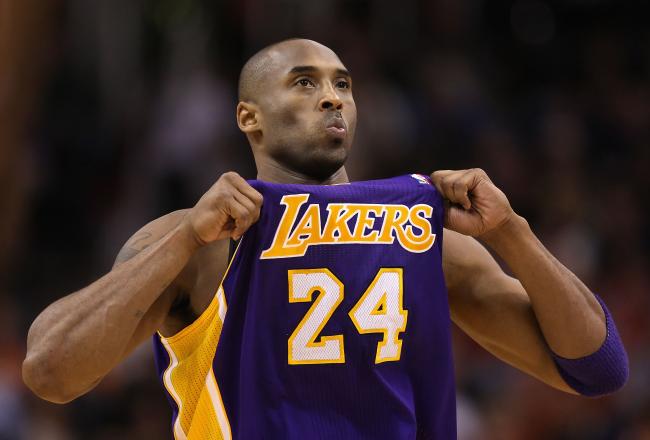 Bryant sent his message on Sunday night.
Christian Petersen/Getty Images
Kobe Bryant has finally provided his clear-cut opinion about the trade rumors swirling around teammate Pau Gasol and the Los Angeles Lakers.
There was no reading between the lines, nor were there any quotes that left anybody wondering about how Bryant really felt about the situation.
Pau, it's hard for Pau because of all this trade talk and all this other stuff, it's hard for him to kind of invest himself completely or immerse himself completely into games when he's hearing trade talk every other day. I wish management would come out and either trade him or not trade him.
But Bryant wasn't done. He had a lot more to say: "I'd rather them not trade him at all. If they're going to do something, I wish they would just (expletive) do it. If they're not going to do it, come out and say you're not going to do it."
Bryant is really just saying what a lot of people have been thinking. It's obvious that the Lakers have been and will continue to explore deals centered around Gasol.
Gasol is one of the only trade assets the Lakers have at this time as the team looks to make improvements to the roster and address several areas of concern.
Pau is scheduled to make more than $38 million from 2012-2014, so general manager Mitch Kupchak has to make an extremely tough determination as to whether or not the 31-year-old is worth paying that massive salary.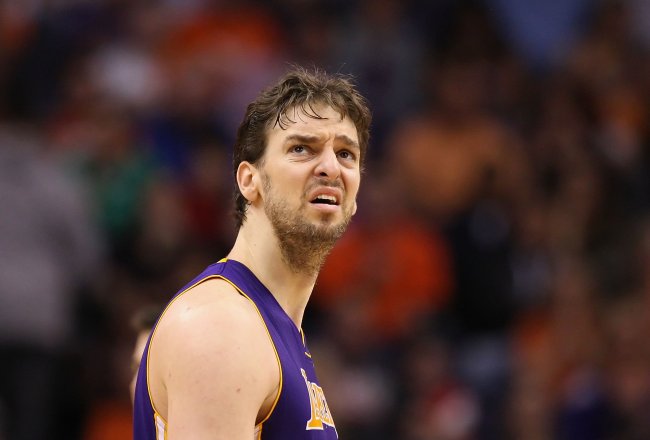 Gasol is looking at a murky future with the Lakers.
Christian Petersen/Getty Images
With Bryant and Andrew Bynum combining to earn nearly $45 million for the 2012-13 season, Gasol's lucrative price tag becomes a cause of concern going forward.
This is the same Lakers team that traded away Lamar Odom because it had no interest in paying a role player an $8.9 million salary. This is the same team that has been and will continue to explore all avenues in order to keep Bryant's championship window open.
But this is Pau Gasol. Despite the fact that he's often undervalued and his strong performances are regularly overlooked, Gasol is one of the most talented big men in the game.
Gasol's numbers speak to how talented he still is: 16.6 points, 10.7 rebounds, 3.1 assists, 1.3 blocks, 49.7 percent shooting and 79.0 percent from the foul stripe.
His career-low scoring mark is a product of him taking a backseat in the offensive attack, and the fact that Gasol is still turning in such an impressive season is really remarkable.
Gasol's name has been mentioned in connection to several other clubs since the season began, and it's become very evident that Gasol is paying careful attention to all of them.
After having a tough time getting over the fact that he was almost traded to Houston in a three-way deal which would have brought Chris Paul to Los Angeles, Gasol has made no secret of the fact that the rumors can be bothersome.
"At times it crosses your mind, but not exactly when you're playing," Gasol said. "Obviously when you're playing, you're focused and you try to do the best that you can. It's something you have to shake off regardless at any time at any point."
Head coach Mike Brown knows that Gasol is paying plenty of attention to the trade rumors.
"He was on his computer (Saturday) when we landed and he was looking through some articles and all that," Brown told ESPNLosAngeles.com after the team's shootaround Sunday. "I just leaned over and said, 'Pau, you got to stop looking at that crap. It will kill you if you do.'"
Whether anyone in the front office wants to admit to it or not, the Lakers are undergoing a careful rebuilding project right now.
The team has obvious deficiencies at point guard and small forward, but those aren't the only areas of concern.
Los Angeles is having an extremely difficult time playing an uptempo style of game, the production from the second unit has been lackluster all season and many are questioning just how far this current group of players can go in the postseason.
There is no time for rebuilding—in the traditional sense of the word—in Los Angeles for the Lakers.
The stage is too big, the demand for success is too high.
So here we are. The Lakers are good, not great.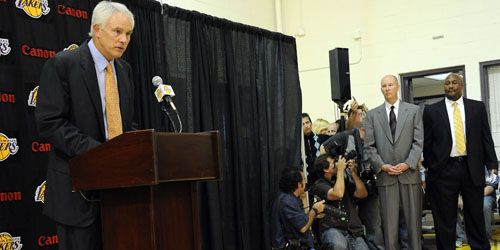 After being embarrassingly swept out of the postseason at the hands of the Dallas Mavericks in 2011, there is nothing to suggest the 2012 team is better than its previous version.
Bryant clearly doesn't want Gasol to go anywhere.
His quotes are directed right toward Kupchak. He's telling the GM to make a decision about pulling the trigger on a potential deal.
Bryant wants the team to be able to put all of the rumors in the rear-view mirror in order to be able to come together as a cohesive unit.
Here is the problem: This lockout-shortened season brings a unique set of circumstances.
Will the Lakers trade Pau Gasol?
Players who signed new contracts in the offseason can't be dealt until March 1. The trade deadline has been pushed back to March 15.
It's Kupchak's job to find ways he can improve the Lakers.
There are a plethora of teams that would be very happy to acquire a player of Gasol's caliber, but his enormous salary and the financial commitment an acquiring team would have to undertake makes it very difficult to construct a deal which would appease the parties involved.
The Lakers have to find a way to improve the offensive approach, Kobe Bryant is calling out the organization and there are some turbulent times in Lakerland right now.
One way or another, Kupchak has to make a determination about the construction of the roster so the team can finally find an identity.
This Los Angeles team sorely needs one.
This article is
What is the duplicate article?
Why is this article offensive?
Where is this article plagiarized from?
Why is this article poorly edited?

Los Angeles Lakers: Like this team?