Sacramento Kings: What They Must Do to Become Title Contenders
February 20, 2012

Ezra Shaw/Getty Images
The Sacramento Kings have a long way to go before they can become NBA title contenders.
The days when they were regular NBA title contenders seems like ancient history. Lately, there hasn't been much good news for the once proud franchise that used to compete yearly with the Kobe Bryant and Shaquille O'Neal-led Los Angeles Lakers.
Talent wise, the Kings are far from becoming a force to reckon with. It's hard to win in the NBA without a bonafide superstar, or a deep roster that plays first-class team basketball (i.e. the Denver Nuggets).
The Kings lack both.
Their presumed franchise player, Tyreke Evans, hasn't significantly improved since his excellent rookie season. He has a habit of becoming a ball stopper and not getting his teammates involved.
One of the biggest concerns about Evans is that he hasn't improved much as a shooter since his rookie year.
This season, he is shooting 41% from the field and 24% from behind the arc. Because Evans is such a poor shooter, he gets most of his points driving to the basket. For Evans to be the player the Kings can build around, he needs to improve his shooting.    
The Kings other centerpiece, DeMarcus Cousins, is one of the best young big men in the league.
The problem is, he has serious attitude problems and can be a loose cannon. Based on pure talent alone, Cousins has more potential to become a dominant player in the league than Evans.
These days it's hard to find a big guy who can walk and chew gum at the same time. Cousins can score on anyone, rebounds well and always plays at a high intensity. But how can the Kings build around someone who is so immature?
Earlier this season he publicly asked to be traded and got his coach fired. Part of being the franchise player is being a leader, which Cousins is not. He may have the talent of a franchise player, just not the mindset.   
Before the Kings can become a playoff team again, management needs to evaluate their current roster. They have to decide if they think that their current crop of young players is good enough to develop into something special, or if they should start over.  
There have been times this season when the Kings have looked like they have something special to build with. The most notable examples were in their big home wins over the Thunder and the Lakers.
But, more often than not, the Kings look like one of the worst teams in the league. They play very little defense and have trouble playing as a team on offense. 
For the Kings to become title contenders with their current young core, they need Cousins to grow out of his immature habits, and play like a go-to-guy every night. Big men with that kind of skill aren't in the draft every year. He's a keeper.
Evans needs to become more of a team player. Even if he isn't a true point guard, there's no reason Evans should only average 5.3 assists a game. He has a huge habit of becoming a black hole.
Selfish basketball is a recipe for disaster, especially on a young team. Sometimes you have to wonder if Evans cares more about holding onto the title of "Best Player on the Team" or becoming a leader. A leader would recognize his style of basketball is hurting the team. 
Evans and Cousins are the only "untradeable" players on the team. Though Evans is flawed, his habit of being a ball stopper can be changed. He's too good of a talent to trade this early into his career. For a team trying to rebuild, there's no way the Kings would get equal value for him.
After those two, everyone else on the Kings current roster is expendable. Jimmer Fredette could develop into a nice player, but it was probably a mistake to draft him so high. John Salmons is still a ball stopper. Marcus Thornton is a solid player who can score in bunches. But if Thornton is the third best player on your team, you're probably not going to make the playoffs.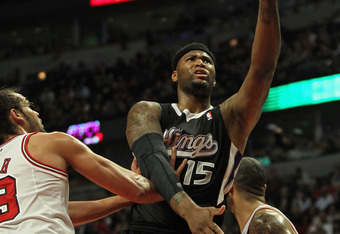 Jonathan Daniel/Getty Images
There's a lot of "what ifs" on the current Kings roster. That's not usually a good sign when a team is rebuilding. The Kings will probably finish with one of the worst records in the league. Hopefully, for their sake, they can luck out and win the top pick in the upcoming NBA Draft.
If the Kings start off the season slow again next year, then it's probably a sign to start over from scratch. Not just with new players, but start over with a new general manager. Geoff Petrie has been a great GM for the Kings, but his time may have come.
You can only have so many wrong coaching hires and bad draft picks before your reputation can no longer save you.
Before the Kings can become contenders, they have to figure out if they are building around the right guys.