NBA Trade Rumors: Chris Kaman to the Heat Must Happen
February 18, 2012

Harry How/Getty Images
I have been calling for the Miami Heat to sign at least one more big man down low to help solidify a possible NBA title. They haven't pulled the trigger yet, but given how well Chris Kaman of the New Orleans Hornets is playing, they need to do it sooner rather than later because his value is increasing by the game.
According to Chris Tomasson of FOX Sports, Miami is hoping to land Kaman. The Heat signing the 29-year-old center must happen to help with their frontcourt issues.
Kaman was an 18.5 point scorer and 9.2 rebounds per game player back in 2009-10 with the Los Angeles Clippers. In 2007-08, Kaman averaged 15.7 points and 12.7 rebounds in 56 games played.
He has a proven track record that would be much more serviceable than a Joel Przybilla, another big man who has been in the discussion for the Heat.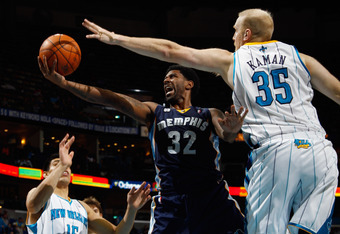 Chris Graythen/Getty Images
Kaman is a talented center who is 7'0" tall—you won't find players like this available at this time of the year. Of course, the problem is his durability, but the Heat would be foolish not to attempt to solidify their depth at center by signing the big man.
He gives the Heat everything they need to push forward towards an NBA title that they don't currently possess.
Miami's center, Joel Anthony, is a decent player, but he's only averaging 4.2 rebounds per game and he doesn't give you anything on the offensive side of the floor.
Kaman would instantly upgrade the rebounding and would help out significantly on the offensive end.
In a shortened season full of back-to-back and even back-to-back-to-back games, adding a big man at this point of the campaign makes sense. Depth to a position that is battling on a night-in-and-night-out basis on the block would be precious for all teams right now. 
Miami is 12th in the NBA in rebounds per game with 42.8; eight come from the center position. Kaman is averaging 7.5 rebounds this season.
Adding Kaman would give them just about more production from a rebounding standpoint than all of their centers combined.
Sounds like an easy decision to me.
Miami is the odds-on favorite to win the NBA championship this season. The only area they truly lack is depth in their frontcourt.
Adding Kaman would not only help in the stretch run, but it will significantly increase their odds of winning the grand prize in the end.