NBA Rumors: Chris Kaman Would Make Miami Heat Clear Favorites for Title
February 17, 2012

Christian Petersen/Getty Images
The Miami Heat's biggest weakness is at the center position, and if they land someone like the New Orleans Hornets' Chris Kaman, you may as well pencil them in as champions this season.
Chris Tomasson of Fox Sports wrote on Wednesday:
Heat officials, including president Pat Riley, have been calling people who know Kaman to ask about him, a source told FOXSports.com on Wednesday.

The thinking is the Heat's best effort to get a center would be to sign Kaman — if his contract is bought out by New Orleans after the March 15 trade deadline.
The Hornets sent Kaman home for seven games this season while they tried to trade him. When that wasn't successful, he was brought back to the team after all the injuries to the Hornets' frontcourt.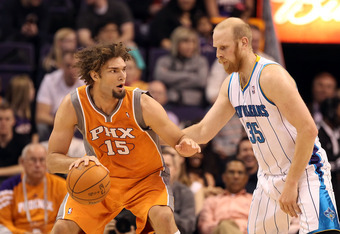 Christian Petersen/Getty Images
The Heat have generally used a smaller lineup this season, with center Joel Anthony getting just 21 minutes per game. They've actually used power forward Udonis Haslem more than they've used Anthony.
Kaman is a true center (7'0", 265 pounds) and he's been known as a good rebounder and shot-blocker throughout his career. He's averaged 8.3 rebounds and 1.4 blocks in a little under 30 minutes per game. He's a legitimate starting center in the NBA who would effectively fill the gaping hole down low for the Heat.
It's actually astounding what the Heat have been able to do without a presence at center. They're ranked third in rebounding differential and sixth in opponents' field goal percentage. They've used a collective approach, but most of the rebounding has come from LeBron James, Chris Bosh and Haslem.
With Kaman, the Heat have another rebounder and defender and another big body to clog the paint. It's unclear how they would exactly use him, but even as a bench player, he'd be a great pickup for them as they look ahead to the playoffs.
Think of it this way: With Joel Anthony as their center, the Heat have the second-best record in the NBA.
Chris Kaman would push the Heat over the top.