Jeremy Lin: Why He Shouldn't Be Compared to Tim Tebow
February 17, 2012

Chris Chambers/Getty Images
The amazing story of Jeremy Lin has been so fascinating and so good that even this Knick-hating Heat fan has been legitimately excited about his ascension.
If you don't know the story of Jeremy Lin—wait, who are we kidding—of course you know the story of Jeremy Lin. But just in case, here's the cribs notes: he played for four years at Harvard where he averaged 12.9 points, 4.3 rebounds and 3.5 assists per game. He went undrafted in the 2010 NBA draft prior to being picked up by Golden State.
Golden State would release him on the first day of training camp in order to make room for the Warriors' failed run at De'Andre Jordan, then found himself signing with the Rockets before being waived prior to the beginning of the season in order to allow the Rockets to sign Samuel Dalembet.
The Knicks would claim Lin off of waivers on December 27th and then after a stint in the D-League would come back to the Knicks, who only inserted him into the lineup on February 4th. Since then the New York Knicks have had yet to lose a game and Lin has become the toast of New York as well as the country, thanks in part to his inspiring play.
Of course, the media can't just look at the Jeremy Lin story and talk about how great it is on its own. There has to be a comparison to something, since that's the only way to provide context.
Lin has been compared to Tim Tebow, a comparison that I find to be ludicrous.
Now, I like Tim Tebow and I like Jeremy Lin too. Both are great stories and both players share this in common: they've seemingly brought their respective teams back from the brink of disaster.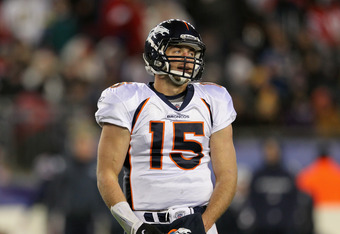 Jim Rogash/Getty Images
However their stories are very different. 
With Tim Tebow, people question whether or not he could play quarterback. People are still questioning his abilities even after the Broncos playoff run. As of right now, no one is questioning if Lin can play point guard. The question is how Lin will compete against the likes of the Miami Heat and the Chicago Bulls.
If he can, his star will only rise further. If it's proven that he can't, then that doesn't diminish him one bit: Miami and Chicago are the two best teams in the East anyways.
Lin also isn't a polarizing figure. While he has spoken about his faith, he doesn't bop you over the head with it like many accuse Tebow of doing. He also hasn't inspired hatred in the hearts of the Knicks' rivals' fans.
Instead he has received the utmost respect (of course I also choose to ignore hatred of any basketball players on the Internet. Hatred is nothing but ignorance and let me just say this: there's a lot of ignorance among NBA fans, but I haven't seen it towards Lin).
The other difference is the fact that Lin's story really did come out of nowhere. Unless you were a big fan of ivy league basketball, you likely didn't know who Jeremy Lin was until recently, save for his impressive game his senior year against UConn. He went undrafted and was released by the Rockets and Warriors. He was very nearly released by the Knicks as well.
Tebow, on the other hand, was drafted in the first round after an impressive career at Florida, winning two national championships and a Heisman Trophy. While people were surprised with his success due to his unorthodox style of play, it's not like we're talking about a quarterback from a 3-8 Division III team here.
Here's the most important place where the comparison falls flat. Broncos fans will be disappointed if the Broncos were to trade Tebow, however it not only wouldn't be the wrong move, it would actually be a great move for the Broncos this off-season since they would be selling high on Tim Tebow.
In contrast, the New York Knicks can not trade Jeremy Lin. That would be suicide. With Lin they've been able to rebuild goodwill with the city and their fans.
Trading him would be akin to re-hiring Isaiah Thomas (actually if they were dumb enough to re-hire Isaiah Thomas, his first line of business would likely be to trade Lin to the Heat in exchange for Eddy Curry).
The only reason for the comparison: laziness. Really, Jeremy Lin's story has no comparison and there's no reason to reach for one either.
Isn't that what makes this story so great and makes him such a breath of fresh air anyways?