Jeremy Lin Exposes Flaws of New York Knicks Team Chemistry
February 13, 2012

Chris Chambers/Getty Images
Attention all teams seeking to sell out their current rosters to acquire Dwight Howard: Please direct your attention to The New York Knicks. 
Just over one week ago, the Knicks were a stumbling and bumbling basketball franchise that was missing its two theoretical "superstars" in what was rapidly becoming a lost season. 
One week later, the "superstars" are still missing but the team is on a five game winning streak. 
At this point, everyone in the NBA world has heard of Jeremy Lin. The former Harvard point guard was not selected in the NBA Draft and was previously cut from two teams. 
Mired at the end of the Knicks bench, he patiently waited his turn while Knicks coach Mike D'Antoni spent his time showing the world why Toney Douglas wasn't an NBA point guard and that Iman Shumpert was too young and inexperienced to be one as of now. 
Through a combination of injury and attrition, D'Antoni eventually allowed Lin to start and Lin, in turn, sparked a complete turnaround of the Knicks' fortunes in this lockout shortened season. The ensuing  "Linsantiy" has completely engulfed the city of New York. 
For those unfamiliar with the dynamics of New York City here's a little secret about the city that is best known for Giants and Pinstripes:
It's a hoops town. 
Yes that's right,when push comes to shove, if the Knicks are rolling and clicking on all cylinders, then the city rolls right along with them. That's because, in a somewhat densely populated urban environment such as New York, basketball is the sport that almost anyone can play at anytime. If you walk around the city of New York, you see people playing pick-up basketball at almost anytime year-round.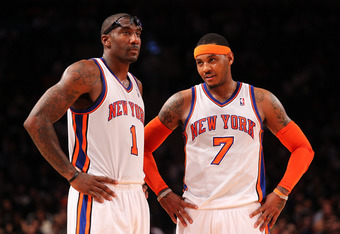 Al Bello/Getty Images
Even in Winter, if the weather isn't absurdly cold and the courts aren't buried under snow, you can see kids and adults of various ages playing pick-up games.
It's also a city that consistently produces major basketball talents. Sure, there are great athletes of all types that will emerge from a city of 8 million people. But the list of prodigious basketball talents is stunning: Kareem, Carmelo, Dr J, Bernard King and on and on. 
The Knicks allowed the Super Bowl winning Giants to dominate the Sports pages for approximately 48 hours. Once that parade ended on Tuesday, the Knicks immediately took center stage. 
The emergence of Jeremy Lin has really exposed the almost comical nature of the trade that the Knicks made almost one year ago for Carmelo Anthony.
While Lin may or may not go on to become a real NBA star. the one thing that Lin has done is prove that the Knicks don't need a guy taking tons of shots in an effort to maintain an average of 25 points per game. 
What the Knicks do need—especially if head coach Mike D'Antoni is in place—is a point guard who can both distribute and shoot the ball with consistency. In D'Antoni's system, a team doesn't need one primary scorer, they need a bunch of guys who can, at any given time, put the ball in the basket. Ironically that's exactly what the Knicks had almost exactly one year ago when they broke up the team to acquire Carmelo. 
That team was also straddling the .500 mark, but perhaps it was because half the players on the roster were waking up every morning wondering if and when they'd be shipped out of town to Denver.
If you're a Knicks fan enjoying the current win streak which has featured balanced scoring and dynamic point play, the story isn't really Lin, it's actually how the Knicks are playing with a decent point guard and without one primary scorer.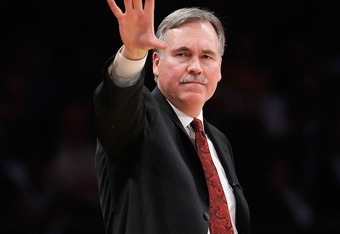 Jeff Gross/Getty Images
It's somewhat similar to the manner in which D'Antoni's best Phoenix teams functioned. On those teams, Steve Nash ran the show. He offered up a combination of scoring and passing, and the Suns won.
The 2004-05 Suns had four players besides Nash who averaged more than 10 points per game. Amar'e Stoudemire led the team in scoring with 26.0 PPG, but he shot almost 56 percent from the floor.
Carmelo is currently leading the Knicks in scoring at 22.3 PPG, but he's shooting under 40 percent from the floor. Anthony's game won't ever produce a 56 percent field goal success rate, but for his career he's nearly a 46 percent shooter, so there's no question that he's not playing his best basketball so far this season.
The big question is whether or not his return to the Knicks—which could happen as early as this week—will make the team better, or if Anthony will continue to take and force bad shots from the floor? Carmelo Anthony is one of the game's best scorers, but is that what this Knicks need?
Yes, every team needs points—you can't win a game without them—but players such as Carmelo Anthony have not always yielded great team results. His Denver teams were good but not great.
Denver has in fact flourished in his absence, though that's as much a sign of Anthony's positives and negatives as it is an indication of the absurd amount of talent that the Knicks spent to acquire him.
The Knicks will get Anthony back. When he returns, he's going to be on a team that has been winning.
Wins and losses are the bottom line for fans. They don't care how many points Anthony scores or how many shots he takes if the team is winning. They're going to care if the winning stops though. Especially if that winning stops upon the return of the man who is supposed to be the Knicks brightest star.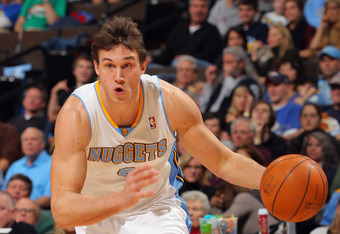 Doug Pensinger/Getty Images
The Jeremy Lin craze may fade or it may become even more fanatical, but the Knicks may be on the cusp of realizing that they parted with far too much to acquire a player who they may or may not have really needed.
As Dwight Howard openly campaigns for a trade to any number of various teams, and teams in turn line up to offer deals in an effort to acquire the league's most physically gifted big man, they may want to be cautious about what they are willing to part with.
Howard is the league's best big man, but this is no longer a league ruled by the big guys. Teams need to have decent big players to win, but the days when a dominant player at the center position was a requirement of winning are long since gone.
What today's teams need are decent point guards who can score, control the tempo and distribute the ball.
Teams also need players to buy into all of those concepts on the court. The Knicks may have found their point guard. Do they have the right mix of players to surround him with? We'll find out soon.