Keys to Jeremy Lin Extending New York Knicks' Win Streak Without Melo or Amar'e
February 8, 2012

Chris Trotman/Getty Images
The last time the New York Knicks played the Washington Wizards, New York barely won, 99-96. Carmelo Anthony scored 37 points in that game and the "Jeremy Lin era" had yet to begin.
Tonight, the Knicks will enter the game without Anthony and without Amar'e Stoudemire. The New York Post has reported that Stoudemire will not return to the Knicks until Monday and Anthony is out one or two weeks. 
So how can the Knicks possibly win this one on the road?
Two reasons: The hopeless Wizards and the "MSG MVP" Jeremy Lin.
Washington enters the game with a 5-20 record. They are coming off an overtime win against the Toronto Raptors on Saturday night. The Wizards have not won back-to-back games all season. 
The Knicks will need to contain two guards, John Wall and Nick Young. If they successfully control them then they should have no problem in this one.
Wall is very inconsistent. In the last week he's scored two points in a game and then scored 31 on Saturday night. Nick Young is averaging 17.3 points per games but that's about all the Knicks will have to worry about with him. He is not a threat in other areas of the game whereas Wall is averaging 7.1 assists per game and 5.3 rebounds per game.
As for the Knicks, it is all about the 23-year-old from Harvard. Madison Square Garden has rewarded him with chants of "MVP" after leading New York to victory.
Lin has ignited the Knicks in the last two games. The team has shown energy and determination that they had seemed to been lacking.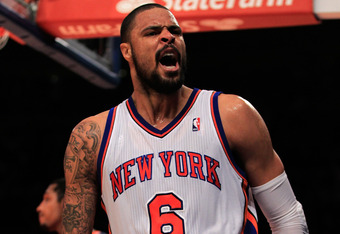 Chris Trotman/Getty Images
Lin has scored 53 points and had 15 assists in a combined 81 minutes in the last two games. The Knicks are 2-0 in those games. Lin is not accustomed to playing so many minutes. Hopefully it doesn't catch up to him tonight against the Wizards.
Although he likely won't have another 28 point outing as he did on Monday, he will be turned upon to run the team at the point again. 
Along with Lin, Tyson Chandler will help in picking the Knicks up without the two big stars. At times this season, it has seemed like Chandler was the only guy on the court playing with any heart. Tyson has been productive all season and looks to continue the trend tonight.
The Knicks need to go to Washington D.C. and come out victorious tonight because their schedule only gets tougher after the Wizards.
The Knicks and Lin are going to be tested in the next week without Stoudemire or Anthony.
New York faces the Wizards tonight, Los Angeles Lakers on Friday, and the Minnesota Timberwolves on Saturday.