NBA What-Ifs: What If Lebron Had Not Taken His Talents to South Beach?
Use your ← → (arrow) keys to browse more stories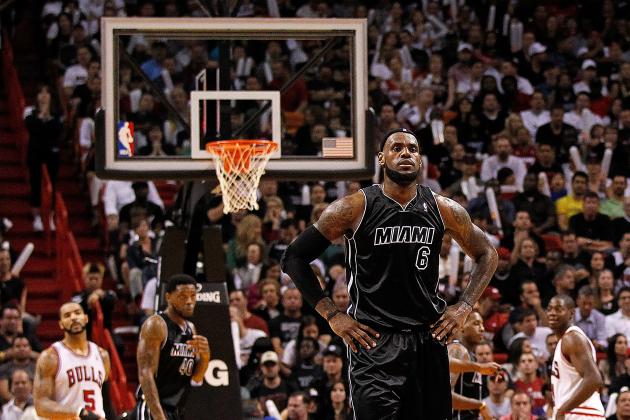 Mike Ehrmann/Getty Images

July 8th, 2010, Lebron James transformed from arguably the most beloved NBA up-and-(still)coming star in the game into the most captivating villain in all of sports after the one hour long TV special "The Decision," where Lebron bluntly stated where he'd play in 2011. New Jersey, Cleveland, New York, Miami and Chicago all made bids to obtain the self-proclaimed "King". Ultimately, Lebron 'took his talents to South Beach and joined Dwyane Wade and Chris Bosh to play for the Miami Heat, and the rest is history.
They finished second in the conference, beat the best team (Chicago) to clinch Eastern Conference supremacy, but concluded 2011 as runners up to a white-hot Dallas Mavericks roster due to catastrophic fourth quarter woes from the villain himself.
With rumors circulating that Dwight Howard has indeed added Chicago to his media enhanced trade list, I'm strongly convicted to think about what would have been had Lebron not gone to Miami, but rather to Chicago: Michael's property.
Chicago was just as much of a candidate as any team: home of the No. 23, a magnificent basketball market and just a six-hour car ride from home—Akron, Ohio (as opposed to a 19-hour drive to Miami). Lebron would have had direction from the 2011 Coach of the Year Tom Thibodeau, a stresser of team defense and rebounding. With Lebron's underrated defense and Tom Thibodeau constantly influencing the Akron native, Lebron would be the most well-rounded player in the game. The next Scottie Pippen, if you will.
Oh yeah, he'd play with Derrick Rose too, just the 2011 MVP with speed possibly more explosive than Lebron's. Rose provides a Tony Parker-esque scoring threat (25.0 PPG), possesses the capabilities of a true point guard dishing out 7.7 APG and has the pickpocketing skills of a New Yorker (yeah, I went there), accumulating over a steal a game on average.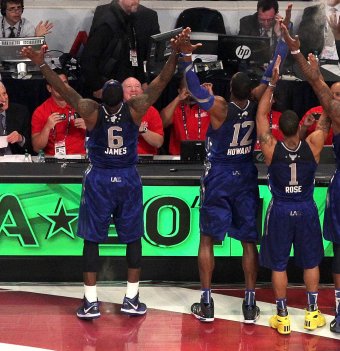 Noel Vasquez/Getty Images
Right now in this tale, we're at the point where Derrick Rose and Lebron James would take the basketball world by a storm. They would erupt as the best thing since Malone and Stockton.
But, Chicago wouldn't be done.
Assuming Chicago wouldn't renew the contract of Carlos Boozer after the signing of Lebron James in July, the Bulls would be almost perfect. But every team needs a big man. Sure, Lebron stands 6'9", but we're talking real big here.
Perhaps a Dwight Howard who eagerly wants to change locations? A man that has seemingly two concerns when it comes to making his own "decision?" He wants to play for a winner (as all players do), and he seems to want to live/play in an area with a large market.
With regards to the first concern, a nucleus with Dwight Howard, Derrick Rose and Lebron himself would be the best trio a team has employed in the history of the league. Bird/McHale/Parish, sorry. Magic/Kareem/Worthy, excuse me, pardon me. Jordan/Pippen/Rodman, slide on over. These players individually are of a different species, but to round up the most physically gifted players in the league and have them compete as one would attain an unprecedented status amongst the NBA.
To address the second concern from the 6'11" center out of the school of hard knocks, Chicago is arguably the basketball capital in the nation. The metropolis was the foundation, and beholds the legacy of the greatest player to ever play the game. This town is basketball. It's not like the Cubs are winning anytime soon. Plus, Derrick Rose and Dwight Howard are the marketing tandem of Adidas. The two have their own products inspired and represented by themselves (the adizero, and adiPower), and have played on the same NBA All-Star team rosters.
This could've, and would've happened, but for the sake of the rest of the league, thank God that it didn't.