Dunk of the Year: LeBron James over Lucas or Blake Griffin over Perkins?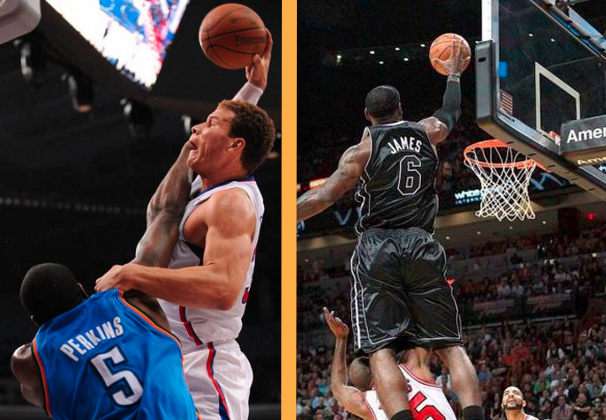 Directly after a night of passion displayed by LeBron James and the Miami Heat against former regular-season MVP Derrick Rose and the Chicago Bulls, people have another highlight to fall in love with.
LeBron James cleared the entire body of Chicago's John Lucas on his way to the basket without assistance in elevation. He propelled himself from the key and grabbed the perfect pass from Dwyane Wade for a dunk to cap off an electrifying night. LeBron pushed himself to the top of the MVP race with his last few performances with and without Wade, but Blake Griffin, the dunkman of last year, had something to say about him snatching the dunk of the year title so soon.
Kendrick Perkins' face said it all.
After promptly being put on a poster due to Griffin's immense athleticism, Perkins' face spoke volumes about his self-worth after he was so publicly embarrassed by the second-year Clippers' star. It seems that players around the league and fans had slightly forgotten what Griffin was capable of.
But, being the "human highlight reel" he is, the former Oklahoma star was not going to allow the reason to escape our minds for much longer. The celebrity swell around this dunk is sort of like when everyone swarmed around Griffin's dunk on Timofey Mozgov that was more than slightly similar to the one against OKC Thunder's big man.
The only question that remains is which one is more impressive.
There are a few factors to take into account that will help you decide.
Begin Slideshow

»
John Lucas is considerably smaller than Kendrick Perkins. (John Lucas: 5'11", 165 lbs., Kendrick Perkins: 6'10", 270 lbs.) But the idea behind the dunk and how it would look captured on photo is that Griffin used his hand and Perkin's face to elevate. LeBron hurdled Lucas' body from a nice distance and with a very nice finish.
Everyone knows Griffin can dunk. He has done this before and will probably do it again because it is the most formidable and consistent part of his game. Griffin will always take the chance on a hard finish around the rim before he pulls up for the mid-range jumper, which makes his dunks less and less tantalizing than they might be if we had seen them every other play.
The Los Angeles Clippers are considered "Lob City" for a reason, and that reason heavily circulates around Griffin's ability to find any ball thrown in his direction, regardless of how it may be contested, and throw it down.
There is a reason why Boston fans were so shocked when Kendrick Perkins was let go. His big body presence under the rim is hard to find, and getting into shape has only made him more of a threat on both ends of the court.
With that said, Perkins was directly facing Griffin when he was a victim to Griffin's classic face-mush dunk. LeBron James' defender may have been in place, but he was facing the rim instead of facing the "King." Huge mistake, obviously.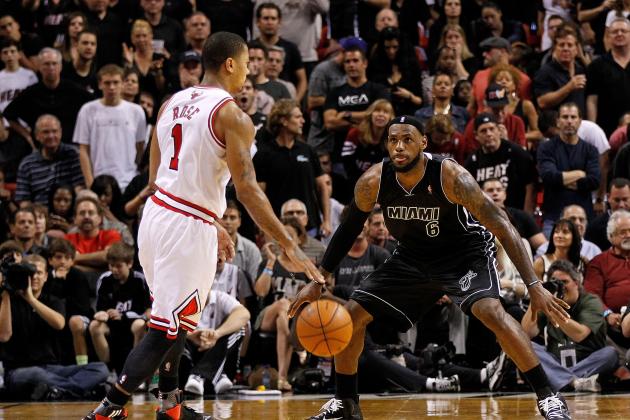 Mike Ehrmann/Getty Images

There is one factor that works in the case of both LeBron James and Blake Griffin. Both were playing against teams that are considered as one of the top two in the conference. The Chicago Bulls have the best record in the Eastern Conference (18-5), and the OKC Thunder have the best record in the Western Conference (16-4).
With a few rough Miami games on the road, the Heat were looking to reestablish their position in the conference while the L.A. Clippers are looking to establish themselves in the Western Conference where they have lacked relevance for so long.
Both players left their mark on important regular-season games against strong teams that they will most likely meet in the postseason.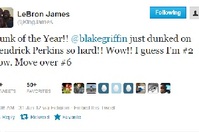 LeBron James, not fully embracing his role as a villain in the league, took to Twitter almost immediately after seeing Griffin's monstrous dunk on Perkins and endorsed it as the Dunk of the Year.
LeBron James or Blake Griffin?
Your choice.