NBA 2012 Early Coach of the Year Candidates for the First Quarter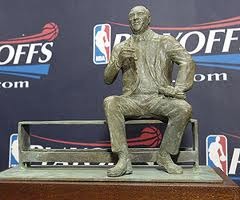 image from mikefratello.com
This season's labor strife almost cost the prestigious NBA Coach of the Year award its fiftieth birthday.
First awarded in 1963 to Harry Gallatin of the St. Louis Hawks, and like the MVP and many other individual awards, Coach of the Year is recognition for regular-season accomplishment. How exactly this accomplishment is to be judged has been left to the discretion of the voters.
Consequently, only five of the 49 selections to date have been able to add a title ring in the same year—Gregg Popovich of the San Antonio Spurs in 2002-03, Phil Jackson for his 72-win Chicago Bulls in 1995-96, Bill Sharman in recognition of his Los Angeles Lakers' 33-game winning streak in 1971-72, Red Holzman for the 1969-70 New York Knicks, and Mr. Red Auerbach himself for his 1964-65, "Havlicek Stole the Ball" Boston Celtics.
Excluding the most recent negotiation-shortened season of 1999, 15 NBA seasons have yielded a Coach of the Year from a team with fewer than 50 wins. Hubie Brown of the 1977-78 Atlanta Hawks and Doc Rivers with his 1999-2000 Orlando Magic both walked off with the Red Auerbach Trophy on the heels of an even .500 season.
And then there's the puzzling case of John "Red" Kerr, which we'll get to shortly.
Now let's see who's making a play for this season's honor.
Begin Slideshow

»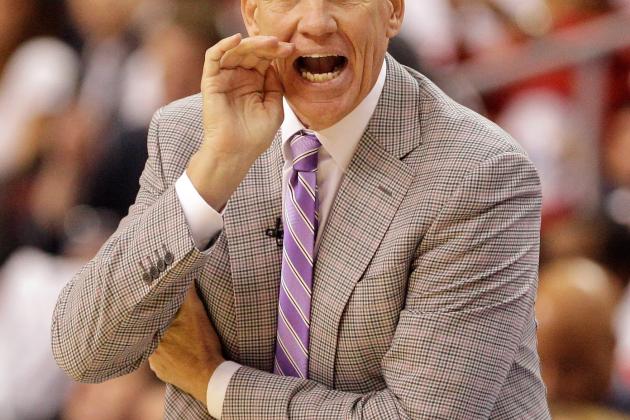 Rob Carr/Getty Images

Two Philadelphia 76ers coaches have danced off with the top honor, the mercurial Larry Brown in 2000-01 and Hall of Famer Dolph Schayes way back in 1965-66. Brown's Allen Iverson-led squad reached the Finals against Kobe and Shaq. Schayes's bunch, with Wilt Chamberlain and a more than solid supporting cast, would not get past Bill Russell's Celtics until the following season, although Schayes never got the chance to defend his coaching pre-eminence.
Current 76ers head man Doug Collins lacks that ultra-elite player, but his cohesive unit took over the lead of the Atlantic Division during the season's second week and seem intent on staying right there.
In 12 of the Sixers' 20 games through the season's first five weeks, the relatively deliberate pace of play resulted in fewer than 95 Philly possessions. The Collins crew is 10-2 in those games, a mere 4-4 with faster-paced play.
The 76ers have kept the tempo to their liking for six consecutive games now and sit currently as the No. 4 seed in the Eastern Conference, sporting the fifth-best record in the league.
But before Dougie clears out a spot on the mantle for that impressive piece of hardware, he might consider the fates of the two prior Sixers COY's.
Brown was off to Detroit and an NBA championship two years after winning his.
Schayes was rewarded by Sixers owner Irv Kosloff with a pink slip, the consequence of a 1-4 playoff pasting at the hands of Boston.
Poor Dolph didn't even get the fancy trophy; it was introduced the following year and won—somehow—by the aforementioned Mr. Kerr.
Jonathan Daniel/Getty Images

It's one thing for the champions' coach to be passed over. After all, the voting is conducted before the playoffs begin.
But the 1966-67 result defies logic.
Rookie player-coach Bill Russell notched 60 wins with an aging Celtic outfit.
But Dolph Schayes' replacement had the real beef. The 76ers of Alex Hannum, the 1963-64 winner with the San Francisco Warriors and Wilt, won 46 of their first 50 games en route to an unprecedented 69-12 record. Regardless to level of talent, that's impressive.
Chicago, which had lost its Zephyr franchise to Baltimore in 1963, was awarded an expansion franchise that year. Johnny "Red" Kerr, native son and Illinois graduate, was hired on a heels of a championship (1955 Syracuse Nationals) playing career.
Kerr led the brand-new Bulls to the final Western Division playoff spot, albeit with a 33-48 (.407) season, and became the initial recipient of the Auerbachian hardware. (It seemed to matter little to the voters that eight of the leagues 10 teams qualified for post-season play back then.)
If this standard of over-achievement—winning games when you really should not—predominates the thinking of current voters, then Avery Johnson of the not-yet-Brooklyn Nets should be the hands-down winner.
Sure, his team is saddled with a .333 winning percentage through 21 games.
But his team was statistically outplayed in over half its victories. In last Friday's tilt at Cleveland, for example, the Cavaliers converted (i.e. scored a field goal or earned two free throw attempts) 49 of their possessions, compared to 46 conversions for A.J's guys, yet the Nets prevailed 99-96.
They were similarly "out-converted," by the Wizards (47-44), Suns (44-42) and Warriors (50-49), in victories.
Defending Coach of the Year Tom Thibodeau of the Bulls is Johnson's closest rival in such improbable wins this season with three.
But that accounts for only 18 percent of Chicago's wins.
Avery Johnson's Nets have defied the odds in fully 57 percent of their wins this season.
If that's not good enough for the Red Auerbach Trophy, then maybe there should be a Red Kerr Cup.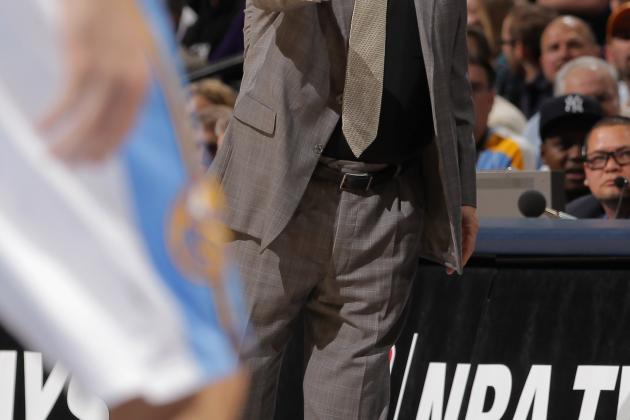 Doug Pensinger/Getty Images

If fate had chosen to deal out just one card differently back when the 1980's were turning into the 90's, George Karl rather than Phil Jackson might have been dubbed Zenmaster or some other catchy and marketable moniker.
Unfortunately for Karl, a fella named Jordan wound up in the opposing locker room for the 1996 NBA Finals, and just plain ol' George has had to content himself with being a highly respected, perennially 50-win pro coach.
But the parallels between Karl and Jackson are many.
Both were hard-nosed borderline "hatchet men" in uniform.
Their college and pro mentors—for Phil, Bill Fitch and Red Holzman; for George, Dean Smith and Doug Moe—were an enlightening mix of the conventional old school and innovative, out-of-the-box thinking.
Each was willing to hone his craft in the CBA—once a minor league, rather than a negotiated document, at least until Isiah Thomas got his hands on it—ironically in the same God-forsaken outpost of Albany, NY with an outfit known as Patroons.
And both were available in 1989, Karl fresh off his Patroon, when the Bulls were looking to replace our old friend Mr. Collins.
Of course, Jackson got the gig, and Karl was on the Seattle bench soon thereafter.
In his current seven-year run with the Nuggets, he has managed the team through the Les Affaires of Carmelo Anthony along with an alarmingly serious personal health crisis.
This season though, Karl has fashioned a fast-paced offense around the three-headed, play-making monster of Ty Lawson, Andre Miller and Danilo Gallinari—at times all together.
The polar opposites of Collins's Sixers in all but 14-6 record, the Nuggets have amassed fewer than 95 possessions in only three games thus far.
And while Denver will endure its second three-in-a-row later this week, they will face only 10 back-to-backs in the season's final 11 weeks, with only two in the entire month of March.
While George will never catch up with old nemesis Phil in O'Brien trophies, he may just even the score on the Auerbach front—unless A.J. keeps pulling rabbits out of his hat.