The Best NFL Players by Position Heading into the 2012 Offseason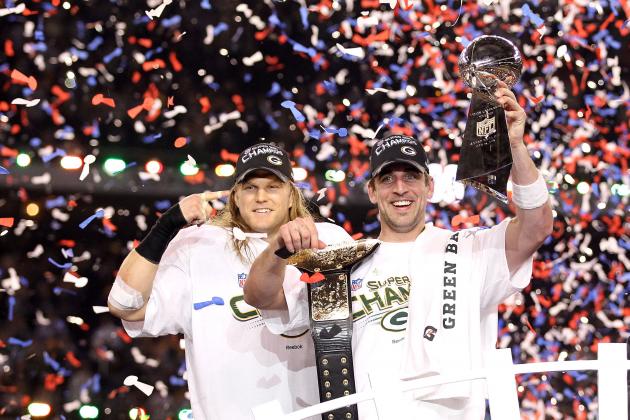 Al Bello/Getty Images

Super Bowl XLVI will bring an end to the 2011 NFL season this weekend as the New York Giants face off against the New England Patriots.
As such, it's time to take a look back at who were the best performers from the season gone by. This list is not based on reputations or statistics; it is a list of valuations carried out from watching substantial amounts of football throughout the season.
Players were chosen based on their performance, ability and potential, but, for the most part, each case was individually assessed, and there is not a single clear criteria that can judge each player against each other.
Players such as Thomas Davis, Aaron Smith, etc. were removed from contention for repeatedly suffering severe injuries, whereas players like Peyton Manning and Kyle Williams were not discounted for missing one season. Until Manning is standing at a podium announcing his retirement, he will be included on my list of best quarterbacks.
Here are the best players for each position across the whole of the NFL.
Enjoy!
Begin Slideshow

»
Rob Carr/Getty Images

1. Aaron Rodgers, Green Bay Packers

Last year's playoff MVP and the favorite for this year's regular season award is still the best quarterback in the NFL at the moment, despite his Packers not repeating as Super Bowl champions.
Rodgers' ability to play in all conditions at his best is what gives him a slight edge over Drew Brees. Rodgers also has greater mobility that allows him to flourish in spite of his protection, while Brees and Brady benefit from top-quality starters holding off blitzers.

2. Drew Brees, New Orleans Saints

The man who broke Dan Marino's passing record with ease this year is the only possible candidate to take the MVP award away from Rodgers. Brees' accuracy and poise in the pocket are astounding, while his leadership makes him invaluable to the Saints.
"Invaluable" is the key word, as the 33-year-old needs a new deal from the Saints. Whatever it takes, they have to bring him back.
3. Tom Brady, New England Patriots

Having arguably your most impressive season in your career at 34 years of age—and doing so only a few years removed after a major injury—is impressive. Considering the year previous he was the first-ever unanimous MVP, then you begin to fully understand the amazing abilities of Tom Brady.
Brady likely won't ever match his statistics of 2007, but this year he worked with less talent and still brought his team to the Super Bowl. For as long as he plays in the NFL, he will be one of the best at his position.
4. Peyton Manning, Indianapolis Colts

Manning's career may be over, but until that announcement is made, he is still an MVP candidate year in and year out for me. The only ever four-time MVP's true value to his franchise was determined this year, as the Colts fell apart without him.
If Manning has indeed played his last snap in the NFL, then the whole league will miss him, not just those in Indianapolis.
5. Eli Manning, New York Giants

Archie's younger son has developed a tendency to come up big when it counts. Having already won one ring, this year Eli has carried a young and transitioning offense with his consistency and leadership.
Eli claimed before this season that he was on Brady's level; once the season started, he proved it.
6. Ben Roethlisberger, Pittsburgh Steelers

Injuries held Roethlisberger back this year, but even when he was fully healthy, he returned to the Roethlisberger of old. He remains a playmaker, but his weight and decision-making were once again issues, as he didn't show the same commitment that was evident last year.
There is no doubt about Roethlisberger's passion to play the game when on the field, but his work off the field doesn't appear to be on a similar level. It doesn't help having to make those decisions with defenders draped over you, of course.
7. Philip Rivers, San Diego Chargers

Rivers' issues this season were mostly due to protection problems. He didn't deserve to be in the Pro Bowl, but considering how he carried the team previously, his status as a top 10 quarterback was never going to be under threat.
Very few quarterbacks in the league could be elite without good pass protection.
8. Tony Romo, Dallas Cowboys

Tony Romo rightfully received a lot of criticism this year for a few mind-boggling decisions. However, the NFL is a 16-game season, and without Romo, the Cowboys wouldn't have even been a respectable group this year.
His overall play in dealing with a confused, ineffective offensive line (for the most part), plus a key injury on the outside to Miles Austin, was impressive overall. You can argue that Romo has lost the Cowboys many games, but he has also won them a hell of a lot also.
9. Matt Schaub, Houston Texas

Schaub may play in arguably the most quarterback-friendly offense in the NFL (star receiver, two quality tight ends, excellent running game, good pass protection), but the drop-off was palpable between he and T.J. Yates.
That drop-off is reflective of the quality of Schaub as opposed to the inability of Yates. Yates played well, but without Schaub's precision and leadership, the Texans were never going to make it to the Super Bowl.
10. Jay Cutler, Chicago Bears

Jay Cutler receives a lot of criticism that is unfair. His courage was questioned after last year's playoffs, but anyone who watched him during the regular season knew that that was unfair. In fact, quite often it takes more courage to take yourself out of a game rather than stay in and hurt the team.
Working behind one of the worst offensive lines in the league without a first-choice receiver, Cutler still stood tall and threw strikes repeatedly when he was on the field for the Bears. It's no coincidence that their season shut down without him. Very few quarterbacks could have survived in that offense in Chicago, much less match the success of Cutler.
11. Matthew Stafford, Detroit Lions

The youngest quarterback ever to eclipse 5,000 yards passing in a single season is the obvious favorite for the Comeback Player of the Year award this year. Stafford's potential is limitless. He is still only 23 and has already been in the NFL for three years.
Once he develops more consistency with the accuracy of his short and intermediate passes, Stafford will be able to challenge the elite passers in the NFL. His arm strength is special, but harnessing it further will be key for the Detroit Lions' future.
12. Cam Newton, Carolina Panthers

The first overall pick didn't take long to dispel the doubts and disprove his doubters. From his very first professional game to the last of the season, Newton showed off a comfort level that few rookies grasp and some veterans never reach.
With accuracy, velocity and consistency, Newton's arm is among the best in the league. Once he further develops, he could join the best of the best, but even if he has already hit his ceiling, he is already an offensive machine and franchise quarterback—which is a ridiculous statement to even comprehend for any rookie.
13. Matt Hasselbeck, Tennessee Titans

He may have left his home in Seattle to keep the seat warm for Jake Locker, but that didn't prevent Matt Hasselbeck from reminding everyone why he was once an All-Pro selection. Hasselbeck entered the season fully healthy and carried the Titans' offense as Chris Johnson struggled.
Without Kenny Britt he was somewhat handcuffed, but Hasselbeck still got the job done for the most part in Tennessee. As far as starting quarterbacks go, you can do A LOT worse than Matt Hasselbeck.
14. Andy Dalton, Cincinnati Bengals

Had Cam Newton not taken the league by storm, the clear favorite for Rookie of the Year would've been Andy Dalton.
Dalton took over the quarterback job in Cincinnati embroiled in turmoil. His poise off the field to deal with the Carson Palmer drama must have matched his poise on the field.
Unlike most rookies, Dalton seamlessly moves through his progressions and rarely makes rookie mistakes. One must wonder what his ceiling is, but so long as he and Jay Gruden are together, the Bengals can consider their offense in good stead.
15. Michael Vick, Philadelphia Eagles

Despite signing a $100 million deal prior to this season, Vick's level of play never really matched the money he was given. Playing behind an offensive line that struggled all year with receivers who had their own respective problems, Vick wasn't helped by his teammates.
Nonetheless, Vick needed to show greater leadership and impose himself on games without making so many mistakes. His tendency to miss time through injuries is also always going to be a negative against him.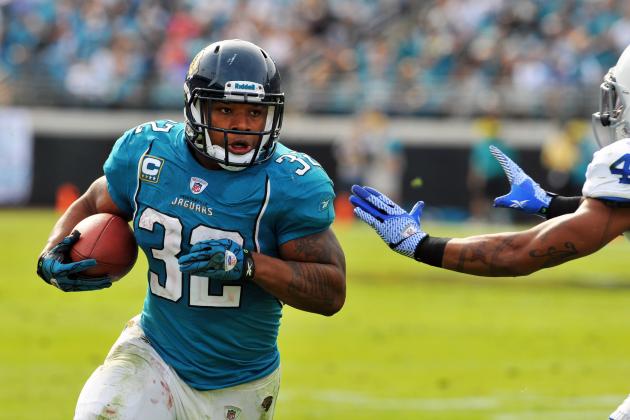 Al Messerschmidt/Getty Images

1. Adrian Peterson, Minnesota Vikings

How Peterson returns from his knee injury will be monumental for the Vikings' future as a franchise. He is the last remaining running back who distinguishes himself substantially over his competition.
So long as Peterson can retain his violent running style, his ability to carry the Minnesota Vikings' offense in the future should remain.
2. Maurice Jones-Drew, Jacksonville Jaguars

The Jacksonville Jaguars' offense starts and finishes with Maurice Jones-Drew. With an underperforming Marcedes Lewis and an uninspiring rookie quarterback under center, Jones-Drew had to carry the load, which he impeccably did.
Even facing eight and even nine-man fronts on a regular basis, Jones-Drew still led the league in rushing by nearly 300 yards.
3. Arian Foster, Houston Texans

Foster's first season as a full-time starter in the NFL was league-leading.
His second was almost as impressive.
Foster eclipsed 1,200 yards despite the emergence of Ben Tate, as well as missing time through injuries. Foster's dual-threat coming out of the backfield was somewhat hindered when Andre Johnson and Matt Schaub went out, but his talent as an elite running back was still evident.
4. Ray Rice, Baltimore Ravens

The Baltimore Ravens have been looking for Joe Flacco to carry them to a Super Bowl, however, Ray Rice remains the most talented player on the Ravens' offense and their best route at finally breaking the AFC Championship barrier.
With Vonta Leach leading the way, Rice was close to playing to his full potential this season with more than 2,000 yards of total offense.
5. Jamaal Charles, Kansas City Chiefs

Hopefully for the Kansas City Chiefs,—and Jamaal Charles—he will fully recover from his knee injury in time for next season. Fortunately for the Chiefs, Charles is not an aggressive cutter on his runs and doesn't have the most aggressive running style, which will alleviate the pressure on his injury.
So long as he can keep his speed up, Charles should once again be a dangerous runner by the time next season starts.
6. LeSean McCoy, Philadelphia Eagles

There were very few positives for the Philadelphia Eagles this year after an offseason of hype.
One star did come to play, however, as LeSean McCoy proved himself to be one of the most dynamic and versatile threats in the NFL.
McCoy's speed and elusiveness is a dangerous combination. When he plays on turf, he is basically unstoppable in the open field.
7. Darren McFadden, Oakland Raiders

The former Arkansas product became a captain this year for the Raiders at only 24 years of age. His ability and talent as a game-changer isn't in question.
However, he has yet to play a full NFL season, and this year was no different.
While there are some question marks over whether or not the Raiders still want to keep McFadden, when fully fit, he is one of those running backs who can do anything on the field. Plenty of teams will want McFadden if he is made available, regardless of his injury record to this point.
8. Steven Jackson, St. Louis Rams

The Rams' all-time franchise leader in rushing ahead of names like Eric Dickerson and Marshal Faulk remains a stud running back despite the poor players playing around him. Jackson's bulk and ability to wear down defenses would be valuable to any team—not just the Rams.
Unlike most bigger backs, Jackson is very effective coming out of the backfield and protecting his quarterback, while he is capable of exploding for huge gains as well.
9. Marshawn Lynch, Seattle Seahawks

As far as running the football hard goes, Marshawn Lynch and Adrian Peterson set the standard.
Lynch is arguably the hardest player in the NFL to bring to the ground. If he was more productive as a receiver, then his name would be in the conversation with Rice, Peterson and Foster.
10. Frank Gore, San Francisco 49ers

Frank Gore's specialty is undoubtedly running between the tackles, but defenses can't afford to sleep on him coming out of the backfield in passing situations (although he does so less these days, or breaking to the outside).
Gore is one of the biggest workhorses in the league
11. Matt Forte, Chicago Bears

Whether by product of scheme or simply a result of his talent, Matt Forte has been one of the most productive backs in the NFL in recent memory. His ability to beat you in so many different ways makes him a weapon that plenty of offenses would value, even if the Bears don't.
12. Reggie Bush, Miami Dolphins

Bush finally got the opportunity to carry the load in the NFL after his trade from the New Orleans Saints to the Miami Dolphins. After an initial slow start, Bush did prove that he could be the main ball-carrier and lead an offense; he averaged five yards per carry and had more than 40 receptions.
13. Fred Jackson, Buffalo Bills

Jackson's season-ending injury won't help his pursuit of that big contract hes hoping for.
However, if he can return to the form he showed prior to breaking his leg, there is no argument that he is one of the better running backs in the NFL.
14. Michael Turner, Atlanta Falcons

Michael Turner isn't so much a burner at this stage of his career, but he is still one of the more difficult running backs to bring down in the NFL. His bowling ball-like stature allows him to impose pain on opposing teams without losing too much of his own stamina.
Turner should still have another 300-plus-carry season in him.
15. Chris Johnson, Tennessee Titans

This season was a real wake-up call for Johnson. After being paid like an elite running back, he was reduced to just another back who had a big run every now and then.
Johnson's consistency needs to return if he is even to move back into the top 10 in the NFL.
Missing the Cut: Darren Sproles, New Orleans Saints

Darren Sproles is likely to be the considered the biggest name left off of this list. The list is not based on one season but even so, Sproles doesn't make it because a huge amount of his success is based around the quality of the Saints' offense that allows him favorable matchups on the football field.
Say you swap Sproles with Adrian Peterson or the Seattle Seahawks, do you still consider him an elite back? The backs listed would succeed on any roster.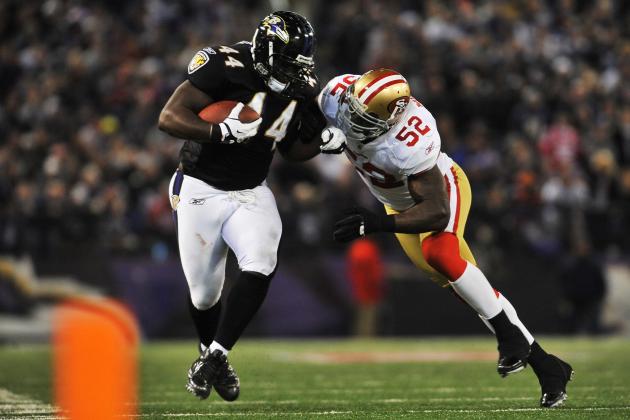 Larry French/Getty Images

1. Vonta Leach
Leach is the only fullback making enough of an impact at his club to be considered a blue-chip player.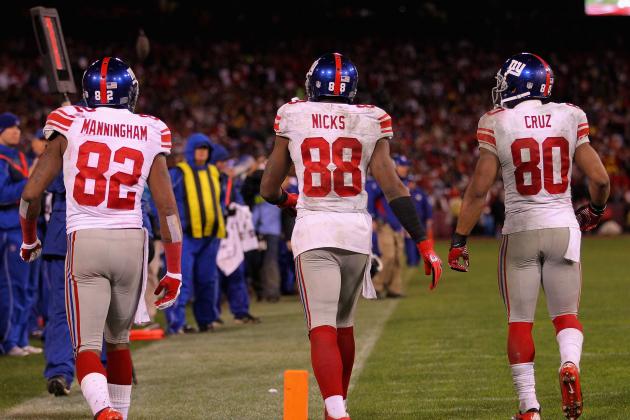 Doug Pensinger/Getty Images

1. Andre Johnson, Houston Texans

There are some things in the NFL that you can put down to system or situation. Leading the NFL in receiving for the better part of a decade isn't one of them.
Johnson's all-around game makes him essentially unplayable. He can run any route and does so with the utmost precision.
While he isn't necessarily a flashy receiver, Johnson defies the logic that receivers are loudmouthed divas; everything he does is precise and thought-through. Nothing about his game needs work from a coaching point of view, while his talent is equal to any of the other elite receivers in the NFL.
2. Larry Fitzgerald, Arizona Cardinals

Larry Fitzgerald may be lacking a proper supporting cast in Arizona, but even if Garo Yepremian was playing quarterback for the Cardinals, Fitzgerald would still find a way to come away with the football.
There are only a couple of wide receivers in the NFL who can truly take over an NFL game. Fitzgerald is probably the one who does it most often.
3. Calvin Johnson, Detroit Lions

For years, Calvin Johnson was a dominant receiver who made average quarterbacks look better than they actually were.
This year, Johnson didn't have to do much to make Stafford look good.
Johnson's deep threat ability is unmatched throughout the league, and there is not a single corner who can cover him without help.
4. Greg Jennings, Green Bay Packers

The Green Bay Packers' best receiver is often overlooked in the discussion for the best in the game. Jennings may not be the deep ball specialist or the biggest of receivers, but he relies on quality fundamentals and outstanding route-running.
Jennings has the some of the softest hands in the league and adjusts to throws better than anyone else in the whole league.
5. Wes Welker, New England Patriots

While Wes Welker may not be Tom Brady's No. 1 receiver anymore, he is the best wide receiver the Patriots still have on the roster.
Welker was finally back to 100 percent this season after being effective but not explosive after his torn ACL two years ago.
Welker remains the prototypical possession receiver in today's game and is still a vital piece of the Patriots' championship-winning puzzle.
6. Mike Wallace, Pittsburgh Steelers

Wallace is probably the fastest player in the NFL. Defenses haven't figured out how to handle his speed yet without switching coverage to his side. He may not run every single route to perfection just yet, but Wallace is a legitimate first-choice receiver and elite talent at this stage of his career already.
As Wallace works to redefine his route-running over the coming years, his potential to be a game-changer will be endless.
7. Hakeem Nicks, New York Giants

Eli Manning's favorite target has emerged during the playoffs, but his talent has been there since he was drafted.
This huge receiver can beat you in so many ways that very few corners are able to compete with him in single coverage. Nicks' ability to beat defenders, adjust to the football and snatch it out of the air makes him a top 10 receiver.
8. Vincent Jackson, San Diego Chargers

Jackson is one of the best receivers in the game, but he needs to sort out his issues off the field so that he can concentrate on it. He hasn't won over Chargers' management with his demands to be paid better, and it is undoubtedly a distraction.
Once he is locked into a long-term deal, you can expect to see the best from Jackson. Whether that is in San Diego or not is still to be determined.
9. Roddy White, Atlanta Falcons

A down year in terms of drops can be excused from Roddy White considering the repertoire that his career boasts so far. White is still one of the best possession receivers in the game and Matt Ryan's most dependable option, regardless of Julio Jones' arrival.
Despite turning 30, White should have every chance of extending his streak of straight 1,000-yard seasons to six.
10. Percy Harvin, Minnesota Vikings

Playing for the Minnesota Vikings this year couldn't have been much fun for Percy Harvin.
Harvin went from being part of a triple threat at wideout to being the only legitimate starter for the Vikings. He still managed to put up numbers despite playing with a rookie quarterback on an offense led by a mad scientist coordinator who took him out on a regular basis.
11. Kenny Britt, Tennessee Titans

Before his knee injury this year, Kenny Britt was having a monster year with two games of at least 130 yards receiving and three touchdowns combined.
Britt is a huge receiver with the ability to go deep or protect the ball over the middle. The Titans lost a dimension to their offense once he was lost for the year.
12. Jordy Nelson, Green Bay Packers

Nelson is one of the best big-bodied receivers in the NFL. He may not be that tall or have the greatest wingspan, but Nelson uses his body strength and athleticism to gain position on the ball and beat defenders in one-on-one situations. His sure hands make him a favored target of Aaron Rodgers.

13. Steve Smith, Carolina Panthers

After struggling through a hiatus with Jimmy Clausen last year, Cam Newton reignited Steve Smith's career.
Smith has always had the passion and talent, but the opportunities in recent years have been limited. Despite being on the back-burner of his career, he still has game-changing potential on every play.
14. Brandon Marshall, Miami Dolphins

Just like his time in Denver, Marshall had some huge games in Miami this year.
Whether it was Chad Henne or Matt Moore, Marshall still produced big numbers on a consistent basis. Marshall is entering his prime at 27 years of age, and with an improved quarterback situation in Miami, he could return to being an elite receiver in the coming years.
15. Victor Cruz, New York Giants

Cruz is an outstanding receiver and did break out with elite production this year.
However, some factors have to be taken into account when you evaluate him against other star receivers in the NFL.
Cruz benefits from playing with two high-quality receivers and an elite quarterback who knows how to take advantage of mismatches.
Missing the Cut
There were many more receivers deserving of being recognized on this list, but the best 15 were chosen. Guys like A.J. Green, Antonio Brown and Dwayne Bowe can all have cases made for their inclusion.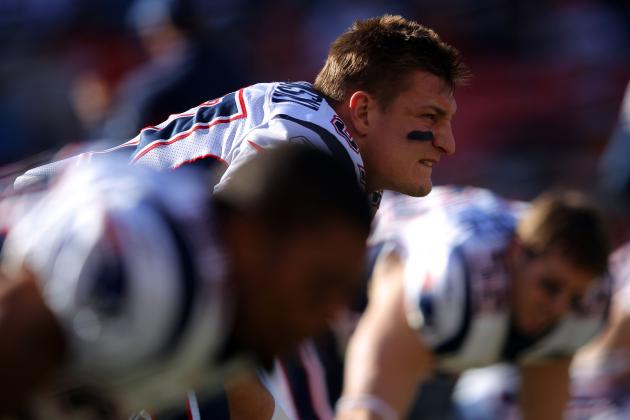 Doug Pensinger/Getty Images

1. Rob Gronkowski, New England Patriots

Rob Gronkowski established himself as the best tight end in football this year without a breakout season. He was excellent as a rookie, but he took his game to a new level this year.
Gronkowski is now firmly entrenched as the Patriots' No. 1 receiver and is a dominant force in the red zone. Being a brilliant blocker also doesn't hurt his case.
2. Jimmy Graham, New Orleans Saints

Entering this NFL season, the New Orleans Saints and Drew Brees had more proven weapons than most teams in the NFL. Then, the emergence of Jimmy Graham just tipped the scales to the point that things became easy for Brees.
Graham plays the game like a basketball player snatching the ball out of the air and repeatedly out-muscling defenders for the football. That said, he still has the speed and agility to beat defenders with his route-running.
Graham is one of the most difficult matchups in the NFL.
3. Jason Witten, Dallas Cowboys

For a long time, Jason Witten was easily the best two-way tight end in the NFL. Gronkowski may have stripped that title from Witten's grasp, but that isn't to say that Witten's clasp loosened; it was more that Gronkowski just took things to a new level.
Witten remains a tight end worthy of being a primary receiver on any team with unbelievably consistent hands. His large frame doesn't hinder his athleticism, which makes him one of the most difficult individual matchups in the league.
4. Antonio Gates, San Diego Chargers

The future Hall of Famer's only issue these days is staying healthy. When on the field, Gates is still a dominant receiver acting as a tight end. Missing nine regular-season games in the past two years has had a major impact on the Chargers' fortunes, though.
At 31 years of age, Gates still has plenty left in the tank to perform on the field if he can stay healthy.
5. Heath Miller, Pittsburgh Steelers

Heath Miller is a vital part of the Pittsburgh Steelers' offensive game plan no matter who the opposition is. Miller is the best blocking tight end in the NFL, while also being a favored target of Ben Roethlisberger.
Miller may not be the fastest or the most elusive with the ball, but he is a player who has been vital to the Steelers' success over the past few seasons without receiving much national acclaim.
6. Vernon Davis, San Francisco 49ers

As the San Francisco 49ers' wide receiving corps comes in for some criticism, there is nobody criticizing the work of tight end Vernon Davis. Davis is a physical freak. His speed and size, coupled with his sure hands, make him a dominant force at the position.
Matching up to Davis one-on-one is something very few teams will even try to do, because when they do, Davis is almost certain to rip off chunks of yardage repeatedly.
7. Aaron Hernandez, New England Patriots

On most NFL teams, Aaron Hernandez would clearly be the best tight end on the roster.
With the Patriots, he is sometimes an afterthought.
Hernandez is not really a tight end; he is a wide receiver, who lines up as a tight end. His limitations blocking aren't severe, but he won't ever be considered a two-way tight end.
That said, his versatility as a playmaker is overwhelming. Hernandez has been used by the Patriots in various ways from end-arounds to lining up as a running back. He can flat-out beat players with his pace alone, which is a rare commodity in a tight end.
8. Fred Davis, Washington Redskins

Despite a drug test failure, Fred Davis had an impressive year for the Washington Redskins. Davis' play on the field matured this season, as he was on pace to eclipse 1,000 yards receiving before being banned for the final three games of the season.
Davis needs to find his way into the end zone more often if he is to be considered an elite tight end.
9. Dallas Clark, Indianapolis Colts

Working without Peyton Manning for the first time in his career effectively rendered Dallas Clark moot in the discussion of the elite tight ends. Clark's talent undoubtedly remains, but until Manning returns or the Colts find an adequate replacement, whether or not Clark continues to play well into his 30s will remain undetermined.
He certainly didn't help himself this past year despite whatever issues occurred for the Colts' offense.
10. Dustin Keller, New York Jets

Keller's biggest issues have nothing to do with his abilities on the field. He is an excellent possession receiver and would benefit from playing in an offense with more deep threats on the outside.
Whether or not he is still Mark Sanchez's favorite target next year will be determined by whether or not Sanchez returns.
11. Brandon Pettigrew, Detroit Lions

The Detroit Lions' former first-round pick is 26 and has already had to deal with a serious injury in his young career.
Pettigrew has overcome that to become a solid receiver and good blocker. Whether or not he can kick on to become a top 10 tight end is yet to be determined.
12. Owen Daniels, Houston Texans

Owen Daniels deserves to be in the conversation for Comeback Player of the Year after a fine season for the Houston Texans.
Returning from two consecutive seasons ended by torn ACLs is an amazing feat for any player.
Returning with some level of success in an offense without its starting quarterback is even better.
13. Marcedes Lewis, Jacksonville Jaguars

Consistency is the key with Marcedes Lewis—it's key because he doesn't seem to have any.
Whether it is a reflection of Lewis' teammates and their substandard play or of Lewis' abilities himself, he cannot be considered a top 10 performer with his type of production. Going from 10 touchdowns to zero is unacceptable, even with a poor passer under center.
14. Jermaine Gresham, Cincinnati Bengals

The rangy Gresham is still only 23 years of age and is slated to become a greater presence in the Bengals' offense next season. Gresham has all the physical talent to become an elite tight end, and his consistency as a younger player has been promising.
However, much like Pettigrew, what his future holds is completely down to him. He is in a good situation in Cincinnati, so he has no excuses.
15. Zach Miller, Seattle Seahawks

Miller may not have had the statistics in 2011 the Seahawks were hoping for after bringing him in in the offseason. However, the Seahawks were still delighted with the contribution their so-called receiving tight end offered them.
Miller's production in the receiving game wasn't helped by the style of offense run in Seattle as well as Tarvaris Jackson's torn pectoral muscle. However, he showed he could be a two-way tight end, excelling as a blocker for Marshawn Lynch as the season went on.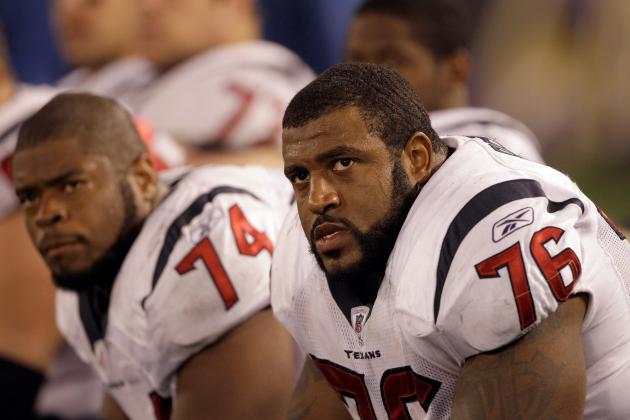 Rob Carr/Getty Images

1. Joe Thomas, Cleveland Browns

Joe Thomas is regularly regarded as the best left tackle in the NFL. His no-nonsense attitude of dealing with blitzers generally renders them completely useless. Very few players can ever get the better of Thomas despite the overall quality of the Browns' offense.
Being dominant in both phases of the game is a rare combination, but Thomas does have it.
2. Duane Brown, Houston Texans

For long stretches this year, Duane Brown was comfortably the best offensive tackle in the NFL. He didn't allow a sack all season and was a dominant run-blocker, but because the Texans ran the ball so much more than the Browns and so much more effectively, Thomas gets the nod as the best tackle in the NFL right now.
3. Jason Peters, Philadelphia Eagles

While most of the Philadelphia Eagles' offensive linemen come away with bruised egos after this season, Peters was too busy bruising his opposition in what was a fine year for him individually.
The former Buffalo Bills blind-side protector showed great versatility in the running game, often sustaining blocks deep down the field or getting to the sideline while also excelling in pass protection.
4. Jake Long, Miami Dolphins

Long is probably the best pass-blocking tackle in the NFL. His speed off the snap is nothing short of amazing, as he often looks like he is jumping the gun and is sometimes falsely called for false starts, too.
Long has certainly lived up to his draft position and has become a franchise left tackle.
5. Michael Roos, Tennessee Titans

The Titans had one of the best offensive line groups in the NFL last year, and Michael Roos has been a staple of the line for a long time.
Roos has never missed a game since entering the league seven years ago. He is the epitome of consistency.
6. Trent Williams, Washington Redskins

Trent Williams is one of the most physically gifted tight ends in the NFL.
Much like Ryan Clady, Mike Shanahan is getting the best out of Williams' raw talent. Williams' huge body and nimble feet make him a tough matchup even for DeMarcus Ware, whom he sees twice a year. When you can stand up to Ware, you know you're a talented tackle.
7. Andrew Whitworth, Cincinnati Bengals

Andrew Whitworth played like an All-Pro player for the most part of this season before being exposed by James Harrison of the Pittsburgh Steelers. Whitworth barely allowed any pressure for the most part of the season, but fell apart in pivotal games against the Steelers.
Whitworth's greatest strength is just that—his strength. Playing with a great base beneath him, once he attaches himself to blitzers, they are taken out of the game. Here is a further scouting report on Whitworth from earlier this season.
8. Marcus McNeil, San Diego Chargers

Marcus McNeil has missed chunks of the past two seasons, and the impact has been palpable. He has elite talent in the right body type to dominate the left tackle position. Without him in the lineup, the pressure on Philip Rivers increased, which is saying something considering he was being pressured even with McNeil in the lineup.
9. Jordan Gross, Carolina Panthers

Jordan Gross may not be an elite blocker, but he is definitely on the second tier of players looking to class themselves as the best in the business. Whether he's setting the edge for Cam Newton or creating seams for DeAngelo Williams, Gross is one of the better tackles in the NFL.

10. Jermon Bushrod, New Orleans Saints

The New Orleans Saints have interior offensive linemen who can take over games by mauling their opposition or creating a clean pocket for Drew Brees. Bushrod on the outside doesn't dominate as a run-blocker, but he does give Brees very good protection in the passing game.
11. Joe Staley, San Francisco 49ers

Jim Harbaugh's offense somewhat alleviates the pressure on the team's offensive line because of the quality play-calling and great balance. Staley has always been a good tackle, but the recognition has finally begun to roll in with the 49ers having such a successful season.
12. Jared Veldheer, Oakland Raiders

The Oakland Raiders have many issues, but the left side of their offensive line is not one of them.
Along with rookie Stefen Wisniewski at left guard, Jared Veldheer is a high-quality young player protecting Carson Palmer's blindside.
13. Donald Penn, Tampa Bay Buccaneers

Although the Buccaneers struggled in basically every facet of the game this year, the offensive line was, for the most part, respectable. Donald Penn has proven himself to be a good pass protector over recent years and deserves his place on this list.
14. Nate Solder, New England Patriots

Despite being a rookie and moving in and out of the lineup because of Sebastien Vollmer's health issues, Nate Solder proved himself to be a fine right tackle for the New England Patriots.
Solder didn't play like a rookie; his comfort level and composure were reflected in his physical dominance of his opposition in the running game as well as being a reliable pass protector.
15. Andre Smith, Cincinnati Bengals

Smith was drafted with the potential to be a blind-side protector, but he has found his home on the right-hand side of the Bengals' offensive line. It is no surprise that Smith is excelling on the right-hand side of the line with his bulk.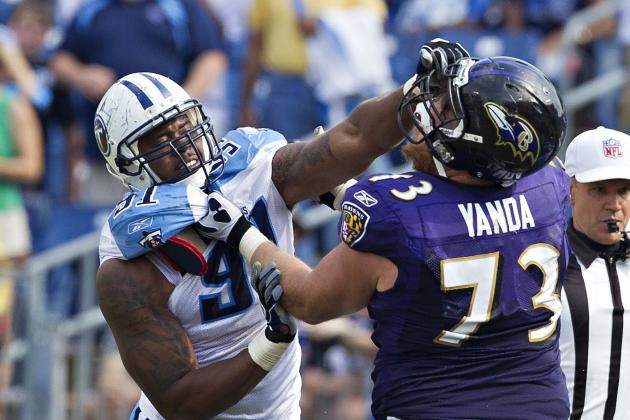 Wesley Hitt/Getty Images

1. Carl Nicks, New Orleans Saints

For the most part, guards either excel at pass protection or are great maulers in the running game; very few have the combination of bulk and agility to excel in both areas of the position.
Carl Nicks is not one of those players.
Nicks plays the position expertly and will command a big fee in free agency this year.
2. Logan Mankins, New England Patriots

Tom Brady is the best-protected quarterback in the NFL. That begins with the strength and leadership of Logan Mankins inside.
Mankins started this season in fine form before suffering a drop in form toward the second half of the season. His impact returned in the playoffs along with Brian Waters to reassure fans that it was just a temporary slump, as opposed to a sign of decline.
3. Marshal Yanda, Baltimore Ravens

Marshal Yanda is one of those freaks in the trenches whom only the Baltimore Ravens seem to find.
Much like Haloti Ngata on the other side of the football, Yanda can play anywhere across the offensive line. His best position is guard, but he has the intelligence to play center and the agility to play tackle.
All that makes him a unique interior offensive lineman playing to his level.
4. Jahri Evans, New Orleans Saints

Evans, like Nicks, is able to excel in both facets of the game. Both he and Nicks are huge reasons for the success of the Saints' offense. Nicks has the edge over Evans because of his penalty issues, but those aren't regular enough to cause any real concern over his status as one of the best guards in football.
5. Josh Sitton, Green Bay Packers

The Packers' offensive line isn't very good. In fact, Aaron Rodgers covers many of the flaws that the undersized group exudes.
Josh Sitton, however, is not a reason for that lack of performance. Last season, Sitton was a star for the Packers, and he followed that with a solid year this year.
6. Chris Snee, New York Giants

Snee is a veteran who has been playing to a very high level over the past few years. He is now just entering his 30s, but he could have the best of the next five years considering how durable he has been to this point in his career.
7. Mike Iupati, San Francisco 49ers

Iupati is a former first-round pick who appeared to settle into his role with the San Francisco 49ers this year. After an up-and-down rookie season, Iupati found a comfort level and a consistency that was previously lacking. He looks like a star-in-the-making at only 24 years of age.
8. Wade Smith, Houston Texans

As everyone watches Arian Foster and Ben Tate bounding through running lanes on Sundays, most onlookers completely overlook the work of the Texans' offensive line.
The Texans have one of the best offensive lines in the league, and the best run-blocking line in the league, so it is no surprise that Wade Smith makes it into the top 10 at his position.
9. Brian Waters,

Tom Brady rarely ever gets touched from pressure through the middle of the pocket.
It's no surprise considering the talent that Bill Belichick has assembled in front of him.
Waters is a veteran and only left Kansas City for financial reasons. With the Chiefs, he was a dominant run-blocker; in New England he has excelled in pass protection.
10. Brandon Moore, New York Jets
Moore has been an ever present in the New York Jets' lineup since 2004, and this year he finally made it to Hawaii for the Pro Bowl. Despite the overall struggles of the Jets' lineup, Moore's consistency was rightfully rewarded with a Pro Bowl berth, unlike many who get there by reputation.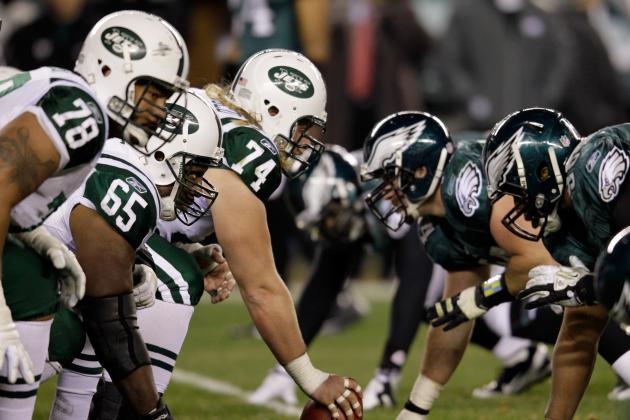 Rob Carr/Getty Images

1. Nick Mangold, New York Jets

By reputation,—and more importantly by performance—Nick Mangold is the best and has been the best center in the NFL for years. Mangold missed games this year, and the Jets' protection completely fell apart without him.
2. Chris Meyers, Houston Texans

Meyers, like most of the Texans' offensive line, doesn't receive the credit he is due. Meyers is one of the more athletic centers in the NFL and is a key part of the overall excellence of the Texans' line. He only made the Pro Bowl as an alternate, but should have been voted in from the start.
3. Eugene Amano, Tennessee Titans

Amano had a huge task taking over the center position from a Titans legend in Kevin Mawae. The drop-off in play has essentially been nonexistent, as the Titans continue to give good protection to whoever plays under center.
4. Jeff Saturday, Indianapolis Colts

Whether or not Saturday returns for next season, his value to the Colts with his leadership and understanding of defenses will be as high as ever. He may not physically be a dominant player anymore, but Saturday's ability to recognize defenses and point out blitzes for his offensive line is invaluable.
5. Alex Mack, Cleveland Browns

Cleveland Browns fans are most proud of their offensive line—on offense at least—and for good reason. With Alex Mack inside and Joe Thomas outside, they have two of the best young offensive linemen in the NFL.
6. Ryan Kalil, Carolina Panthers

Aiding Cam Newton in his rookie season was Ryan Kalil's biggest job this past season, and he did it expertly.
Kalil is arguably the best young center in the league, along with Alex Mack. Mack and Kalil are similar in that they possess all-around games, and they influence the game in both phases.
7. Dan Koppen,

Despite how easily the Patriots seemingly dealt with his loss, Dan Koppen was a major blow for the Patriots this past season. It is a huge achievement for Bill Belichick to overcome his loss so early in the season, as Koppen is the best pass-blocking center in the NFL outside of Nick Mangold.
8. Todd McClure, Atlanta Falcons

The Falcons' offensive line wasn't as polished as it has been in the recent past, but center Todd McClure has remained a rock in the center of the offense. Despite missing the start of the season because of a knee injury, the 34-year-old had a fine season protecting Matt Ryan and moving the pile for Michael Turner.
9. David Baas, New York Giants

Baas arrived in New York this season on an offensive line undergoing some major transitions. He struggled with injuries and inconsistency throughout the year, but dealt with a lot of adversity in new surroundings as well as anyone could be expected to.
10. Mike Pouncey, Miami Dolphins

The comparisons with his brother will always be there, but realistically, neither player is playing to an elite level on a consistent basis. Pouncey started out the season playing better football than anyone else at the position, but a bad day with Broderick Bunkley of the Broncos appeared to send him back to college form when he often looked nervous and unsure of himself.
Just Missing the Cut: Maurkice Pouncey, Pittsburgh Steelers
Maurkice Pouncey is the biggest name left off of this list. I can't see how he was considered to be an All-Pro player by some this year. The Steelers got more production inside from their backup, Doug Legursky, than Pouncey, as he failed to make anything close to the impact he did as a rookie.
Hopefully for the Steelers, Pouncey's lack of strength and athleticism this season was a result of the ankle issues that have plagued him since the AFC Championship last year. He underwent surgery to fix those issues after the season.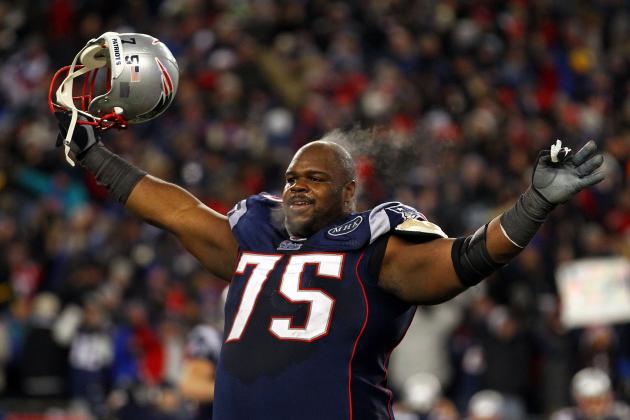 Al Bello/Getty Images

1. Vince Wilfork, New England Patriots

Wilfork has undoubtedly missed Richard Seymour and Ty Warren on the defensive line over the past few seasons, but their departures have only allowed him to step up into a bigger leadership role.
Wilfork is huge, and his value to the Patriots is almost undefinable.
2. Sione Pouha, New York Jets

After Kris Jenkins' knee injuries in recent years, Sione Pouha was asked to step into a starting role despite being an unproven commodity. Pouha became a dominant force almost instantly, as he consistently consumes blockers and makes everyone on the defense around him better.
3. Kyle Williams, Buffalo Bills

Williams would likely be second on this list if he had played more this season. He went out early but he and Marcel Dareus did enough together to say they will be a force to be reckoned with next year.
Williams is the best pass-rushing nose tackle in the NFL.
4. Casey Hampton, Pittsburgh Steelers

With his knee injury threatening his career, Casey Hampton may have played his last snap in the NFL. If that is so, the Steelers will have a tough time replacing the veteran star.
Hampton doesn't do much in the passing game, but the Steelers' linebackers owe a lot of their success to his ability to maintain double and even triple-teams.
5. Barry Cofield, Washington Redskins

When Cofield left New York and announced he was signing with Washington, I had some concern that he would not be able to fill the role of a 3-4 nose tackle. Cofield wasn't dominant against the run in New York, being more of a penetrator as opposed to a consumer, but he has bought into learning his new position from Day 1 in Washington.
Cofield is one of the most versatile 3-4 nose tackles because of his 4-3 origin.
6. Isaac Sopoaga, San Francisco 49ers

Sopoaga was part of one of the best defensive lines in football this past year. As Justin Smith gets most of the credit, Sopoaga is often forgotten despite being a better replacement for the departed Aubrayo Franklin.
7. Jay Ratliff, Dallas Cowboys

Despite being undersized, Ratliff has continued to excel in the middle of the Cowboys' defense during his career. His sack numbers have taken a hit the past two years, but that can be attributed to the overall standard of the Cowboys' defense.
8. Antonio Garay, San Diego Chargers

Antonio Garay is one of the least-celebrated nose tackles in the NFL, but he quietly goes about his job to great effect. Garay, like most nose tackles, is a huge presence inside who excels at fighting against multiple blockers.
9. Shaun Cody, Houston Texans

Wade Phillips' first issue arriving in Houston as the Texans' defensive coordinator was sorting out who could fit in his scheme and who couldn't.
Very few people other than Shaun Cody could man the nose tackle position, but he did to great effect. Cody isn't asked to handle as many gaps in Phillips' scheme as most nose tackles are, but his work this year was nonetheless stellar.
10. Terrence Cody, Baltimore Ravens

Cody lost a lot of weight to get on the field this year for the Ravens, and he was still a huge presence inside.
Cody's weight has been an issue since he was drafted two years ago, but this season he established himself as a full-time starter and looks like holding down the interior of the Ravens' defense for years to come.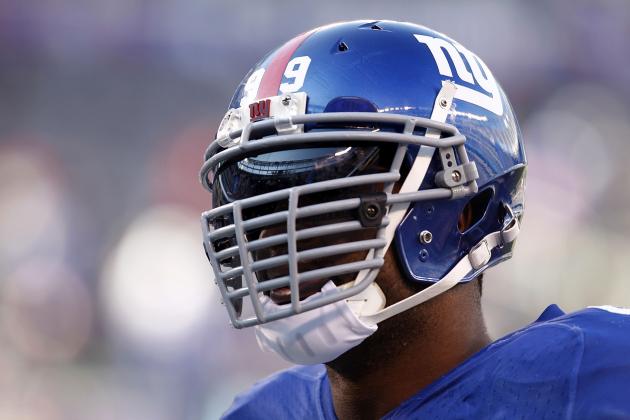 Jeff Zelevansky/Getty Images

1. Kevin Williams, Minnesota Vikings

Despite playing with arguably the worst secondary in the league and without his long-time partner, Pat Williams, Kevin Williams still had a fine year for the Minnesota Vikings.
Williams had five sacks in 14 games after being suspended for the start of the season, despite only notching one in 16 games the year before. He is an intelligent football player with 12 pass deflections in the past two years and is also regularly shutting down running backs.
2. Cullen Jenkins, Philadelphia Eagles

You just have to look at the Green Bay Packers' struggles up front to see how good Cullen Jenkins is.
Jenkins is the most versatile defensive lineman in the NFL. He is the definition of a player who shuts down the running game on the way to the quarterback, as opposed to a guy like Ndamukong Suh who ignores the running game on the way to the pass.
3. Richard Seymour, Oakland Raiders

Seymour may be 32, but he and Tommie Kelly are still a force inside for the Oakland Raiders' defense.
The Patriots traded Seymour for the long-term future of the roster, he was not let go by the Patriots because he was past it. In fact, it's hard to determine who you would prefer to have on your roster right now: Seymour or the man whom he was essentially traded for, Nate Solder.
4. Chris Canty, New York Giants

Lost in the plethora of pass-rushers in New York, there is one Giant who plays as well as anyone up front.
Canty is the defensive tackle who stays on the field in the Giants' three-defensive end front. His athleticism essentially gives the Giants four defensive ends looking to take down the opposing signal-caller, though.
As far as interior pass-rushers go, Canty is one of the best without losing defensive integrity.
5. Phil Taylor, Cleveland Browns

Taylor's rookie season was outstanding. For anyone who hasn't seen him play, which is probably a large audience considering the Browns' prime-time schedule, Taylor is like an undersized Ndamukong Suh physically, but with scheme discipline.
Suh isn't on this list because he basically ignores the run and repeatedly gets trapped by offensive lines, but Taylor plays disciplined football and doesn't sell out his teammates.
6. Brodrick Bunkley, Denver Broncos

Bunkley was let go by the Philadelphia Eagles as they brought in the flashier defensive linemen. Despite not having the versatility of Jenkins, Bunkley became a vital piece of the Broncos' defense. His ability against the run solidified the defense as the season went on, allowing guys like Elvis Dumervil and Von Miller to light up the opposition.
7. Geno Atkins, Cincinnati Bengals

Atkins broke out in Cincinnati this year as a second-year player and first-time full-time starter. Atkins excelled at rushing the quarterback, but needs to add more bulk to effectively take on offensive guards and move to become an elite interior lineman.
8. Tyson Alualu, Jacksonville Jaguars

Alualu was a shock pick when he was selected in the Top 10 of the NFL draft; since then, he has had a good, not great, career.
Alualu may not be worthy of his draft spot in most fans eyes, but he is definitely a good football player who has made an impact on the Jaguars' defense.
9. Jonathan Babineaux, Atlanta Falcons

Outside of John Abraham in Atlanta, Jonathan Babineaux is looked to as the leader of the defensive line. Babineaux is brilliant against the run and consistently gets pressure on the quarterback or demands double-teams.
The Falcons may have pass-rushing problems, but Babineaux isn't part of that problem.
10. Henry Melton, Chicago Bears

Youngster Henry Melton became a full-time starter for the Chicago Bears this year after being a part of the rotation last season.
Melton showed flashes on his way to seven sacks. He is undoubtedly helped by Julius Peppers and Israel Idonije flanking him, but there is no doubt that there is a lot of talent and potential there.
Just Missing the Cut: Ndamukong Suh, Detroit Lions
Ndamukong Suh was referenced in a few of the above-listed paragraphs. He was not removed from this list because of his discipline in terms of punching and stamping on people—he was removed from the list for his lack of scheme discipline.
Suh is a penetrating defensive tackle, but he also needs to understand that he cannot just go for the quarterback without checking the runner on 99 percent of plays.
Until that happens, I will take any of the players listed above over him. The violence issues don't help, either.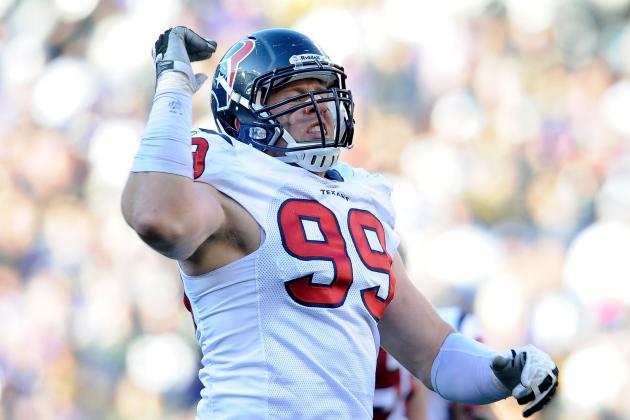 Patrick McDermott/Getty Images

1. Haloti Ngata, Baltimore Ravens

With the Pittsburgh Steelers' Aaron Smith suffering a second major injury in successive seasons, he cannot be included on this list. As such, Haloti Ngata takes over as the best 3-4 defensive end in the NFL.
Ngata is the only person I've ever seen to be such a size and not need to lose any kind of weight. He cannot be blocked by any single blocker. Even when triple-teamed he can still make plays on defense.
2. Justin Smith, San Francisco 49ers

Smith has been a star in San Francisco for a long time, but much like many of his teammates, he is now only receiving national attention because of the success of the team. The only disappointing part about Smith's career is that he is only being recognized toward the end of it.
After moving over from Cincinnati, Smith became a perfect 3-4 defensive end. He is a better pass-rusher than most and lives in opposition backfields. Without Smith, the 49ers' defense wouldn't have been close to the level it became this year.
3. Brett Keisel, Pittsburgh Steelers

Brett Keisel became the veteran of the Steelers' defensive ends after Aaron Smith went down early in last season. Smith went down again this year, but Keisel's play didn't follow. Generally the afterthought of the Steelers' defensive front, Keisel quietly goes about making plays and dominating his side of the field.
The beard may be more famous than the play on the field, but the very nature of the 3-4 defensive end is to go unnoticed. Not hearing Keisel's name is nothing new to the veteran defender. His three Super Bowl appearances are reward enough for a fine career.
4. Randy Starks, Miami Dolphins

Starks has proven himself as a vital cog in the Miami Dolphins' defense over the past few seasons. Much like the Miami defense, Starks struggled early on in this season before finishing out strong. His size on the inside makes him a force against the run while he still has enough mobility to pressure the quarterback.
With Jared Odrick showing flashes this past season, the Dolphins have two very good reasons to stay with their 3-4 defense despite Mike Nolan's departure.
5. J.J. Watt, Houston Texans

There is only one knock on JJ Watt as a football player: longevity.
Watt couldn't have done any more than he did as a rookie for the Texans. His consistency and ability to play both the run and the pass, whether double-teamed or not, made him arguably the best defensive end in the league this year.
Watt's athleticism is there, and there is no doubt he has the potential to be great considering he is only 22, but consistency is something that has to be proven over time.
6. Stephen Bowen, Washington Redskins

The Dallas Cowboys lost Stephen Bowen to the division rival Washington Redskins prior to this year. Bowen wasn't a major player for the Cowboys, but they knew that they were losing a talented player.
That talented player emerged this year for the Redskins, whose defensive front three is looking very strong entering next year.
Bowen had six sacks from the end position while consuming defenders on a regular basis to allow Ryan Kerrigan a one-on-one matchup outside. Like most 3-4 ends, most won't know Bowen, but he is an emerging star.
7. Calais Campbell, Arizona Cardinals

Calais Campbell is somewhat forgotten in Arizona living in the national shadow that Darnell Dockett extrudes. Dockett's shadow is more about his off-the-field persona as opposed to his play these days, but Campbell is quietly becoming one of the better pass-rushers in the NFL.
Eight sacks and 10 pass deflections last season, along with two forced fumbles and 72—yes, 72!—is a phenomenal return for any player.
8. Ray McDonald, San Francisco 49ers

The 49ers' run-defense this year is accredited to guys like Justin Smith and Patrick Willis more often than Ray McDonald. Regardless, McDonald is a fine defensive end who played the game at a very high level under Jim Harbaugh.
McDonald isn't afraid of the big moment, either, after being a constant thorn in the Giants' side in the playoffs. He was penetrating the offense on a consistent basis without even considering his 2.5 sacks.
9. Evander Hood, Pittsburgh Steelers

Evander Hood took on the huge task of filling Aaron Smith's shoes in Pittsburgh early last season. Hood had a better year last year than he did in 2011, but his level of play was still top-10 worthy.
Hood's bulk and agility are still improving the more he plays, but he needs to do better overcoming double-teams to be considered an elite end.
10. Marcell Dareus, Buffalo Bills

Dareus split time between defensive end and nose tackle after Kyle Williams' season-ending injury. Dareus has all the potential to be a major star in the NFL, but the Bills need to improve the front seven around him if he is to reap any rewards from his individual abilities.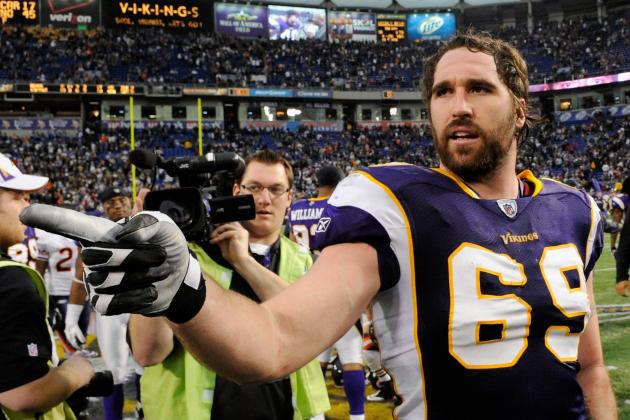 Hannah Foslien/Getty Images

1. Jared Allen, Minnesota Vikings

There is no argument with Allen's production this year in less-than-ideal circumstances. Not only is he the best 4-3 end in the NFL right now but he is also my choice for Defensive Player of the Year.
2. Jason Pierre-Paul, New York Giants

A breakout season for the young defensive end has led the Giants to the Super Bowl.
"Freakish" is the only way you can describe Pierre-Paul's physical abilities and athleticism, but what has really set him apart from the other talented ends in the league is his all-around game.
Unlike Osi Umenyiora, nobody is questioning Pierre-Paul's toughness or thinking that they can run over him.
3. Julius Peppers, Chicago Bears

Peppers may be closer to the end of his career, but his motor and production on the field don't look like they're stopping anytime soon.
Despite question marks over his commitment in Carolina, Peppers has been great in Chicago. Each of his 11 sacks were well-earned, as he consistently has to overcome double-teams or chipping backs and tight ends.
4. Trent Cole, Philadelphia Eagles

For stat-heads, I'm committing a cardinal sin leaving Jason Babin off my list of 4-3 defensive ends.
The problem with Babin is that he sells out totally to get to the quarterback. While the scheme in Philadelphia doesn't ask the defensive ends to think run first, it does require them to make some level of effort to prevent running backs from getting big games.
Trent Cole didn't have the issues that Babin had; he played the run effectively and still managed 11 sacks. Cole had 11 sacks going against the left tackles of the league while playing the run; just because Babin had better statistics doesn't mean he was the better player.
Just ask Marshawn Lynch whom he'd prefer to run on.
5. Dwight Freeney, Indianapolis Colts

Freeney's spin move is still as feared as it ever was. His effectiveness may have been reduced by the Colts' overall struggles this year, but he is still an All-Pro talent who's capable of taking over any NFL game. He may be entering the twilight of his NFL career, but Freeney is still one of the most feared pass-rushers in the game.
Any talk of Freeney not being able to stand up to the run is false. He may not dominate the running game the way he does the pass, but he is more than capable of holding up his end of the deal.
6. Elvis Dumervil, Denver Broncos

Dumervil returned this year from injury and moved back to defensive end after a very successful year at linebacker. Dumervil may be a little on the small side, but his pass-rushing ability more than makes up for any size disadvantages. He is one of the fastest edge-rushers in the NFL.
7. Chris Clemons, Seattle Seahawks

Clemons is one of the most dynamic defensive ends in the NFL. He has the ability to rush the passer as well as dropping into zone coverage if needed.
What is most startling about Clemons as a player is if you ask him to track a tight end down the field, he has the athleticism and awareness to cover them. The Seattle Seahawks make great use of his versatility.
8. Justin Tuck, New York Giants

Tuck is a dominant defensive end. He primarily sticks to the left-hand side of the line, which allows him to take advantage of right tackles with less fleet of feet.
Jason Pierre-Paul may be receiving the majority of recognition on the Giants' roster this year, but you can bet any team lining up across from Tuck won't be overlooking him.
9. Charles Johnson, Carolina Panthers

After a year in which he made himself a candidate to be a one-year wonder, Charles Johnson did enough this season to reassure Panthers fans that they haven't wasted their money with the huge contract they gave him.
10. Cliff Avril, Detroit Lions

Prior to this season, I wrote that Cliff Avril would have a breakout season if he re-signed with the Lions. He proceeded to do so, notching 11 sacks and forcing six fumbles on the year.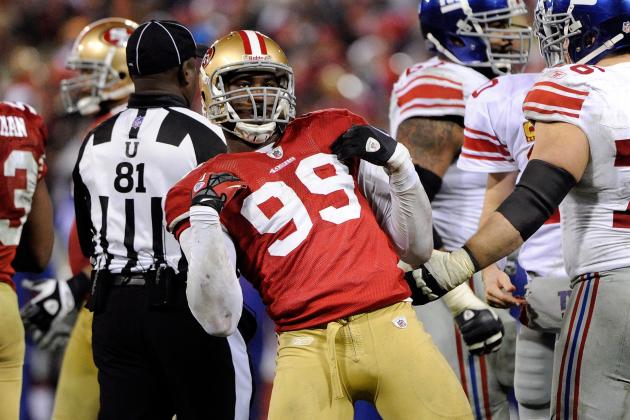 Thearon W. Henderson/Getty Images

1. DeMarcus Ware, Dallas Cowboys

Ware may not be the most complete outside linebacker, but his ability to get to the quarterback through double-teams and consistently pressure the quarterback is unmatched.
Ware's constant pressure is invaluable, as he overcomes any limitations in coverage with his ability to make those around him better.
At 29 years of age, Ware has shown no signs of slowing down, notching 19.5 sacks last season.
2. LaMarr Woodley, Pittsburgh Steelers

When fully healthy this season, LaMarr Woodley was a dominant force for the Pittsburgh Steelers. He had nine sacks in the first eight games of the season before getting injured in the New England Patriots game.
Woodley's all-around game makes him one of the best linebackers in football. He is the second-best run-stuffer on the Steelers' roster, second only to Casey Hampton, while being too physically overpowering to be blocked one-on-one.
3. Tamba Hali, Kansas City Chiefs

Depending on how Justin Houston continues to develop in Kansas City, Tamba Hali could have his biggest year to date next season.
Hali's biggest issue throughout his career has been the lack of another pass-rusher in the Chiefs' front seven. Despite essentially receiving all the attention from opposing offensive lines, Hali has continued to be disruptive and rack up the sacks on Sundays.
Hali is excellent at the strip sack, with more than 22 fumbles forced in his career. He is an elite outside linebacker despite having to carry the Chiefs' pressure package in recent times.
4. Terrell Suggs, Baltimore Ravens

A year in which Suggs made a case for Defensive Player of the Year was only marred by a poor playoff showing.
Suggs is in his prime, and it shows. Whether he lines up as part of the front four with his hand in the ground or if he stands up on the edge, Suggs is a game-changing linebacker. His 14 sacks and seven forced fumbles on the year came as no surprise for a player in his prime.
5. Connor Barwin, Houston Texans

Houston Texans fans were hoping more than expecting Connor Barwin to break out this season, and fortunately for them, he did with a huge impact.
Barwin, in his first season as an outside linebacker, became a force off the edge for Wade Philips' defense. Outside of being a dominant performer on the field, Barwin instantly stepped into a leadership role for a young front seven. Along with Brian Cushing and DeMeco Ryans, Barwin led by example throughout the season for younger players like Brooks Reed and J.J. Watt.
6. Aldon Smith, San Francisco 49ers

I do detest putting a player on this list who doesn't play every down,—or at least the majority of downs—but Aldon Smith's impact on the San Francisco 49ers' defense this season was too great to prevent him from slotting in at No. 6.
He may still need to develop his all-around game, but Smith's sheer pass-rushing skills alone will warrant double-teams on a consistent basis in the future. It may be borderline sacrilege, but he reminds me of Ware.
7. James Harrison, Pittsburgh Steelers

Discipline is a big issue with James Harrison. While his illegal hits and suspensions are an issue, the greater issue with his discipline was exposed in the playoffs. Harrison repeatedly lost defensive integrity by not carrying out his role on the defense, allowing Tim Tebow to gain the edge on option plays.
Outside of that, Harrison still has the ability to take over games like he did against the Cincinnati Bengals this year. However, a greater level of consistency is needed from him if he is to return to being a Defensive Player of the Year candidate.
8. Cameron Wake, Miami Dolphins

The former CFL player has notched 28 sacks during his three NFL seasons. Those numbers are made even better when you consider he has only been a starter for the last two.
Wake's relentlessness makes him a constant irritation for offensive linemen. Much like Tamba Hali, Wake would benefit hugely from playing with better individual pass-rushers around him.
9. Brian Orakpo, Washington Redskins

Orakpo doesn't receive a huge amount of praise for his resúmé; in fact some Redskins fans are thoroughly underwhelmed by him, but you can't argue with his production.
During his three seasons as a Redskins player, Orakpo has notched at least 8.5 sacks each year. Being that he is still only 25, Orakpo still has a chance at becoming an elite outside linebacker.
10. Jarrett Johnson, Baltimore Ravens

Because he's not a dominant pass-rusher, Jarrett Johnson gets overlooked by seemingly everyone when discussing elite outside linebackers. Johnson is an all-around excellent player, however. He shuts down the run and maintains defensive integrity, while also playing excellent coverage around the field.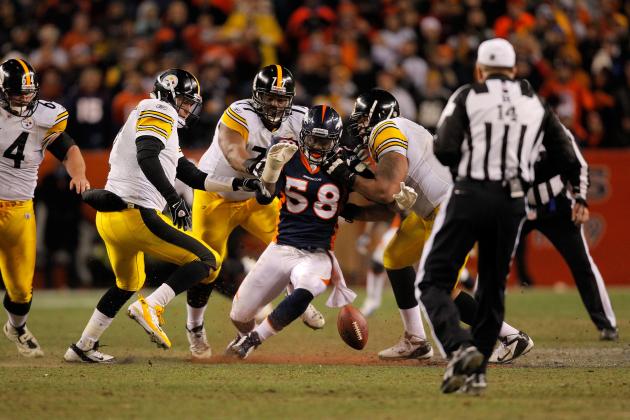 Justin Edmonds/Getty Images

1. Von Miller, Denver Broncos

The rookie quickly shot to the top of the positional rankings after an amazing rookie season that was only curtailed by a hand injury.
Miller has everything you would like in a linebacker. He could play outside linebacker in a 3-4 or 4-3, play inside in either scheme or even line up as a defensive end in a 4-3.
His ability to rush the passer is obvious, but it is Miller's awareness and athleticism in coverage that have really set him apart. Miller is one of the most all-around linebackers in the NFL.
2. Chad Greenway, Minnesota Vikings

Despite a lot of changeover in the Minnesota Vikings' defense (most of it for the worse), Chad Greenway just continues to make plays. At a time when 4-3 linebackers are overlooked compared to their 3-4 counterparts, Greenway consistently receives the acclaim from his peers year in and year out.
3. Lance Briggs, Chicago Bears

Beginning the season with a contract dispute of sorts reflects the fact that Lance Briggs' career is coming to a close. Briggs had zero sacks this past season and wasn't at his best week in and week out.
Regardless, you cannot dispute what he has achieved in his career. At 31, he still has a few years left.
4. James Anderson, Carolina Panthers

Anderson was the only healthy starting linebacker left for the Carolina Panthers by the end of the season. Until the Panthers bring back Jon Beason and Thomas Davis, as well as improve the front four, Anderson's efforts on defense will likely be in vain.
Nonetheless, he continues to make plays on a defense that lacks a lot of playmaking.
5. Sean Weatherspoon, Atlanta Falcons

"Spoon," as he is referred to in Atlanta, is a reliable linebacker who needs to bring more playmaking to his game.
Impact plays are lacking across the whole of the Atlanta front seven, and Weatherspoon is the most likely to bring more game-changing moments to the field. He remains stellar against the run and reliable in coverage, though.
6. Daryl Smith, Jacksonville Jaguars

Smith isn't someone who is going to get much recognition as he plays in Jacksonville. Most of the Jaguars' issues are on offense; the defense is in fact respectable and would be even better with a proper offense to keep it off the field.
Smith is a big part of that. He brings the intensity and passion that is required from a linebacking corps.
7. Mathias Kiwanuka, New York Giants

Kiwanuka was drafted as a pass-rushing end, but because of the log-jam at defensive end, he moved to become a full-time starter on the Giants' defense at linebacker instead.
Kiwanuka still has the playmaker abilities in him, but he needs to improve in coverage to become a top linebacker. His versatility is hugely impressive, however.
8. Thomas Howard, Cincinnati Bengals

Leaving the Raiders and arriving in Cincinnati was probably one of the most underwhelming moves any player could make during the offseason.
However, Thomas Howard found his home in Cincinnati. He became a reliable part of a good defense under Mike Zimmer. The change of scenery allowed him to reignite his career as a starter in the NFL.
9. DeAndre Levy, Detroit Lions

Stephen Tulloch's arrival in Detroit moved Levy from inside to out for Jim Schwartz's defense. Levy transitioned well, continuing his good start to his playing career. He may not be the most explosive of players, but he will control his assignments in both the running and passing game.
10. K.J. Wright, Seattle Seahawks

The only knock on Wright is longevity.
Wright was the reason the Seattle Seahawks were so happy to trade Aaron Curry to the Oakland Raiders mid-season. Wright has a great motor and just needs to be coached up in order to fully reach his potential. At 22 years of age, his potential appears to be endless.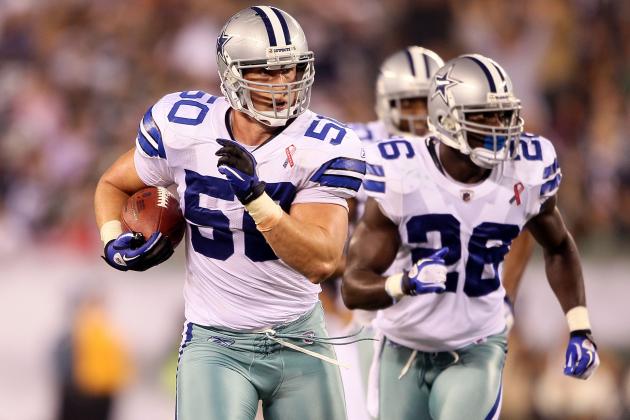 Elsa/Getty Images

1. Patrick Willis, San Francisco 49ers

Willis' combination of intelligence and athleticism makes him the best all-around linebacker in the NFL. He has no glaring weaknesses, which allows him to be dominant both against the run and in coverage.
A hard-hitting linebacker who plays disciplined football as a team leader is exactly what every team craves—every team craves a Patrick Willis.
2. Jon Beason, Carolina Panthers

Beason's season-ending surgery took the wind out of the Panthers' defense this season. Reality is, they were never going to be good enough to sufficiently complement the offense, but losing Beason severely hurt their chances at competing on a weekly basis.
Beason is one of the most physically imposing players in the NFL and, much like Willis, has very few obvious weaknesses.
3. Brian Cushing, Houston Texans

Brian Cushing didn't make the Pro Bowl, which is just another reason why I didn't watch the Pro Bowl.
Cushing had a great year for the Texans' defense. Even after transitioning to a new position and defense as a whole, Cushing was able to shut down opposing running games while still being a playmaker.
Cushing consistently made plays for the Texans all season long. How he didn't get selected to the Pro Bowl is one of the great mysteries from the 2011 NFL regular season.
4. Sean Lee, Dallas Cowboys

Lee was limited in the second half of the season because of injury, but he still finished the season with 105 tackles in 15 games. Lee's ability in coverage is outstanding, as he came away with four interceptions this year and seven pass deflections.
He is not the type of linebacker who racks up tackles by dragging defenders down from behind. Lee is a passionate and aggressive player—passion and aggression that is lacking from some of his teammates.
5. NaVorro Bowman, San Francisco 49ers

The San Francisco 49ers had a dominant year on defense, especially against the run, and it was no surprise considering the talent through the spine of the team.
Bowman not only effectively replaced Takeo Spikes but he also surpassed the impact that Spikes previously made. Bowman is similar to teammate Patrick Willis in that he doesn't have any glaring weaknesses; Bowman plays both the pass and run as well as any single player in the NFL.
6. London Fletcher, Washington Redskins

Fletcher is the old man of this list.
Unlike other notable names, Fletcher continues to play to an exceptional level late into his 30s. With a lot of youth and talent around him, Fletcher's leadership and intelligence are highlighted.
7. Curtis Lofton, Atlanta Falcons

Training camp in Atlanta must be interesting each year with the backs-on-backers drill. I'd love to see Curtis Lofton going against Michael Turner. Both players are built like bowling balls and generally punish the player who tries to hit them more than be punished themselves.
8. Lawrence Timmons, Pittsburgh Steelers

Timmons took a step back this year after his All-Pro level of play last season.
Intelligence and awareness are the only inconsistencies in Timmons' game. He has all the physical tools to dominate the spine of the Steelers' defense. Being moved to the outside at times didn't help, but even when playing inside, his play wasn't to the standards his talent expects.
9. Stephen Tulloch, Detroit Lions

Tulloch's new home in Detroit gave him a new lease of life. Criticized in Tennessee for not making enough impact plays, Tulloch went to Detroit and had three sacks with two interceptions on the year.
That's not too bad for a guy who still managed 111 tackles playing behind a defensive line that was more often than not chasing the quarterback as opposed to consuming blockers.
10. D'Qwell Jackson, Cleveland Browns

Jackson didn't play at all in 2010, but returned this year with a burst and physicality that the Browns' defense had been missing. An incredible 158 tackles on the season would have been more value to the Browns if their offense hadn't been so poor.
11. Karlos Dansby, Miami Dolphins

The Miami Dolphins' defense was inconsistent for the most part this year. They started off the year poorly before getting their act together.
Dansby is one of the most physically gifted players in the AFC, but his impact was limited by the overall play of the defense. As the season matured, so did the Dolphins, which in turn allowed Dansby to succeed.
12. E.J. Henderson, Minnesota Vikings

Working without big Pat Williams in front of him for the first time in years wasn't much of an issue for E.J. Henderson. Henderson continued to show why he is one of the best run-stuffing inside linebackers in the NFL today with another fine season.
13. Rolando McClain, Oakland Raiders

At 22 years of age, McClain still needs to mature as a football player. He took huge strides from his first season to his second.
McClain has endless potential because he is such a physical specimen, wrapping up so much experience at such a young age. He has great range and an ability to get to the quarterback, which will only make him better as he refines his play on the field.
14. Jerod Mayo, New England Patriots

Mayo received a big deal from the Patriots this year and for good reason.
There is a huge amount of quality at inside linebacker in the NFL today, and even though he played outside linebacker for stretches this year, Mayo will continue to make plays wherever he is lined up on the field. Depending on the defensive scheme, Mayo will be an OLB or ILB; for now, he is still best-suited to play inside alongside Brandon Spikes in a 3-4.
15. Daryl Washington, Arizona Cardinals

The Arizona Cardinals have put in place some quality young players on their defense. The most important may be Daryl Washington, who started at inside linebacker this year.
Washington is 25 and will enter next season as a leader for the Cardinals.
Just Missing the Cut: Ray Lewis, Baltimore Ravens
There is one MAJOR exemption from this list.
Ray Lewis may be extending one of the greatest careers ever for an inside linebacker, but at this point in his career, he is not an elite-level linebacker. When Lewis missed games during the season, the Ravens' defense actually looked like a better all-around unit.
Lewis' lack of speed was obvious in the team's playoff loss to the Patriots. He is still a great leader, but he, like James Farrior, is now a shadow of the great player he was in his prime.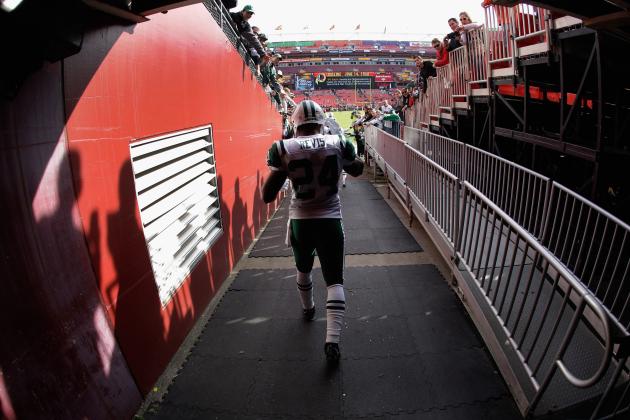 Rob Carr/Getty Images

1. Darelle Revis, New York Jets

Revis easily remains the best cornerback in the game today after another stellar season. His perfect technique and athleticism will allow him to play on at a high level late into his career.
The one thing that Revis struggles with is a receiver with a big upper body. Guys like Dez Bryant and Stevie Johnson managed to have some level of success against the cornerback this year, but nobody really got the better of him on a consistent basis.
2. Johnathan Joseph, Houston Texans

Joseph was a star cornerback in Cincinnati even before moving to Houston in the offseason. His level of play on a bigger stage has won him more recognition, but he has also benefited from taking the initiative as the No. 1 cover corner on his team.
In Cincinnati, he and Leon Hall were often referred to as one of the best tandems in the league. Moving away from that pairing seemed to light a fire in Joseph, who was brilliant as part of Wade Phillips' defense.
3. Champ Bailey, Denver Broncos

I am a Tim Tebow fan, but I am not a fan of Tim Tebow's fans. Hold on...
The problem with Tebow is, Champ Bailey had one of his best years this year and didn't receive anywhere near the recognition he deserved. Bailey was outstanding in shutting down opposing teams' best receivers.
Despite being 33 years of age, Bailey played as if he were still in his prime. And Champ Bailey in his prime is almost unbeatable.
4. Corey Webster, New York Giants

Webster is possibly the most underrated player across the whole of the NFL. He is an intelligent corner who shows great awareness in zone coverage as well as an aggressiveness in man coverage so that no receiver ever gets an easy reception against him.
He is also one of the best tackling corners in the NFL.
5. Joe Haden, Cleveland Browns

The leader of the Browns' second-ranked pass-defense is still only 22 years of age. For stretches, Haden played last season like a shut-down corner. While he didn't manage any interceptions, Haden's first priority is preventing the receiver from catching the ball—which is something he does expertly.
Playing in the AFC North means Haden has to be tough. He is a fine tackler and is versatile enough to play any kind of defense.
6. Tramon Williams, Green Bay Packers

Tramon Williams played through some pain early in the year on one of the worst pass-defenses in the NFL.
Williams wasn't the issue, though, as the loss of Nick Collins—coupled with the porous pass-rush up front—put too much pressure on the Packers' corners. Williams remains a true top-tier cornerback despite the team's overall struggles.
7. Ike Taylor, Pittsburgh Steelers

Ike Taylor's season will likely only be remembered for his horrible showing against DeMaryius Thomas in the playoffs. Taylor's prior 16 games for the Steelers were All-Pro caliber, however.
With a slight adjustment in scheme, Taylor spent more time in press coverage this year and returned to shadowing the opposition's first-choice receiver. He allowed only two touchdowns all season and rarely let his receiver get any level of separation.
8. Tracy Porter, New Orleans Saints

A hot property on this year's free-agent market, the New Orleans Saints will be very lucky to bring back Tracy Porter.
Porter's two biggest issues are his health and his number of interceptions. Both will likely hurt his chances of getting a big deal in free agency, but wherever he lands, the defense will be much better for it.
9. Brandon Flowers, Kansas City Chiefs

Aggressive corners are often found out in the NFL, but Brandon Flowers is not exposed too often. Flowers isn't the biggest of players, but he excels at fighting receivers for the football and using his awareness with his technique to keep the play in front of him.
10. Nnamdi Asomugha, Philadelphia Eagles

Analyzing Nnamdi Asomugha is different right now.
Prior to this year, I felt it was difficult to determine whether he was still an elite cornerback because teams rarely ever looked his way. This season was obviously a disappointment, but the defense wasn't tailored to his strength. Undoubtedly there is still top 10 talent there, but the future appears a bit ambiguous.
11. Charles Tillman, Chicago Bears

Charles Tillman is the perfect Chicago Bears cornerback in that he is very tough and aggressive. Tillman may not be the best cover cornerback, but he will force you to earn every inch of grass that gets put on the stat sheet.
12. Carlos Rogers, San Francisco 49ers

Rogers really raised his reputation after moving to San Francisco.
In Washington, he had seven interceptions in six years; this season with the 49ers, he had six. Rogers may be a product of the strong defense around him, but cornerback isn't a position where you can hide. He had a great year and rightfully is rated this highly.
13. Brandon Browner, Seattle Seahawks

Browner is another of those Seattle Seahawks youngsters whom many people won't have ever even heard of. He did make the Pro Bowl this year after a very impressive first season for the Seahawks.
Browner isn't exactly young at 27 years of age, but if he continues to excel in press coverage as he did this season, then the Seahawks will be delighted with him even if he never improves further.
14. Aqib Talib, Tampa Bay Buccaneers

Talib is one of the most physical cornerbacks in the NFL. His stocky build allows him to fight off receivers looking to gain position on him.
Talib hasn't been able to stay fully healthy over the past two seasons, but when on the field, he is a young stud at corner. If you doubt his ability, just watch his matchups with Roddy White over the past few years.
15. Vontae Davis, Miami Dolphins

Davis is a very physical cornerback who has had issues with his hands throughout his career.
Regardless of his ability to catch the ball, when he is fully healthy, he is very difficult to beat. A poor start to the 2011 regular season was overcome with a strong finish, as his potential is there, but consistency and discipline remain issues until proven otherwise.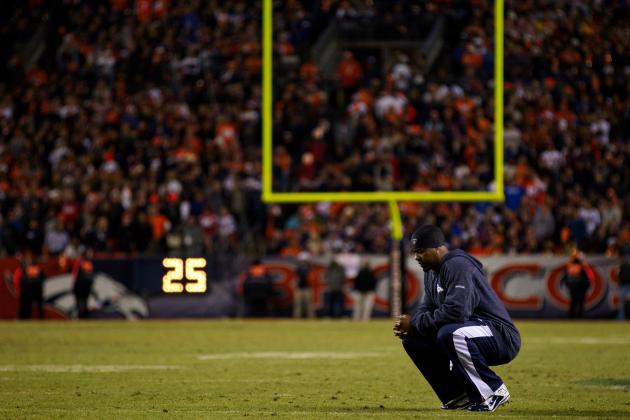 Justin Edmonds/Getty Images

1. Troy Polamalu, Pittsburgh Steelers

Troy Polamalu had a down year this season with the Pittsburgh Steelers. He didn't make as many impact plays as he had previously, and he was often caught in coverage and missed more tackles than seemingly all of the past three seasons combined.
Because Eric Berry wasn't on the field, Polamalu was still able to stave off the competition from the rest of the chasing pack of strong safeties. Despite not playing like an All-Pro, Polamalu still played to a relatively high level.
2. Eric Berry, Kansas City Chiefs

Berry did enough during his rookie season to say that he will be a special player for the Kansas City Chiefs. He was a huge loss to the team after tearing his ACL early this season. Without Berry, the defense took a few weeks to adjust because of the large role he was expected to play.
His hard hitting and extensive range make him one of the most versatile players in the NFL, regardless of position.
3. Donte Whitner, San Francisco 49ers

If there was ever a safety who fit perfectly in the San Francisco 49ers' defense, it was Donte Whitner. Whitner arrived in San Francisco prior to this season to bring his hard-hitting energetic playing style to the 49ers' defense.
Whitner is only 26 years of age with six years' experience as a starter already under his belt. Entering his prime, Whitner's impact on the field should only grow over the coming years.
4. Kam Chancellor, Seattle Seahawks

In today's NFL, pass-catching tight ends are all the rage. The size and athleticism of players like Jimmy Graham and Rob Gronkowski are almost impossible to shut down. Standing at 6'3" and 230 lbs, Chancellor has all the physical tools to compete one-on-one with top-level tight ends.
Because he plays in Seattle, he won't receive much recognition at this early stage in his career, but if the rest of Chancellor's career is anything like his first season as a starter, then he will become a household name in no time.
5. Jim Leonhard, New York Jets

Leonhard is a vital piece of the New York Jets' secondary, even more important than Antonio Cromartie. Leonhard is the signal-caller, but his play covering tight ends and supporting the run is as good as anyone's.
Losing Leonhard may not be as big a blow to the Jets as losing Darrelle Revis, but undoubtedly, he is the second-most important piece of that defense.
6. Adrian Wilson, Arizona Cardinals

Wilson entered this season staving off an injury at the age of 32, but he is still playing at a high enough level to be considered one of the best safeties in the NFL.
No receiver is comfortable running across the middle with Wilson in the vicinity. Unlike most secondary players, running backs don't look at Wilson and try to run through him. Having Wilson on the field is like having an extra linebacker who can cover like a safety.
7. Kenny Phillips, New York Giants

Physically, very few safeties can compete with Kenny Phillips, but his performance on the field has lacked consistency.
Phillips should be the one player in the NFL who can consistently match up to these hybrid tight ends who are emerging because of his range and speed.
However, that is yet to really happen.
Nonetheless, he remains a fine player for the Giants' secondary.
8. Brian Dawkins, Denver Broncos

Dawkins is undoubtedly past his best, but he is still physically talented enough to play at this level and be a more than effective safety in the box, shutting down the running game and blowing up receivers running across the middle.
9. Quintin Mikell, St. Louis Rams

Mikell had no chance of really impacting the St. Louis Rams' season this year because of the seemingly endless number of injuries to their secondary.
However, he did play well individually and made plays that were missed in Philadelphia.
10. Bernard Pollard, Baltimore Ravens

Otherwise known as the "Patriot Assassin," Pollard proved to be the perfect fit in the Baltimore Ravens' defense. His hard hitting has always been a staple of his game, and this year Pollard was finally in a situation good enough to show that off.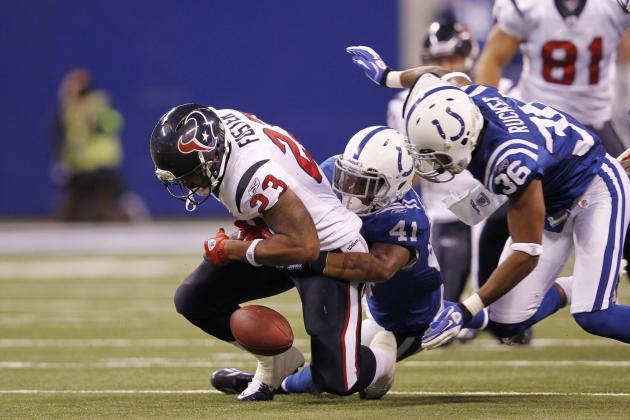 Joe Robbins/Getty Images

1. Ed Reed, Baltimore Ravens

Reed wasn't as much of a ball-hawk this year as he has been throughout his career. Reed is the type of player whose presence on the field alone affects offenses to the point that many choose to completely throw away from his side of the field.
Reed's Hall of Fame career may end without a Super Bowl ring, but his intelligence and understanding of the game will allow him to be the best at his position for years to come.
2. Antoine Bethea, Indianapolis Colts

On a team lacking leadership, Antoine Bethea was the heart and soul of the Indianapolis Colts' defense this year. Despite the building falling down around him, Bethea was consistently the best player on the Colts' defense from week to week.
His sure tackling and intelligence in coverage were only eclipsed by his professionalism and passion to play every snap at 100 percent.
3. Nick Collins, Green Bay Packers

Nick Collins' presence on the back-end of the Packers' defense was sorely missed this past season. Without Collins, the Packers didn't have a conventional leader on the back-end. Charles Woodson may have led by example, but Collins was the guy who put pieces in place to make plays.
That didn't prevent him from making plays, either. Throughout his career, Collins has been a heavy hitter who is rarely found out of place in coverage, too.
4. Eric Weddle, San Diego Chargers

There was some level of concern when Eric Weddle received a big pay-day from the San Diego Chargers in the offseason. Those concerns will have disappeared after his career-high seven interceptions this past season.
Weddle is a sure tackler who plays with good instincts and intelligence. He is a leader on the defense who covers for the mistakes made of those around him.
5. Earl Thomas, Seattle Seahawks

Pete Carroll has assembled one of the best young secondaries throughout the whole league in Seattle. His safety paring is arguably already the best in the league and definitely the best young pair.
Thomas has been compared to Troy Polamalu with his athleticism and range, which is a fair comparison. His nine turnovers forced in his first two seasons will only grow as the Seahawks' front seven improves.
6. Antrel Rolle, New York Giants

A former cornerback, Rolle is supremely athletic and excellent at playing in space. His partnership with Kenny Phillips is one of the best, if not the best, safety pairings in the NFL. Both players are talented enough to cover receivers on the outside or in the slot, while also being intelligent enough to take advantage of zone assignments.
Rolle is the type of safety the NFL is moving toward on a widespread basis.
7. Ryan Clark, Pittsburgh Steelers

Had this list been written last year, Ryan Clark would have been nowhere near No. 7. Clark had a torrid year last year in coverage, and his improvement this year was a huge difference in making the Steelers' defense the top-ranked unit against the pass.
Clark's hard hitting didn't elude him, either, which has always been a staple of his game. He went to his first Pro Bowl this year, and it was well-deserved. If this list was based on solely this year, he would have made the top five.
8. Malcolm Jenkins, New Orleans Saints

Malcolm Jenkins' versatility as a player makes him one of the more valuable safeties in the NFL. Jenkins can effectively play as either safety, cover-the-slot corner or he can even move to the outside.
Jenkins was a cornerback in college, good enough to be drafted in the first round, before moving to free safety in the NFL. That skill set didn't leave him despite the transition to a new position.
9. Danieal Manning, Houston Texans

Often overlooked in the Texans' offseason additions to their defense is Danieal Manning's arrival from the Chicago Bears. Manning's presence on the back-end was a major comfort for the Texans as their defense vaunted to the top of the league.
Manning's hard hitting and ability to stuff the run added a dynamism to the Texans' secondary that wasn't there last year.
10. Jairus Byrd, Buffalo Bills

Byrd is another college cornerback who transitioned to safety in the NFL. After a stellar rookie season where he led the league with nine interceptions, Byrd's play somewhat dropped off last season, but not enough to drop him out of the top 10.
This year, he still had a combined six turnovers, three interceptions and three forced fumbles as part of a secondary that lived off of big plays. Byrd is 25 years of age and hasn't even entered his prime yet.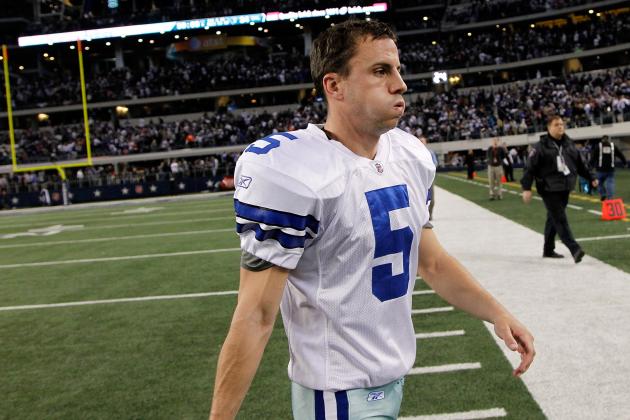 Tom Pennington/Getty Images

1. David Akers, San Francisco 49ers

2. Sebastien Janikowski, Oakland Raiders

3. Josh Scobee, Jacksonville Jaguars

4. Rob Bironas, Tennessee Titans

5. Matt Bryant, Atlanta Falcons

6. Robbie Gould, Chicago Bears

7. Adam Vinatieri, Indianapolis Colts

8. Dan Bailey, Dallas Cowboys

9. Mason Crosby, Green Bay Packers

10. Phil Dawson, Cleveland Browns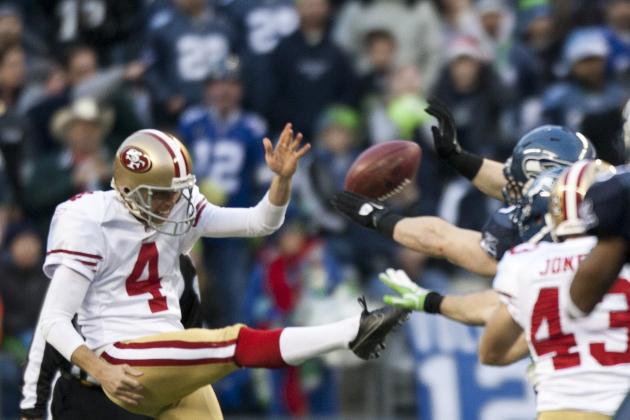 Jay Drowns/Getty Images

1. Shane Lechler, Oakland Raiders

2. Andy Lee, San Francisco 49ers

3. Brandon Fields, Miami Dolphins

4. Brian Moorman, Buffalo Bills

5. Britton Colquitt, Denver Broncos

6. Jon Ryan, Seattle Seahawks

7. T.J. Conley, New York Jets

8. Brad Maynard, Cleveland Browns

9. Brett Kern, Tennessee Titans
10. Steve Weatherford, New York Giants

Cian Fahey is a professional blogger for Irishcentral, a participant in Matt Waldman's RSP team-building competition and contributor to various other websites.