Minnesota Vikings: Jared Allen Is Clearly the Defensive Player of the Year
January 4, 2012
Adam Bettcher/Getty Images
In American sports, unlike most worldwide, a player's team must be successful more often than not if they are to win individual awards.
This ideology doesn't really make sense to me in most sports. While I can understand why it matters in the NHL or NBA, in other sports such as the NFL, with 53-man rosters, and MLB, seemingly endless rosters, it makes no sense to look down on a player for not carrying his team.
In fact, as far as the defensive player of the year goes, it should probably be considered a positive on a player's resúmé.
Unlike a quarterback, who can improve the quality of play around him and allow his offense to function. A defensive player is more often than not hindered by any lack of quality that is around him.
An elite pass-rusher such as Tamba Hali is double teamed on every single play because of the futility of the rushers around him. That was, prior to Justin Houston's emergence. Even after Houston showed flashes later on, Hali's opportunities to rack up the sacks were hurt by his terrible offense.
With the Chiefs finishing 7-9 and their offense rarely putting up big numbers, offenses understood that they weren't under pressure to score on every single drive when they took to the field. The Chiefs weren't involved in any shootouts during the season, so teams were never forced into passing the ball more than they initially intended to.
This isn't just a pass-rusher problem. Players like Darrelle Revis in New York suffered from a front seven that couldn't rush the passer. The longer a cornerback spends covering receivers on average, the more difficult his job becomes. Therefore, the less likely he is to create turnovers or shut down opposing receivers.
The defensive player elect, in my mind at least, Jared Allen, was someone who had to overcome these issues this year on his way to a record-breaking season.
Allen may have fallen short of Michael Strahan's sack record, but he did set the franchise record with 22 quarterback takedowns. Finishing ahead of DeMarcus Ware (19.5 sacks) is incredibly impressive, while Jason Babin (18) only managed to come close by completely ignoring the run for the year.
Unlike the Philadelphia Eagles' defensive end, Allen didn't take any shortcuts to his bloated sack numbers. He was a stout performer against the run all year despite the whole franchise seemingly falling down around him like their roof from last season.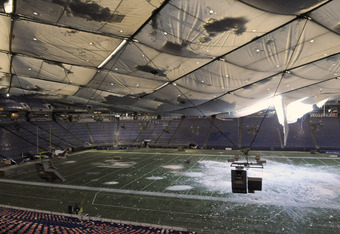 Hannah Foslien/Getty Images
Notoriously, I do not care for statistics. I am always skeptical when analyzing them. One thing that is vital for me when assessing a player's sack numbers is the number of games those sacks are spread out over.
For example, Clay Matthews' numbers from last season were bloated by two games against the Philadelphia Eagles, with a transitional offensive line and changeover in quarterbacks, as well as the Buffalo Bills, who had some of the worst tackles in the league at the time, resulting in six of his eventual 13.5 sacks.
While every sack counts, there is no doubt about that. What this means is that Matthews only had 7.5 sacks in the other 14 games of the season. In five of those games he had no impact, statistically at least, with zero sacks and never had two sacks in a single game again.
Jared Allen this year had at least half a sack in 13 of the team's 16 games. He got to the quarterback at least twice in six games and managed three sacks or more in three games.
Considering the Vikings opponents attempted an average of 33.6 passes per game, which ranks them 16th in the league, Allen's numbers were astronomical this past season.
Throw in the fact that the Vikings secondary lacks NFL talent across the board and needs to be completely revamped in the offseason, and the numbers look even better. Allen isn't getting many coverage sacks, if any at all, during the season.
Unlike a Jason Babin or Terrell Suggs, Allen isn't getting much time to get to the quarterback. Unlike those two, he also doesn't have enough quality blitzers around him to prevent offenses from double teaming him on every snap.
Allen had almost half of his team's total sack numbers (50) and led the team's second best performer in the category, Brian Robison, by 14 sacks. Robison is the defensive end who started across from Allen for the first time in his career.
Even though he was a very impressive performer in his first full season starting, there is no doubt that he benefited largely from Allen's presence on the opposite side. Robison had four of his sacks in two games. In those two games, Allen posted five sacks.
While Kevin Williams proved to be a star defensive tackle without the other half of the Williams' wall, the team's linebacker group and Remi Ayodele are mostly relied upon to stop the run or play in coverage.
These limitations, coupled with a relatively unproven defensive end starting across from him, all equated to Jared Allen seeing double teams all season and being the focus of the team's pass protection.
Allen had very little working in his favor during this season. The fact that he was capable of posting double-digit sacks, also playing with an offense that was ranked 19th in the league and reliant on a running game, not least nearly break Michael Strahan's record, is unbelievable.
While DeMarcus Ware has had another dominating season in Dallas and Terrell Suggs has been beastly in Baltimore with Charles Woodson winning the turnover competition in Wisconsin, nobody has come close to the achievements of Jared Allen in Minnesota this year.
Your 2011 NFL Defensive Player of the Year...Jared Allen.
Tweeting @Cianaf