Collapsing Stars: Ben Wallace and Other NBA Veterans Who Are Washed Up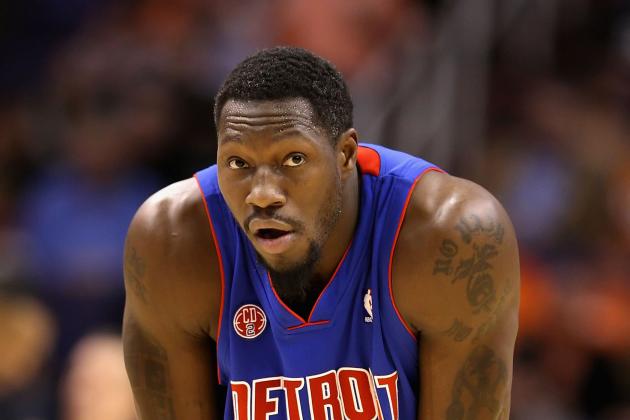 Christian Petersen/Getty Images

It's time, Ben Wallace. It's time to hang them up. You had a great NBA career. I am sure the Detroit Pistons will give you a wonderful retirement ceremony; they will even hang your No. 6 jersey high in the Palace of Auburn Hills.
You have proved all you had to after coming out of Virginia Union University undrafted in 1996 and signing with Washington as a free agent.
After being a throw-in player as part of the Grant Hill sign-and-trade that sent you and Chucky Atkins to the Detroit Pistons, you went on to become the best player in the once-to-be-believed one-sided deal.
You got your championship ring in 2004, and you were named NBA Defensive Player of the Year four times. You even got your big-money deal with the Chicago Bulls for four years, $60 million in 2006.
You accomplished all this while being an under-sized center at 6'9''.
Now, you're back in Detroit, a shell of your former self at 39 years old, averaging 14.2 minutes per game while scoring 1.3 points per game and pulling down 3.1 rebounds per game. Not too bad, really, for a $2,246,400 paycheck.
But if you don't need the money, it's time for a career change.
The league is filled with these sort of washed-up vets holding on to whatever it is, just like Wallace, whether it's for the love of the game, the money or they just don't know of any other way to live.
Here are more vets that are holding on to the NBA rope.
Begin Slideshow

»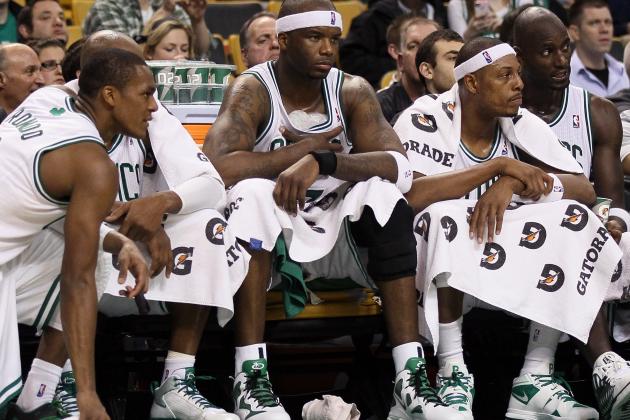 Elsa/Getty Images

Jermaine O'Neal is only 33, but he has already been in the league for 15 years after getting drafted in 1996 by the Portland Trail Blazers straight out of high school.
O'Neal's best years came while he was with the Indiana Pacers during the 2001 to 2007 seasons, when he received the Most Improved Player Award and was on the All-NBA second team and third team.
He was an NBA All-Star six times and averaged no lower than 19 points and 8.8 rebounds per game between 2001 and 2007.
Now, due to knee problems and other injuries throughout his career, he is no longer as productive as he once was. O'Neal's big drop-off came after signing a two-year contract with the Boston Celtics in 2010.
In his first season with the Celtics, he missed 58 regular season games because of wrist and knee problems.
This season, O'Neal is averaging 22.8 minutes per game while scoring 5.8 points per game and pulling down 5.6 rebounds.
I could see O'Neal squeezing out another decent contract from a stupid GM to stick around for a few more years. He is getting $6,226,600 this season.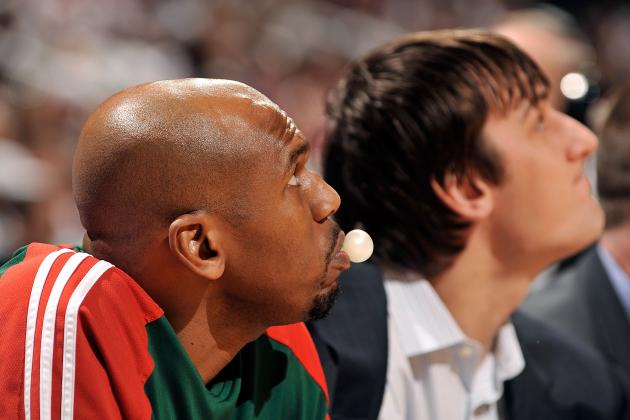 Grant Halverson/Getty Images

Jerry Stackhouse has come a long way.
From having a great college career at North Carolina, where some said he would be the ''next Jordan," to being picked third overall in the 1995 NBA draft by the Philadelphia 76ers, to working as an NBATV analyst, to now being back in the league with the Atlanta Hawks as their designated bench warmer.
Is the Hawks bench where Stackhouse, a player who averaged 29.8 points per game with the Detroit Pistons in the 2000-01 season should be?
Why is the 37-year-old Stackhouse, who has averaged 17.8 points per game throughout his 16-year-career even in the league?
Last year, I understood his reasons for signing with the Miami Heat; to chase a ring. It did not work out, and the Heat waived him after just one month.
Stackhouse then signed with Atlanta last December. Does he think the Hawks are a contender? Did he need to get out of the house or something?
This season, Stackhouse is out of the Hawks rotation and has appeared in just four games, averaging just five minutes in those games.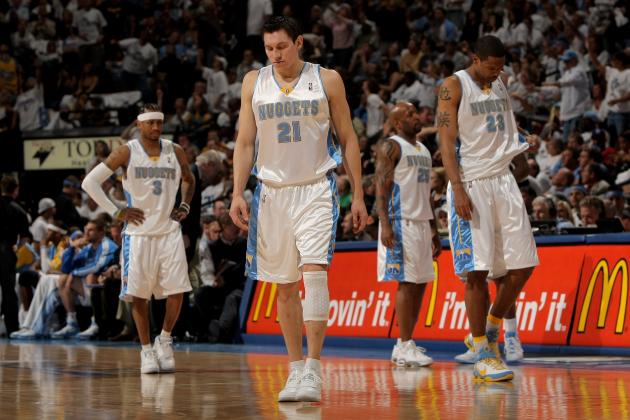 Doug Pensinger/Getty Images

Eduardo Najera, a career five-point-per-game scorer is still in the league and is still getting paid fairly well after signing a four-year, $12 million contract with the New Jersey Nets in 2008.
He is now with the Charlotte Bobcats after getting traded to the Dallas Mavericks from New Jersey, then from Dallas to Charlotte.
The NBA. Where crazy happens.
Najera was really nothing more than a role player. One of those guys who comes off the bench to bring energy and play defense for the few minutes they are out on the court.
He has averaged just 18 minutes per game throughout his career. Last season, he appeared in just 31 games, averaging 12 minutes per game, scoring five points and grabbing 3.8 rebounds per game.
Najera has not played one game this season due to surgery on his left knee. His salary for this year is $2,750,000, and it is the last year on his contract.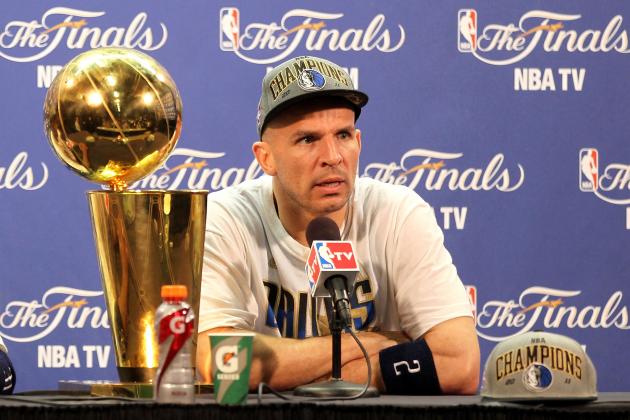 Mike Ehrmann/Getty Images

Being partial to the New Jersey Nets and how Jason Kidd gave the franchise its best years, it feels blasphemous to put him on a washed-up list, but I must.
Wouldn't it have been the perfect ending to a great career if Kidd would have retired after finally getting his ring after 16 years in the NBA?
The amazing thing is, he's actually still reasonably productive. He cannot score or defend the way he used to, but he can still pass, rebound, steal and hit the open three when he has to.
But at 38, Kidd is not the player he used to be in New Jersey, where he recorded 61 triple-doubles in his seven-year stint there.
Last season, he averaged 33.2 minutes per game while scoring 7.9 points and dishing out 8.2 assists per game.
In the 11 games he's played this season, he's averaged 4.7 points per game with 4.9 assists.
Does he still deserve to start, or would he be of better use in limited minutes?
He may not be as washed up as other veterans, but by Kidd's standards, he is.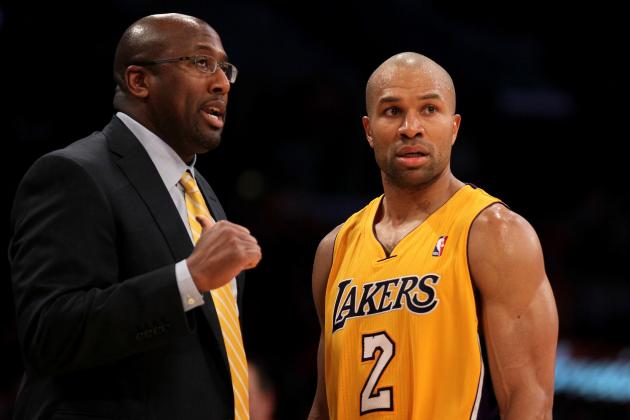 Stephen Dunn/Getty Images

At 37 years old and in his 15th year in the league, does Derek Fisher really still deserve to be the starting point guard for the Los Angeles Lakers?
He has turned into a defensive liability when matched up against the younger, quicker point guards.
He doesn't shoot particularly well, having a 33 percent field-goal percentage and a 22.7 shooting percentage from deep. And, with L.A.'s switch out of the triangle offense, he is only averaging 4.6 assists per game.
Fisher has been a great glue guy throughout his career. He was at his best in the 2005-06 season with the Golden State Warriors, when he had career highs in scoring with 13.3 points and assists with 4.3 per game.
He has played a large part in each of the Lakers' five championships with Kobe Bryant, both of them being the only two players that were on each team.
Now may be the time to start looking for his replacement, but with two years left on his contract, it looks as if the Lakers are stuck with Fisher for the time being.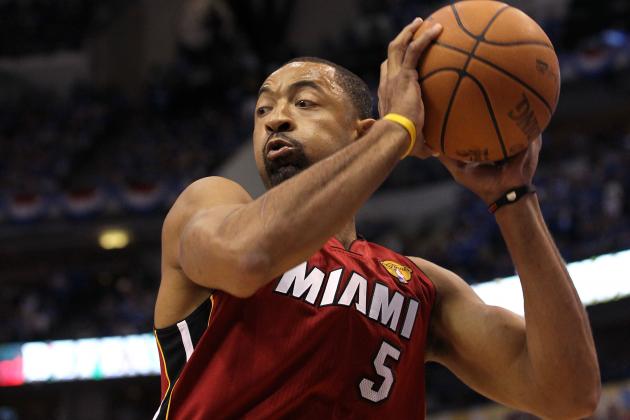 Ronald Martinez/Getty Images

Quick show of hands. How many people knew Juwan Howard was still in the league and on a contending team, the Miami Heat to be exact?
Apparently, he appeared in 57 games last season, averaging just over 10 minutes per game.
In those games, Howard averaged 2.4 points and 2.1 rebounds per game, a far cry from his 1995-96 season, when he averaged 22.1 ppg. along with 8.1 rpg., or even his 2005-06 season, when he averaged 11.8 ppg. and 6.7 rpg.
Howard has been hanging on desperately for the last few seasons to get that ring. If Chris Bosh and Udonis Haslem get hurt, he may have to do something for his $854,389 salary, other than get paid to see the Heatles up close.
Howard was drafted fifth overall in 1994 and is a former All-Star who is now subjugated to the bench at 38 years old in his 17th year in the NBA.
He has played in seven games this season, averaging 4.7 minutes per game, failing to average more than .9 points in that stretch.
It may be time to join his fellow Fab Five partners, Chris Webber and Jalen Rose, as another analyst. Maybe he can recruit the other two of the Fab Five and they can form an announcing team; this time, maybe they can make a fashion statement with really big ties.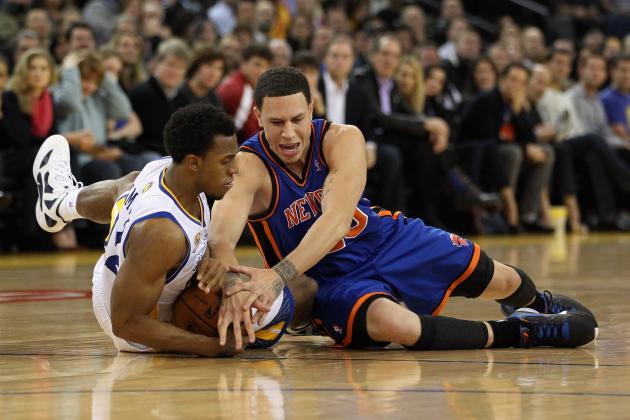 Ezra Shaw/Getty Images

Mike Bibby was great with the Sacramento Kings, especially in the 2001-02 season, when he came very close to leading his team over the Los Angeles Lakers in the Western Conference Finals.
For his performance in that series, the Kings gave him a seven-year, $80.5 million contract.
During his career with Sacramento, Bibby had his career highs in scoring.
In 2008, with one year remaining on his contract, the Kings traded Bibby to the Atlanta Hawks in a salary dump move. While in Atlanta, Bibby proved that he can still play, averaging 14.1 points and 6.6 assists per game, leading the team to its first playoff berth in 10 years.
His play in Atlanta earned him a three-year, $18 million contract.
Since then, he has been bought out by the Washington Wizards, signed with the Miami Heat to chase a championship, and then, this season, signed with the New York Knicks.
His defense is not there anymore at the age of 33, and his offensive numbers have been in a steady decline for the past two seasons.
This season with the Knicks, Bibby is averaging just four points and 1.9 assists per game. That's a tad off from his career averages of 15 points and 5.6 assists per game.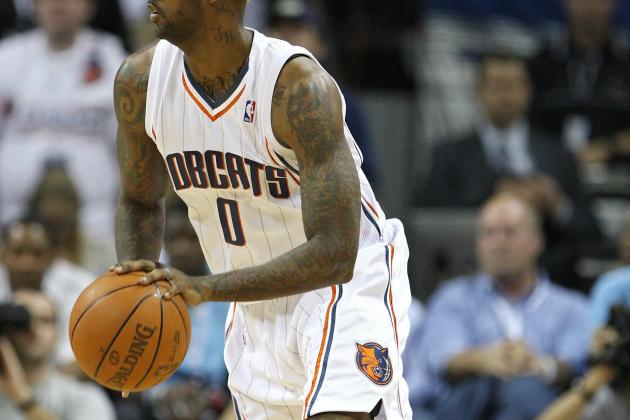 Mike Zarrilli/Getty Images

Larry Hughes has been around since getting drafted eighth overall by Philadelphia in 1998.
In his 12-year career, he has played for eight teams: the 76ers, the Golden State Warriors, the Washington Wizards, the Cleveland Cavaliers, the Chicago Bulls, the New York Knicks, the Charlotte Bobcats and the Orlando Magic.
He has a career average of 14.2 points per game, which is getting lower with each passing season he remains in the league. He has quietly been named to an All-NBA Defensive Team while having two seasons averaging over 20 ppg.
Hughes was also the player first brought in to team up with LeBron James when he signed a five-year, $70 million contract in 2005.
His last season scoring in double-digits was in 2008-09 with the Knicks, when he averaged 11.2 ppg. in 25 games.
Hughes has been often injured or has been the victim of DNP's throughout his career. The most games he played in a season was just 73, in 2001-02.
This season with the Magic, he has played in just three games, averaging 1.3 ppg.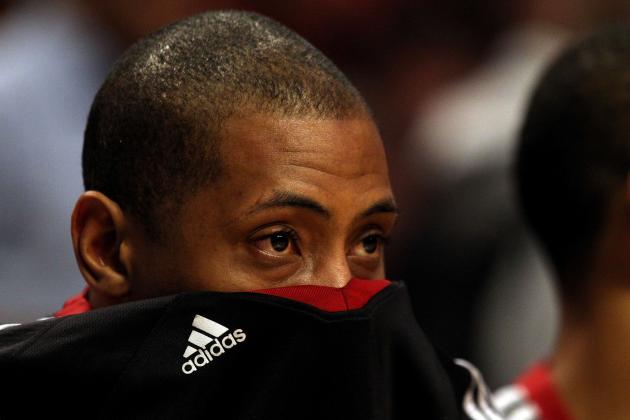 Jonathan Daniel/Getty Images

Former All-Star Jamaal Magloire sounds a lot like an oxymoron, but believe it or not, it's a true statement.
In the 2003-04 NBA season, as a member of the Charlotte Hornets, Magloire had his highest career averages of 13.6 points and 10.4 rebounds per game. These numbers were enough to make him an All-Star.
Since he's Canadian, blame Canada.
This was just his fourth season in the league, and since then, he has regressed in just about every following season.
Magloire has been traded twice throughout his career. First from the Hornets to the Milwaukee Bucks, then from the Bucks to the Portland Trail Blazers. The Blazers did not re-sign him after he averaged just 6.5 points and 6.1 rebounds per game.
In 2007, the New Jersey Nets signed him and then waved him in seven months after playing him sparingly.
He has since been stealing the vet's minimum from the Dallas Mavericks, the Miami Heat and his hometown Toronto Raptors.
This season, Magloire has appeared in 13 games, averaging 1.1 points and 3.3 rebounds per game in 12.8 minutes.
At 33 years old, the Big Cat from Kentucky is useless.