Russell Westbrook Signs Max Contract Extension with Oklahoma City Thunder
January 19, 2012

Ronald Martinez/Getty Images
With restricted free agency pending following the season, the Oklahoma City Thunder pulled the trigger on a five-year, $78-million-plus max contract extension for All-Star guard Russell Westbrook, according to Adrian Wojnarowski of Yahoo! Sports.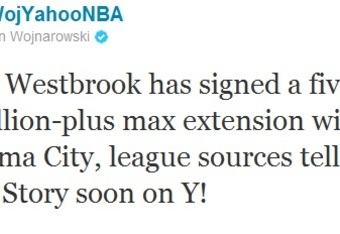 The deal assures that Westbrook will remain under contract with the Thunder through the 2016-17 NBA season.
What It Means
Although Westbrook has had a bit of a contentious relationship with his teammates at times, including superstar guard Kevin Durant, his talent level is unquestioned. Durant signed a five-year extension with the Thunder in July of 2010, so he and Westbrook will be the key cogs in the Oklahoma City attack for the next few seasons at least.
After Westbrook blew up in an argument with Durant on the bench earlier in the season there were whispers that he could be available via trade, especially with his contract about to run out. That obviously never came to fruition as the Thunder clearly view him as a vital piece to a possible championship puzzle.
What's Next
For the time being, all of the Thunder's top players are locked up for at least the next couple seasons. That includes center Kendrick Perkins, forward Serge Ibaka and guard James Harden in addition to Westbrook and Durant.
With that in mind the Oklahoma City roster is pretty locked in for the foreseeable future barring draft picks and possible mid or low-level exception free agent signings. This current Thunder core went to the Western Conference Finals last season where it succumbed to the eventual NBA champion Dallas Mavericks.
In terms of youth and skill level there likely isn't another team in the league that can match the Thunder's combination. After awarding such a large contract to Westbrook the Oklahoma City brass will have to hope that he continues to mature and can put the early-season temper tantrum behind him.
If the Thunder are going to compete for a title in the immediate future, then it will be guys like Westbrook and Durant who will lead the way. Westbrook has proven at times that he is deserving of this type of contract. Now he simply has to show it on the court every night.