Miami Heat Report Card: Early Grades for All the Team's Key Players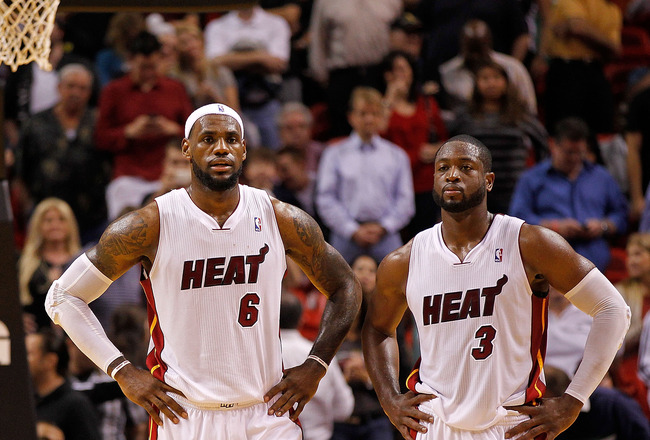 LeBron and D.Wayne anchor the Miami heat's chances this year
Mike Ehrmann/Getty Images
In 2011-2012 thus far, the Miami Heat have shown that they are comfortable in their high-profile skin.
They are proceeding apace, devouring opponents, annihilating opponents and burying opponents without any problems at all. Further, all of their vanquishing is being done in a systematic, smooth, yet scintillatingly entertaining fashion.
But what one indeed notices about this season's Miami Heat squad is that they project that it is about basketball business. The microscopes that magnified the tears after the Dallas defeat in last year's NBA Finals have receded into a steely purpose.
This rocketing Miami squad, led by the "Fab Three" of LeBron James, Dwyane Wade and Chris Bosh, tops the NBA with their league-leading 8-1 record and leads the league in both scoring and assists.
The Heat should, and are, feeling good about themselves.
LeBron James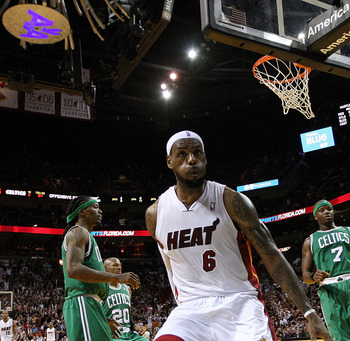 Mike Ehrmann/Getty Images
Let's start at the top. King James' play thus far makes him clearly the NBA's best player, as he has been for the last few years. What complement cannot be given to characterize his virtually flawless execution in 2011-2012? He's in his own stratosphere, all alone.
Averaging 30 points per game, showing a near triple-double every night, and making his mates quite useful, activating them to achieve higher than they might otherwise achieve. But most important, LeBron is uninhibited and carefree in the fourth quarter.
Grade: A+
Dwyane Wade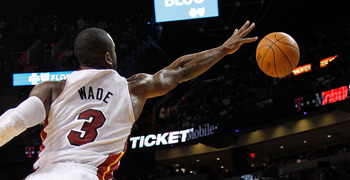 Mike Ehrmann/Getty Images
Because LeBron is playing otherworldly, D-Wade is supplying heroics when he has to. In several cases this year, Wade has hit decisive, last-second baskets to win games, as he did on LeBron's birthday versus Minnesota on Dec. 31.
At 6'4", Wade still plays like he's 6'7". He leads Miami in blocks with 2.0 per game. His defense is superb as usual. He can lock up anyone. And don't be fooled by his 19.0 scoring average. That will rise to 24.0 before the season ends.
D-Wade is still the best in the NBA at turning it on and wrecking even top NBA opponents when he has to.
Grade: A
Chris Bosh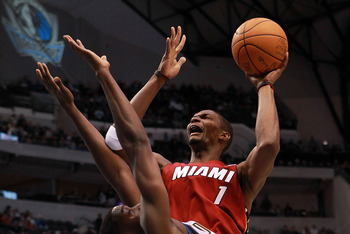 Ronald Martinez/Getty Images
As yet, he is not the dominating presence he was advertised to be, or even close to it. True, he's surrounded by two all-time hoopsters, so his touches are reduced, but he's one of the "Fab Three;" thus, expectations dictate he would display a more formed and consistent game by now.
His 20.0 per game average is more derivative than assertive. Bosh has to show that he can be a force against the NBA's elite in the Miami context. His game this year is on the rise and less hesitant, but he has to demand more of himself and be less deferential to D-Wade and LeBron, then execute.
Grade: B+
Mario Chalmers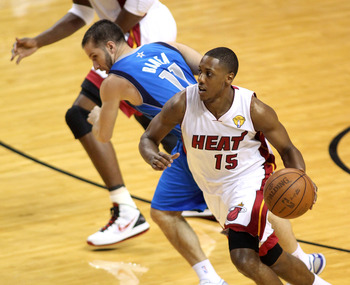 Marc Serota/Getty Images
Doing surely what the Miami Heat want him to do, Chalmers fits like a glove into the Miami scheme, which is why they re-signed him so eagerly. There is no shyness in him about taking the outside shot, his strength, in the clutch.
Indeed, Miami is enamored with his shot selection. He's effective from game to game. The reliability factor makes him a key Miami player. On occasion, he will have high turnover games, then he sits; that's why he not averaging a bit higher even than 12.0. He has been stepping it up when stars sit or get into foul trouble.
Grade: B+
Udonis Haslem
Mike Ehrmann/Getty Images
Although he gets starters' minutes (30), his job is to provide passion and energy off of the bench, and he succeeds mightily. His skills translate more efficaciously as a bench-player talent. Statistically, his 10 rebounds per game is just what Miami needs.
Haslem doesn't waste a moment of his time on the floor. Further, he'll fight the Kevin Loves and Dwight Howards of the NBA without blinking. He's forceful. His presence—unlike that of his teammate Bosh sometimes—is felt.
He needs to get his 39 percent field goal average up. That could hurt Miami down the road. However, Haslem is an excellent free-throw shooter at 83 percent. Very solid.
Grade: A
Norris Cole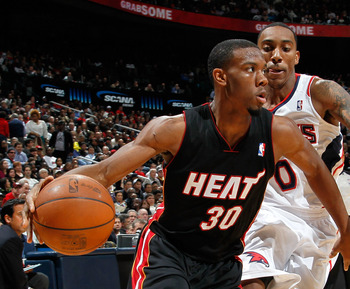 Kevin C. Cox/Getty Images
Who thought he would be this good this soon? Answer: no one. But he is so far, running the Miami offense with no fear and sneaking in the lane for hoops like Nate "Tiny Archibald used to do. The Miami Heat could not have asked for anything more.
He speeds the Heat squad up, igniting the team's new "spread" offense even moreso. His average is at 11.0 points per game, a very nice job. As a rookie, most of his stats are undeveloped, but the zest, know-how, ball handling skills and just sense of what to do and how to do it is quite visible.
Grade: B+
Shane Battier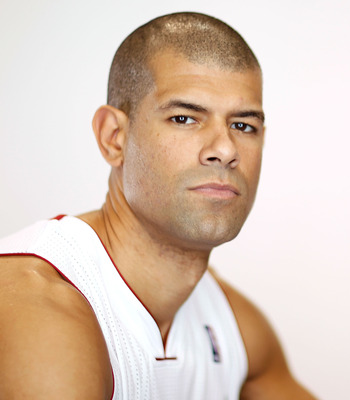 Mike Ehrmann/Getty Images
In general, Shane Battier is overrated. He's smart, a solid citizen, from Duke and a very good defender. But he's promoted way beyond the level associated with a player who can't score in double figures or hit five rebounds per game from the forward position.
His scoring average this year is 3.5, and that's even deceiving. In half of the games he's played in 2011-2012, he's had a doughnut. Rebounding-wise with Miami, he exhibits 1.5 per game. Battier needs to profile that his defense is the determinative factor projected and that he can score more when needed, especially from the outside.
Grade: C-
Joel Anthony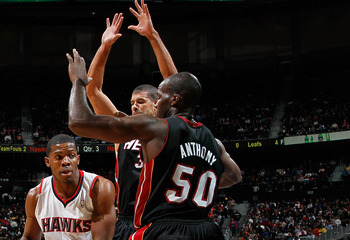 Kevin C. Cox/Getty Images
He has not been the same center since Kevin Garnett schooled him in the 2010-2011 playoffs. From the second half of 2010-2011 until then, Anthony's defensive game was on the up-and-up. He was stifling all comers. And offensively, he looked like an offensive rebound juggernaut and put-back artist. Evidently, Anthony looked liked he could be Miami's 30-minute per game center of the future.
However, that has all changed. Kevin Garnett served him an apparently permanent "chill pill." Anthony has returned to playing the equivalent of bench minutes. His defense is still mostly adequate and he is a "big body," but Miami would deal him for a better option if it could.
Grade: C
Keep Reading

Miami Heat: Like this team?