Indiana Pacers: 5 Reasons They Can Win a Playoff Series in the 2011-12 Season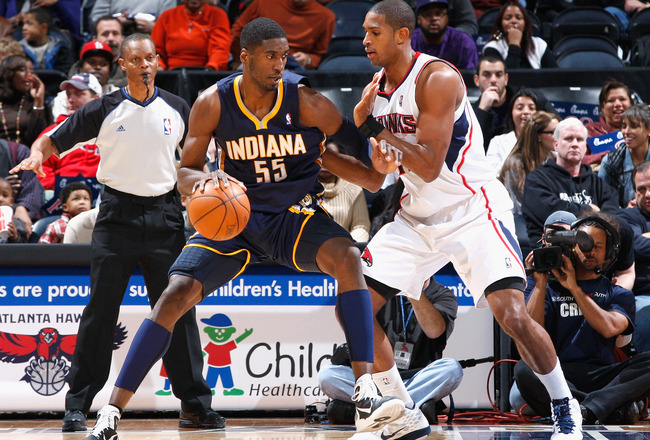 Kevin C. Cox/Getty Images
The Indiana Pacers haven't been victorious in a playoff series since the final stand of the legendary Reggie Miller. Since then, the Pacers have been most notable for the infamous Malice at the Palace.
Years later, Indiana has rebuilt its franchise and looked poised to make some noise in the NBA playoffs.
Now that the season has begun after an extended lockout, the Pacers will look to gain momentum a year after after a competitive playoff series with the Chicago Bulls. Although they were not able to stretch the series out significantly, Indiana showed plenty of heart and potential to get better as a unit.
So just what can this Pacers team do this season?
I'll go ahead and label them as a playoff series winner, but don't be surprised to see this team make a serious run beyond that.
Here are five reasons why.
The Rise of a Center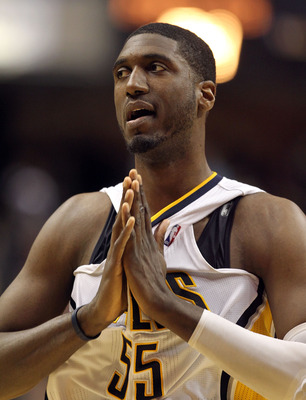 Andy Lyons/Getty Images
Try naming the dominant centers currently in the NBA. Go ahead. I bet you can count them on one hand.
One that is getting better and could soon be on that list is Indiana's Roy Hibbert.
For a guy that is 7'2", Hibbert has the ability to score in various ways. He's improving his low-post game, which should help him get to the stripe, but he can also spread the floor with a decent short- to mid-range shot.
Hibbert has improved his point, rebound and block averages every year he has been a pro and it should continue this year. Saying the former Georgetown Hoya will pull in double-doubles on a consistent basis would not be out of line.
This is a guy who could be a future All-Star, but most importantly a key player in a playoff run.
The Verdict on Danny Granger?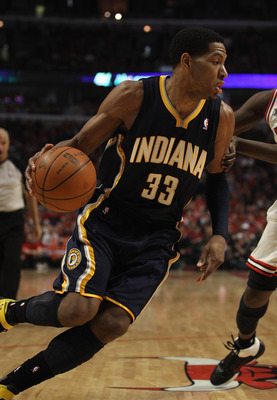 Jonathan Daniel/Getty Images
Is Danny Granger just a good player or a legitimate star?
If he leads the Pacers into serious contention, he should shed that "good" label and be considered a star league-wide.
Granger is a lengthy forward who can score the ball at an above-average level in the NBA. He's got the range to spread the floor and has a reputation as a nice deep-shooting option.
Along with that, he is a reliable rebounder and a decent defender when put in the right situation. Granger hits free throws at a high rate, hitting 84 percent for his career, and also finds ways to get to the line on a nightly basis.
Granger made an All-Star appearance in 2009, but hasn't put together the statistical year to match that success.
Even if you don't consider Granger to be a star, he's got a lot of help on his team that can pick up the slack and make a difference.
George Hill and David West > Josh McRoberts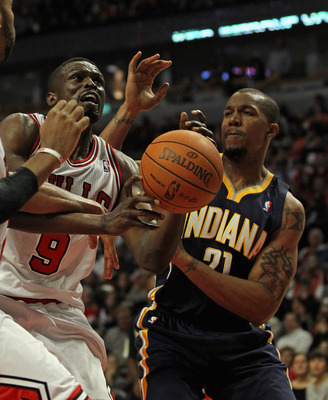 Jonathan Daniel/Getty Images
Speaking of those helpful players, Indiana picked up two huge additions with David West and George Hill. These respective moves gives them much-needed depth in certain areas and could prove to be crucial down the stretch.
When healthy, David West is an All-Star-caliber player. He has a knock-down mid-range shot and shoots an impressive 49 percent from the field for his career. His defense won't pop out to the eye, but he can grab around eight rebounds a game for a season, making Indiana one of the better rebounding teams in the league.
At one point it seemed that George Hill was a possible successor for Spurs point guard Tony Parker. However, after a trade landed him in Indiana, he could be a nice role player off the bench.
Hill is a solid guard who can handle the ball efficiently as well as score when needed. He has above-average athleticism, which helps him on both ends of the floor. Hill is a solid option off the bench who can provide plenty of minutes when needed.
Both guys bring something to the table that the Pacers franchise could certainly use, but could end up being make-or-break players for Indiana's success. Josh McRoberts showed the ability to be a nice role player for Indiana, but the two additions made over the offseason will prove to be much better.
Role Players, Depth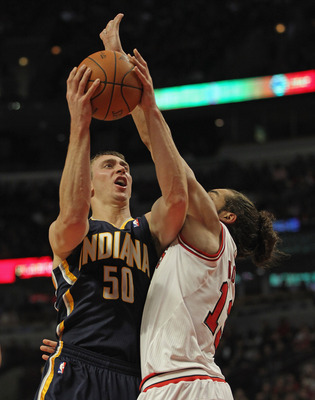 Jonathan Daniel/Getty Images
Lets not forget about the many other valuable options Indiana has in the starting rotation and bench.
Darren Collison is an improving facilitator at the point guard position, learning to cut down his turnovers and increase his court vision. He also scores at an above-average percentage for a guard and looks to have improved on his range early in the season.
Another big name is the possible Most Improved Player candidate Paul George. He is another lengthy forward who can shoot from multiple ranges and get to the rim for a finish. He's showing signs of becoming a nice defender and will likely see improvements across the board statistically.
Then you have the two physical big men in Tyler Hansbrough and Jeff Foster coming off the bench. While Foster is winding down his career, Hansbrough continues to get better and be a pest defensively.
Indiana also has other players who could step up for big games, but their depth shouldn't be questioned as of now.
Possible Upset Victims Are High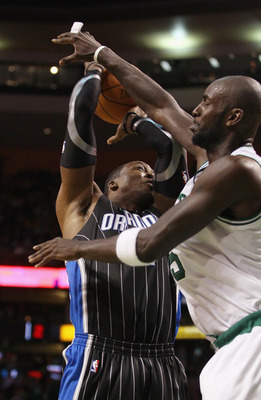 Elsa/Getty Images
For various reasons, there are teams that Indiana could possibly upend in a playoff series. Whether it's injury or lack of chemistry, the Pacers could find success in the playoffs with these matchups.
A lot of this of course depends on just how high or low of a seed Indiana grabs, but they could compete with any seed from top to bottom.
Teams like the Orlando Magic and Atlanta Hawks could see midseason transactions that would alter the future of the franchises. With the constant rumors of trade scenarios including Dwight Howard or Josh Smith, Indiana could take advantage of the insecurities and steal a series.
If you glance at some of the more elite teams in the East, like the Boston Celtics or New York Knicks, it also looks possible for an upset there.
Boston will be questioned all season considering the crammed and shortened season. They also possess no frontcourt depth with the loss of Jeff Green for the season and already have injury issues with Paul Pierce.
A younger Pacers team could end up working over the Celtics and making a huge impact in the league.
As for the Knicks, their depth has to be questioned. One serious injury could derail their season and lead them to an early exit in the first round. An interesting storyline with New York will also be to see if their shaky defense can improve with the addition of Tyson Chandler.
Miami and Chicago seem like locks to win at least one playoff series based on their current stature and dangerous rosters. However, I wouldn't count Indiana out against any other team in the East.
Keep Reading

Indiana Pacers: Like this team?