NBA Predictions 2011: How the Season Will Play out for the Oklahoma City Thunder
December 17, 2011
Kevin C. Cox/Getty Images
There's a storm coming. Take a look for yourself. It's no new news that the weather is getting heavy at the moment. It's been forecast from the season before last that the Thunder have weathered the storm of their inaugural year and are now looking as bright as lightening.
As Oklahoma City bring more thunder than a Darryl Dawkins highlight reel, things are looking as sweet as chocolate for the freshest NBA franchise. Sure, the Thunder are already moving up, but expect them to ascend even further at sonic speed.
Since their expansion from Seattle, the Thunder's growth hasn't been as widely well received as it has in Oklahoma, where the city was given it's first NBA team. Even people outside of Seattle loved the Sonics, but still the powers that be didn't think this city could support an NBA team. With Ray Allen heading for more green, (going to Boston and doing a backwards "Frasier") and the Kemp/Payton days as far out of view as the sky needle, the Sonics' days looked as dated as Sega.
Still, these days nobody appreciates the classics. The city that birthed grunge music still had a future with the rock; however, as the Seattle Storm of the WNBA showed the Thunder and the NBA last year, glory days could still reign in the state of Washington.
So as the smoke and the fog cleared, people began to get used to those jerseys and the strangest expansion franchise since the Bobcats. Now what we are left with is a uniformed team that has not only become familiar, but they are also a favorite in the league, in more ways then one. In 2010, the Thunder—in six games—almost defeated the eventual-champion Lakers in the playoffs, and this season gone they were only beaten by the eventual-champion Mavericks.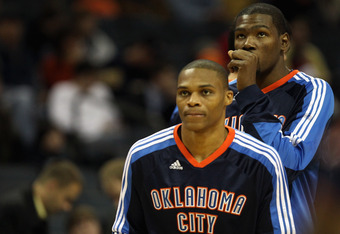 Streeter Lecka/Getty Images
After a solid, mid-table season, this Oklahoma team proved they were anything but middle-of-the-road; their multiplying wins only being divided by Dallas after a tough series. With a few more additions via free agency, the Thunder could subtract some of the Mavericks' stronghold. It won't be long before this team's confidence adds up along with their record. You do the math.
The the Thunder have removed their cloud of judgement from various cities and showered the L's with W's while receiving "I-owe-yous" from critics in return. It's time to give respect where respect is deserved and overdue—the Thunder have earned it. Just look at their roster; they have the pedigree for NBA prestige. In terms of contenders, this city is part of the royal family like London.
Kevin Durant is the poster boy: tall, dark and he has a handsome game. He's lean and a scoring machine, too. He's a reigning scoring champ with 30 per, so there's even more numbers for this argument's crunch. Sure, this kid is skinny, but his game has the definition. Plus, winning is winning, whether an inch or a mile, whatever the diesel. K.D.'s speedy to boot, leading this fast five while being as skillful as the sportsmen in Brazil who use their feet instead of hands.
Durant has gone from high school lockers to future hall duties, as his legend continues to evolve like this team. As of right now, however, K.D. is right there with LeBron and 'Melo, looking up to nobody but God's son, Kobe. M.J. Picked the wrong expansion to own. The forefather of modern day Basketball has to be proud of how the association is being run these days. Forget "Like Mike," Kevin is the latest great player "da kids" want to grow up and become.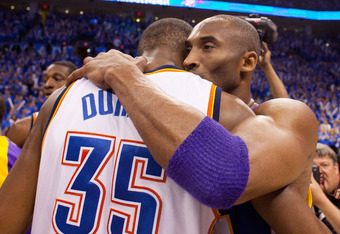 Dilip Vishwanat/Getty Images
Oklahoma may start with Kevin Durant, but they don't end with him. There's more to the Thunder than just a few little drops.
Take recently-named, first-time All-Star Russell Westbrook for example. He's far from just another No. 2, or the zero his jersey reads. Westbrook is one of the league's leading guards, and the NBA is finally getting the point. Russell is so athletic. He doesn't just play like a quarterback, he's built like one and with buckets and dunks to match. This guy will be a highlight in Februarys and postseasons to come, like Superbowl Sunday. It's not just Green Bay who are packing.
Serious swingman Jeff Green was a serious threat, completing Oklahoma's very own big three, but thanks to a trade with Boston, he was replaced with huge centre Kendrick Perkins. Perk gives this team a different element, as they look to go in contention's direction. He's strong and built for the playoffs with finals experience, and this offseason he has become even leaner and meaner. He's the future and one of the best bigs out West, plus he hates the Lakers. What more could you ask for from a wild, West competitor?
Still, he and his new team are backed up. The dependable, forward/centre Nick Collison has been around since the Seattle days, and he helps round out a great starting unit along with Serge Ibaka. The Congolese/Spanish sensation is feeling at home in Oklahoma as one of the game's best, all-round international players.
The Thunder's bench is no turbulent spot, either. With strength that results in game-winning numbers, from Royal Ivey, to Eric Maynor, to Daequan Cook. Or dunk-tastic, spark-plug Nate Robinson, or solid, big backup Nazr Mohammed. These pine polishers help Oklahoma shine from the woodwork when their starters begin to get splinters.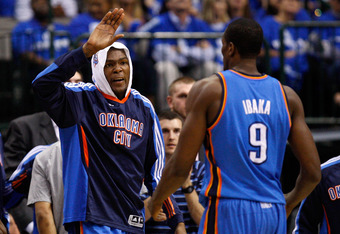 Ronald Martinez/Getty Images
All in all, this Oklahoma team may almost reside in the middle of the West, but they are about to ascend to the top of it, and the NBA as a whole. They are more than that team that used to be Seattle, or the Phoenix Suns of 2011. They are right with L.A. and Texas' two top teams in contention, almost like they are the Sacramento Kings of the early new millennium.
The Thunder are rumbling more than their favorite bison. With this spell, things could get more dramatic then those old, Terrence Howard playoff commercials.
Sure, with the WNBA's Storm in Seattle, you can expect greatness, but with the Thunder in the NBA, you can expect an upset next year like no presents under the tree. Expect them to be a regular Christmas Day feature, too, as they bring the headlines and headliners into prime time once this season starts. That will be tears you see, not rain pouring down, as the heavens of great basketball open up the floor.
The Thunder have already made their city proud and now the rest of the United States are watching, even Seattle. Oklahoma has already made a name for themselves in the league, but it won't be long before their names are engraved in some serious hardware. Sure, it's still a real shame this squad couldn't do this in Seattle (no offense, OKC town), but the forecast has changed and is still precipitating. People are talking about the weather in Oklahoma and it's going to be thunder all year round.
Put up your umbrellas, because here comes the reign.