Rajon Rondo and the Boston Celtics Go To War
December 14, 2011
Fact: the Boston Celtics do not want Rajon Rondo. 
Fact: the Celtics have shopped Rondo around the league.
Fact: no one else wants him either.
Celtics fans have heard faint rumblings of Rondo's attitude issues for a while now, but only recently have we heard the gory details.
I've always found it rather revealing that the Big Three refer to each other as "Kevin," "Paul" and "Ray," but never refer to Rajon as "Rajon." He's "Rondo."
It was a little observation of mine that I kept sweeping under the carpet in the hopes that they were doing it affectionately. But deep down, I always felt there was a little disrespect there. Now we're finding out why Rondo has been isolated on an island for so long.
Most of you probably already know, but for those who don't, it would seem that Rondo shattered a television screen last season before Game 3 of the Eastern Conference Semifinals against Miami. The Celtics were watching a film session, which is basically where they watch footage of what they're doing incorrectly, and apparently Rondo was the star of that movie. 
Scott Zolak compared Rondo to Randy Moss. I can't go that far, because Randy Moss was never the best player on the New England Patriots. They cut Moss and didn't lose a step in their efficiency as a team.
If the Celtics lost Rondo without getting someone like Chris Paul in return, or if he simply went down with an injury, the team would crash and burn. 
He's the Celtics' most important player.
I'm not excusing Rondo's outburst or his variety of issues with Doc Rivers, but I'm certainly not taking Danny Ainge's side.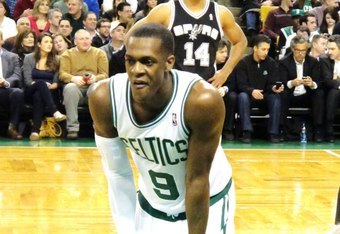 Of the Big Three, Ray Allen is the only one playing at an elite level. And yet, he was Ainge's trade bait last year. Rondo's the best player on the team, and he was (and still is) Ainge's trade bait this year.
Not only has Ainge stripped the team of nearly all of its championship players from 2007-2008, but most of those players were good friends with Rondo, too. Especially Kendrick Perkins. 
On top of that, the Celtics got nothing of value in return for giving up those players. The Celtics went from being a dynasty-primed team to being virtually irrelevant. That's not Rajon Rondo's fault. 
And Rondo's probably a little pissed off that playing elite basketball for the Celtics makes you replaceable.
Danny Ainge made a comment last year that the Celtics can't be the same team any longer; they have to get younger and more athletic. I agree. But Rondo is the youngest and most athletic player on the team, so it's strange that he's the piece that has to be sacrificed. 
I've somewhat resigned myself to the reality that this is going to be a lost season for the C's. They haven't been good enough over the last three years, and they won't be good enough this year. 
When Sasha Pavlovic is one of your "big gets," you know you're in trouble. And why the Celtics are forcing me to be a believer in Jeff Green is beyond my understanding. It's not going to happen.
I love the Big Three, but their massive contracts have put this team into hibernation until next summer. 
And as much as you and I might love K.G., we have to be a little ticked off here. His payout is huge and his production is questionable. And he's complaining about the rushed training camp? Is that really the biggest issue here?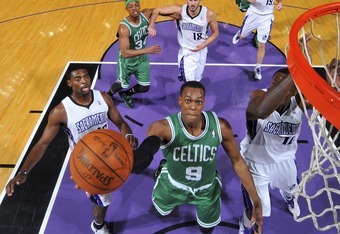 If I could have the 2007-2008 team intact but with Brandon Jennings and Andrew Bogut instead of K.G., I'd be thrilled. 
There are guys like Marc Gasol, Jamal Crawford and David West who are just floating around this league, and we don't have them. Why?
Chris Paul may not want to play in Boston (for whatever reason), but some of these other guys would probably kill for the chance to play in a green jersey. 
The season is about to start, and I'm not feeling good about my team. I'm not sad; I'm angry.
This whole thing has been so mismanaged, it's simply devastating. I feel like the heart of the Celtics has been thrown into a blender and turned into paste, and now the team has to go out and pretend to make a title run. 
Rajon Rondo might not have a ton of support these days, but he's got me. I'm in his corner. And I'm as furious as he is.