NBA Free Agents 2011: Warriors Make Grave Mistake by Signing Kwame Brown
December 13, 2011
Stephen Dunn/Getty Images
According to Yahoo! Sports Adrian Wojnarowski, the Warriors have signed Kwame Brown to a one-year deal.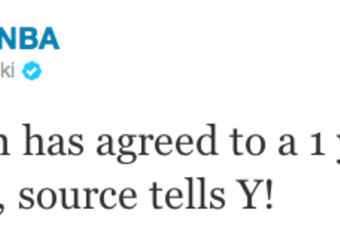 What a dumb signing, and no matter what they paid him, it was a waste of money.
Update: They gave him SEVEN MILLION DOLLARS. Yes, you read that correctly. SEVEN MILLION DOLLARS for one year of Kwame Brown.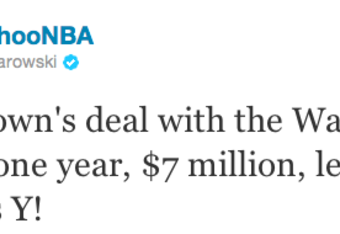 Brown was being pursued by a number of teams that included contenders like the Boston Celtics and Orlando Magic as well as fringe teams like the Philadelphia 76ers, according to Ryan Corazza at ESPN.
Those teams were just plain stupid to want anything to do with Kwame, one of the biggest busts in NBA history and a complete waste of talent for his size.
They are lucky the Warriors took him off the market and saved them time and money.
Stephen A. Smith said it best.
"This man is a bonafide scrub… the man cannot play the game of basketball. He has small hands, he can't catch the ball; he's got bad feet, he can't really move, even though he's mobile, he doesn't really know what he's doing; he doesn't have a post move he puts to memory that he can do two times in a row; he has no game whatsoever; plays no defense; doesn't have the heart, the passion or anything that comes with it."
As much as people tend to passionately disagree with Screamin' A, he's dead right about Kwame in his rant.
A contender should want nothing to do with someone as bad as him and he's just dead weight that will make too much money.
I can't even justify a team signing him for the veteran's minimum at this point, and I hope that is all the Warriors decided to give him.
He's 29-years-old, has no more upside and you know what you are getting from him. A non-serviceable, 6'11", 270-pound bum that will waste minutes in your rotation and count as salary fat against the cap.
If teams are really that starved for big men, they should be looking at Samuel Dalembert, Carl Landry or Kris Humphries.
These guys may not be the greatest players, but they could be a fourth or fifth best player on a championship team and fill niche needs that every contender has.
The fact that Kwame signed before them is insane.
NBA GMs should follow a simple rule, if you are going to throw dollars around to sign a big, make sure they can actually contribute.
I pity the Warriors and their fans, who now have to deal with a year of watching a bonafide scrub play for their team.