NBA Free Agents 2011: Best Player Available at Every Position
December 1, 2011
Doug Pensinger/Getty Images
With the NBA free-agency period starting up next week, a number of teams will waste no time in adding the best available players. This year's class features talent at every position, but deciphering who is the best certainly makes for a great debate. 
The new CBA will have a great impact on how teams approach free agency, as some will miss out on key players because they're forced to spend less money. 
Since there is a short window to work with, NBA squads must act fast or they will miss out on the elites. 
With that said, here are the best available players at every position. 
Nene Hilario, C
The 29-year-old is a consistent workhorse on the court, and he is about to get a large contract as a reward for his efforts. Nene has been with the Denver Nuggets his entire career, so it's hard to see him leaving, but if the money is right elsewhere, Denver will have to say good-bye.
Nene has every right to seek out a hefty payday, as he has been a force in the paint for several years. He led the league in field-goal percentage by a wide margin last year, which is why lots of teams will be after him. 
The 6'11", 250-pound center is the best on the market because he has many years left to play at a high level. Any team would love his physical style of play. 
Marc Gasol is the No. 2 center available. 
David West, PF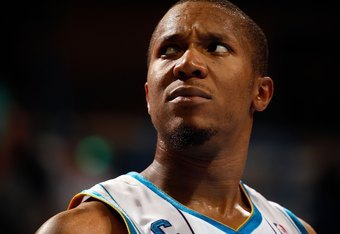 Chris Graythen/Getty Images
He may be 31 years old, but West can still play with the best of them. He's averaged nearly 20 points a game for the last five years, and that trend will continue this year. 
The New Orleans Hornets would love to keep him, but since he opted out of his final year, it's obvious he wants a change. You can't blame him, as he's been there for all eight years of his career and had only three trips to the postseason. 
West's clock is ticking, and if he wants to win a title he may have to take less money to play with a legit contender. He is definitely one of the players to keep an eye on during this free-agent period. 
Kris Humphries is the No. 2 true power forward available. (Kim Kardashian appearances could come as a bonus.) 
Thaddeus Young, SF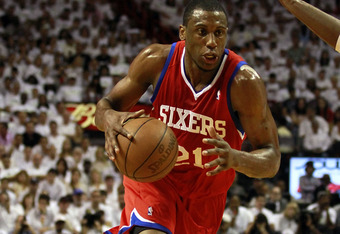 Marc Serota/Getty Images
Young can defend three positions, which makes him a top target this offseason. The fact that he's only 23 makes him even more appealing to NBA teams. 
The Philadelphia 76ers will fight tooth-and-nail to keep this young star on their team, especially since Elton Brand isn't getting any younger. 
It's not going to be easy holding onto Young because he still has such high potential, but if he lands with the wrong team it may not go over so well. If the offers are higher elsewhere, Young may be tempted to leave. 
Jeff Green is the No. 2 small forward available. 
Jamal Crawford, SG 
The Atlanta Hawks don't have the means to re-sign Crawford, which means the veteran guard will soon be with his fifth different team. Unless, of course, he signs with a team he's played with in the past.
Chicago Bulls, anyone? 
Crawford may be 31 years old, but he still has game, and teams are well aware of this. He can score at will, come off the bench or start, as well as run the point if needed. Granted, he won't be asked to do that a lot, but it's something he's capable of. 
The 11-year veteran can hurt defenders off the dribble, and his ability to perform at a high level in the clutch is why he's the best shooting guard on the market. 
Jason Richardson is the No. 2 shooting guard available. 
J.J. Barea, PG 
He's listed at 6', but that's stretching the truth, as he's more than likely only 5'9". Still, though, his skills at handling the ball, combined with his intelligence of the game, is what makes him the top point guard up for grabs. 
The 27-year-old wants to stay with the defending champs, but Mark Cuban and the Dallas Mavericks may not be willing to shell out the big bucks. Barea's performance in the playoffs made him a hot name this offseason, and he is definitely due for more money.
If another team comes calling, Barea may jump ship to become a full-time starter. The fact that he delivered on the big stage when his team needed him most is proof that he can be a legit point guard in the league.
Plus, he took one heck of a shot from Andrew Bynum and just kept on going, scoring in key moments of the postseason for Dallas.
Mario Chalmers is the No. 2 point guard available.