NBA Amnesty Clause: Who Each NBA Eastern Conference Team Should Cut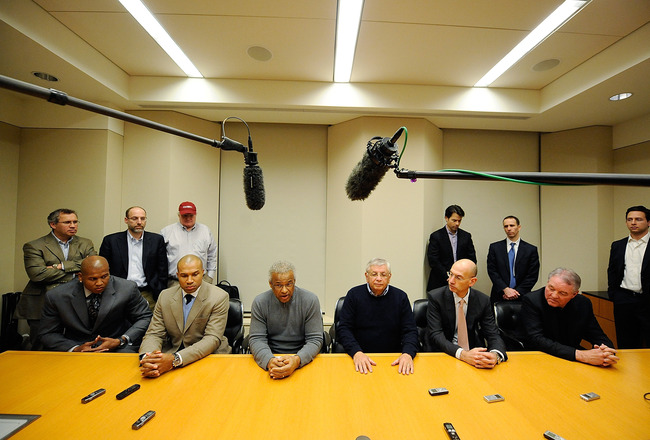 Patrick McDermott/Getty Images
First, let's all take a moment to scream in joy that the NBA is coming back.
OK, now let's get to business. To me, the most interesting thing (so far) of the new deal is the amnesty clause. For those that don't know, this allows every NBA team to cut one player and their contracts will be completely and totally off the books.
This is great for teams like the Lakers, who often sign bad contracts, and teams like the Heat, who need more players. The bad 2011 free-agency group just turned into possibly the most interesting ever.
With that being said, let's look at who each team should—keyword being "should"—cut and where they might land.
Boston Celtics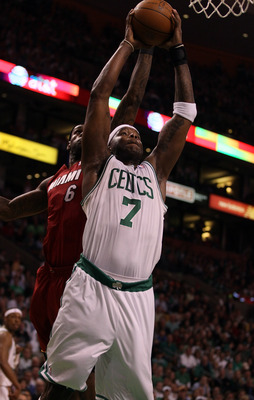 Elsa/Getty Images
Jermaine O'Neal
The Celtics don't have many bad contracts they can afford to cut. Ray Allen, KG and Pierce have contracts that are greater than their output, but not by enough to cut them.
They are looking to rebuild, which was evident when they traded away Perkins and brought in Jeff Green.
O'Neal signed the contract one year ago and it didn't make sense then. To no one's surprise, he was hurt, only played 24 games on the year and was wildly unproductive.
The Celtics should be counting their blessings that they can rid themselves of this contract and find younger players.
Interested teams: Heat, Spurs, Portland
New Jersey Nets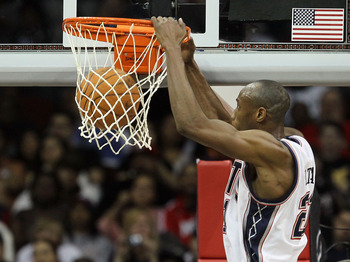 Jim McIsaac/Getty Images
Travis Outlaw
This contract right here is exactly why the lockout happened. Travis Outlaw, whose career-high points average was 13.3, was given a five-year, $35 million deal.
And we wonder why the Nets are irrelevant.
Outlaw is due $7 million the next four years and is the third highest-paid player on the payroll. He eased Nets fans' anxiety with a stellar nine-point, four-rebound average last season with a 30 percent three-point shooting percentage.
Basically, everything you want out of your 35-million dollar man.
All that being said, those are respectable numbers for someone of a smaller contract and he'll be sought after this fall.
Interested teams: Celtics, Thunder, Hawks
New York Knicks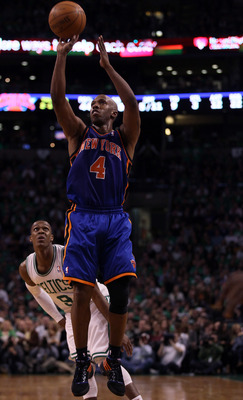 Elsa/Getty Images
Chauncey Billups
Given everything the Knicks went through to get Melo and Amare to New York (more specifically Melo), this might be a bit puzzling. However, a team that is as strapped for cash as the Knicks needs to make the smart move here.
Billups is set to make $14.2 million this season, more than Kevin Durant.
This is another bad contract gone worse, as Billups' game has faded in recent years. He had a good half year in New York, but the Knicks could cut and replace him with someone that's possibly better and certainly cheaper.
As for Billups, he'll have plenty of teams interested in his services, especially with the strong ending he had last year. I would expect the Heat to make a big push for him.
Interested teams: Heat, Pacers, Atlanta, Boston
Philadelphia 76ers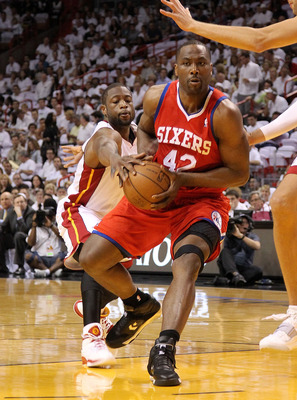 Mike Ehrmann/Getty Images
Elton Brand
This is a very easy decision. Brand would be making $17.1 and $18.2 million the next two seasons, respectively. Considering he averaged just 15 points a game last year, he isn't worth it.
I think it's safe to assume that if you average less points than the figure of your contracts in millions, then you have a bad contract.
And really, this is the only bad contract the 76ers have, but it's really bad. Brand showed some flashes of his old self and will certainly command a larger contract than most others that'll be amnestied, but certainly nowhere near the $17 million he's set to make.
I could see possibly the Heat—depending on the price—or the Nuggets going after Brand.
Interested teams: Heat, Nuggets, Trailblazers
Toronto Raptors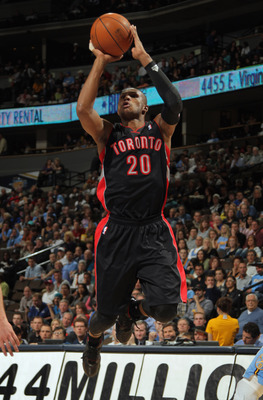 Doug Pensinger/Getty Images
Leandro Barbosa
Last year, this would have been a no-brainer for Andrea Bargnani. But last year, he finally played like someone worthy of a first overall pick and I don't think they would or should cut him at this point.
Instead, they should turn to the man they've tried to move a couple times in Barbosa. He didn't start a game for them last year, although he's never been a perennial sixth man, but only averaged 13.3 points.
Considering he's set to make $7.6 million next year and is entering the backside of his career, this seems like the move that makes the most sense to me.
Barbosa, however, would be a highly sought-after player if cut.
Interested teams: Pacers, Celtics, Magic, Hornets
Chicago Bulls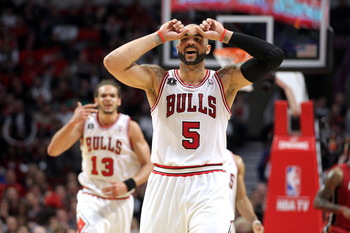 Mike Ehrmann/Getty Images
Carlos Boozer
Before the uproar begins, let me remind you that this is who SHOULD be cut from each team.
Boozer was signed to a massive contract and is due $13.5 million this year with it rising to $16 million in three years. Our basic rule of thumb applies here, as he averaged just 13.3 points last year. 13.5 > 13.3.
Boozer has a solid skill set, but he just doesn't seem to fit with the Bulls. He thrived in the pick-and-roll with the Jazz, but a more free-flowing offense where Rose gets to the rim didn't suit Boozer's style.
By cutting him, you'd be doing everyone a favor, ridding the Bulls of a ton of contract obligations and ridding Boozer of a team that doesn't fit him.
Obviously, if cut, Boozer would likely be the most sought-after free agent of the group. A team like the Nets might swoop in and offer him way too much money in hopes of keeping Williams, which would be interesting.
Interested teams: Nets, Suns, Nuggets
Cleveland Cavaliers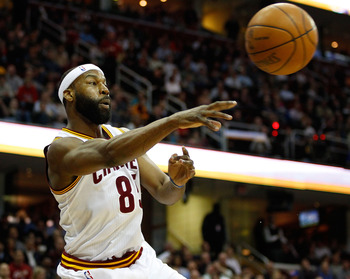 Jared Wickerham/Getty Images
Baron Davis
Just when we all thought the Clippers had turned the corner and seemed like a team that could compete, they go off and trade Davis and their first-rounder for Mo Williams. Uhhhhh.
Davis isn't as bad as people tend to think. He averaged 14 points a game with the Cavs, and a total of 13.1 points a game last year. He's never been a pass-first PG and averaged just 6.7 a game last year.
With a contract of of $13.9 and $14.8 million due to him the next two years, he's certainly not worth that much money.
Davis is a more of a backup PG at this point, with spot duty at starter. He's 32 years old and has had his share of injuries. He's got a couple more years left in him of being a serviceable PG.
The Lakers would certainly be interested in Davis, as their PG options are limited.
Interested teams: Lakers, Pacers, Heat
Detroit Pistons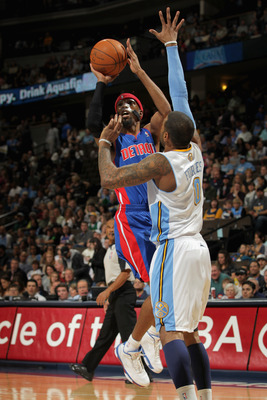 Doug Pensinger/Getty Images
Richard Hamilton
The contract that Rip Hamilton got is the type that the owners are complaining about (which doesn't make sense, since they write up the contracts).
In 2008, following his worst shooting year in a couple years, the Pistons decided to give him a 3-year, $34 million extension.
Since then, Rip's decline has become more and more evident, especially last year. He's still a decent shooting guard who could be good in the right situation. He shot 38 percent from three last year and could be a great fit for a team in need of a shooting guard.
The Bulls, who were thought to be trying to trade for him, would be all over Rip.
Interested teams: Bulls, Pacers, Nets
Indiana Pacers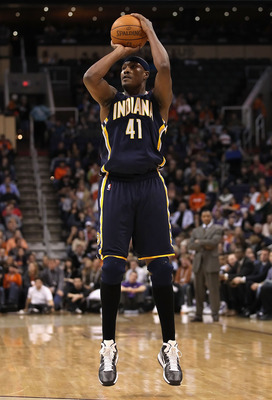 Christian Petersen/Getty Images
James Posey
The Pacers are a young team on the rise. They made a big leap under Frank Vogel last year and barely reached the playoffs. Then, they added George Hill to this year's team. With Paul George starting to come out, he'll need more playing time.
Posey has been a weird player. He has two rings (Heat and Celtics), but never seems to be a stud player. Each time that he won a title, he left and cashed in elsewhere. He suckered the Pacers into a big contract, yet averaged just 4.9 points a game last year.
Given the fact he has $6.9 million coming his way this year, he'd quickly be cut, giving the Pacers all kinds of cap room.
As for Posey, at 35 years old, he'll look to join a competitive team as he looks for another title. The Heat, who lack size and a glue guy like Posey, might go calling his way.
Interested teams: Heat, Mavs, Thunder
Milwaukee Bucks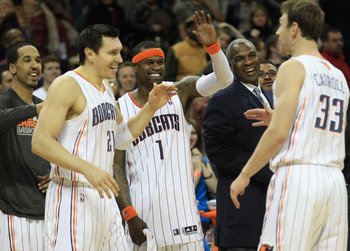 Streeter Lecka/Getty Images
Stephen Jackson
This is easy. The Bucks traded for him this offseason, but he was pretty vocal about not wanting to be on the team.
While they'll be reluctant to cut their losses, it's a huge contract they'll be ridding themselves of: $19.3 million over two years.
Jackson is a good player when motivated. Problem is, he's never really motivated. He needs to be on a contender and needs the ball to be happy.
I don't think a team like the Bulls would take him because Rose is the man on that team. Instead, he'll go to a team that is looking to rebuild and could use him. His attitude is going to keep him from ever getting a title.
Look for interest on him to be among mid-level teams and not many contenders.
Interested teams: Nets, Timberwolves, Raptors
Atlanta Hawks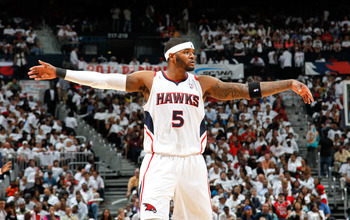 Kevin C. Cox/Getty Images
Josh Smith
This should come as a shock. This is a product of the team needing a shake-up more than Smith's play.
The core of this team—Johnson, Williams, Smith, Horford—has been together for a long time now. Each year, they finish middle of the conference, make the second round at best, then lose.
This isn't doing them any good, so why would they continue doing it?
Instead, the team needs a shake-up. Smith is set to make $25.6 million over the next two years, so cutting him would bring them closer to the hard cap they'll most likely be over. They may be able to sign someone like Boozer (if he was cut) to replace Smith.
As for Smith, he'd obviously be sought out by everyone. Most notably, teams like the Thunder or Nets might be able to sway him, or teams with lots of cap room.
Interested teams: Thunder, Nets, Hornets
Charlotte Bobcats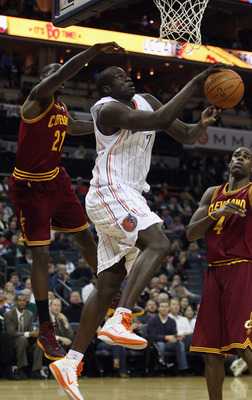 Streeter Lecka/Getty Images
DeSagana Diop
Talk about head-scratchers.
Diop has stayed in the league since 2000-01, yet has never averaged more than 2.9 points and never more than 5.4 rebounds. And on top of all that, in 2008, after his huge 2.3-point, 5.4-rebound season, the Mavs gave him $32 million over six years.
That contract is in effect through next season.
I really can't find a reason as to why Diop is still in this league. He doesn't do anything great, or even average for that matter. He's just not that good of a player.
If cut—which I'd be shocked if he wasn't—I'm not sure any team would pick him up. If they do, it'd be to fill out the roster for minimum wage.
I can't even imagine listing interested teams. Anyone is fair game, but maybe the Heat would be most interested because they could get him cheap.
Interested teams: Heat, Mavs, Celtics
Miami Heat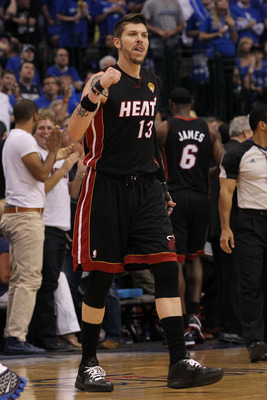 Ronald Martinez/Getty Images
Mike Miller
The Heat's finances are messed up beyond belief. The oh-so-gracious Miami trio took such a big pay cut that now they will be forced to lose possibly their fourth-best player on the team.
I hate listening to talking heads tell us how their big three took a pay cut to come to the Heat. If they really were serious about winning, they'd take about $9 million a year and leave the Heat room to make more moves, but that's a different story.
As for Miller, he brought this upon himself. Following an injury last year, he never looked like the man the team expected him to be. I think they overrated him from the beginning, but that might just be me.
If cut, he would be signed no problem. I would think the Bulls might go after him to fill their need at the 2-guard.
Interested teams: Bulls, Clippers, Hawks
Orlando Magic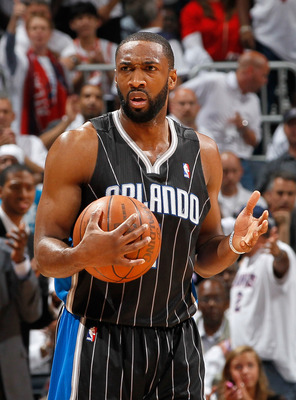 Kevin C. Cox/Getty Images
Gilbert Arenas
This is the easiest decision. Arenas is a shell of his former self and still has a HUGE contract: nearly $63 million over the next three years. His contract was bad pre-injury/gun suspension.
Now, it's that much worse.
The Magic took on the contract to get back Hedo, essentially. Now, they can cut their losses with Gilbert and begin rebuilding. If they find a trade for Dwight, they could be way ahead of the game in rebuilding this team.
Given how short the season will be, they might not have to suffer long before they see the brighter days.
As for Arenas, while he isn't the Arenas of the Wizards, he isn't washed up. He had some big games with the Wizards, but was limited with the Magic. He could be a starter on some bad teams and a sixth man on good teams.
I think he'll land on a good team coming off the bench.
Interested teams: Boston, Spurs, Lakers
Washington Wizards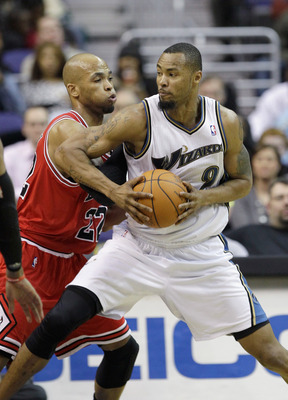 Rob Carr/Getty Images
Rashard Lewis
It's amazing how one player can fall so far. Orlando's contract given to him was bad, but early on, he was a key piece in their team's run to the finals.
Now, he's an irrelevant piece on the Wizards.
The Wizards without Lewis would be at least $18 million tied up in contracts. No, that's not a misprint. $18 million. That's so much room to sign some big-name players and they have a solid core already.
As for Lewis, he'll certainly find a place. He's not a bad player and would be a starter on just about every team. I could see the Suns going after him as he fits their play style.
Interested teams: Suns, Spurs, Mavs
Keep Reading