NBA Free Agents 2011: Rodney Stuckey and Underrated Free Agents
November 29, 2011
Gregory Shamus/Getty Images
Here's a quick look at three vastly underrated NBA players who are set to hit free agency in a couple of weeks. 
Rodney Stuckey, Detroit Pistons
Stuckey is a restricted free agent, so the Pistons have a chance to match whatever offer he gets, but it doesn't seem like there's a whole lot of interest out there for the former Eastern Washington star.
The four-year veteran posted career highs in field-goal percentage and assists last year as he continues his route to being a more natural point guard. 
As he continued to up his assists and decrease his shots taken, Stuckey still possesses the skills to score the ball. 
He averaged just over 15 points per game last year, but scored at least 20 in his last five games of the season. 
The Pistons didn't have many weapons around him, and you have to think if a contender picked him up, he could easily average 15 points and seven assists per game. 
That doesn't really line up with where he's usually listed among this year's free agents.
Shane Battier, Memphis Grizzlies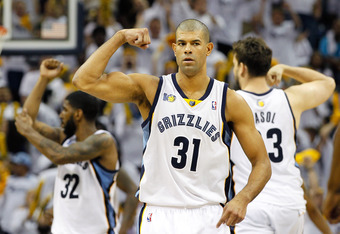 Kevin C. Cox/Getty Images
I hate to say it because I've never been a fan of Duke, but Battier is underrated in this league. He's not going to go out and score 20 points a night, and his game is far from pretty, but he does all the little things.
He still remains one of the best defenders in the NBA, he hits threes at a good rate (although he was a little down last year), he rebounds well for his size and he simply always gives you 100 percent.
In short, Shane Battier is the perfect role player for a contender.
He's already been in the league for 10 years and as a result will come at a discount. Most teams that are serious about making a playoff run should seriously consider a look at Battier.
Marcus Thornton, Sacramento Kings
Most teams are turned off by Thornton because of his lack of defense. Heck, New Orleans refused to play him at times because of that reason.
But when it comes down to it, Thornton can score the ball and he can score it quickly. 
He showed that very fact when he averaged an insane 21 points per game during his short stint last year with Sacramento. That seems unusually high, but I have no doubts Thornton could average 20 for a whole season.
He's a restricted free agent this offseason, but I don't see a whole lot of difference between Thornton and say, Jamal Crawford, who will likely command a lot more money.