NBA Free Agents 2011: Injury-Prone Players That Need to Be Avoided
November 29, 2011
Rob Carr/Getty Images
With free agency about to spring upon us, there will be a lot of chatter between now and Christmas over who will go where. As that happens, there will be some names that come up that carry a promise that can't be fulfilled.
People will hope that these names can return to former glory, but these stars will not be able to match what they once were. Injuries have taken their tolls and it's unlikely they'll be able to play a full season, much less play up to their former standards. These three players should be avoided except as a last resort. 
Josh Howard
Howard was an All-Star with the Dallas Mavericks. However, after a series of personal problems including conflicts with the coaching staff and admitted marijuana use, which happened to coincide with a decline in play, he was traded to the Washington Wizards.
For three games he showed some promise of returning to his former level of play. After playing just four games, he tore his ACL and took eight months to recover. Since returning, he has not been the same. 
Howard should be avoided because there are three big warning signs. His athleticism had already started to decline, he has shown a lack of desire to work through adversity and his knee injury has escalated the rate of decline.
Howard just will never be the same player he once was.
Troy Murphy
Murphy was a nice player just two years ago. He was perhaps a bit below-average defensively, but was a very nice offensive player who could sink the three and rebound quite well.
In fact, he was the only player in NBA history to average two three-point shots a game and 10 rebounds per game over a full season.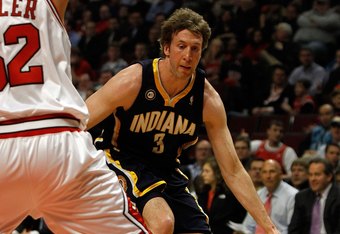 Jonathan Daniel/Getty Images
In both New Jersey and Boston there was a litany of injuries which kept Murphy from playing, and when he was playing, he was only a shadow of what he'd been the year before.
He might be worth a look as there weren't a lot of major injuries, but caution should be exercised as the types of injuries he was suffering from, ankle and back problems, were the type that tend to resurface. 
Michael Redd
Redd was once one of the better scorers in the NBA. He was such a good scorer that it compensated for deficiencies in other area. From 2004 to 2008, Redd averaged 23.7 points per game. Only 10 players had more total points over that span.
Then Redd injured his knee, tearing both his ACL and his MCL on January 25, 2009. He came back from the injury, however, on January 10th the very next season he re-injured the same knee, again tearing both the ACL and the MCL. 
Now he's 31 years old, has destroyed his knee and last season he showed that he doesn't have what he once did. Last year, he scored 44 points in 134 minutes played. He's not going to be coming back.