NBA Free Agency 2011: Will the Bulls Pass on Notable Free Agents over Defense?
November 28, 2011
"One player away."
That is the phrase that is most associated with the 2010-2011 Chicago Bulls.
For the 2011-2012 Chicago Bulls, the time has come to find that "one player."
The Bulls' Eastern Conference counterparts quickly discovered that if you managed to contain NBA Most Valuable Player Derrick Rose, the Bulls had no second scoring option. 
During the Bulls' Eastern Conference Finals matchup with the highly publicized Miami Heat, most fans realized that the Bulls desperately needed a scoring shooting guard to help ease the burden on Rose's shoulders.
As the lockout ends and the free-agent signing frenzy draws closer, there are plenty of offensive options available to the Bulls at the two-guard position. 
Chicago Bulls head coach Tom Thibodeau's main focus is to have his team play 48 minutes of solid defense every night. The Bulls managed to accomplish that on most nights, but during last season's NBA playoffs, it became glaringly obvious that if this team was to get over the hump, they would have to increase their offensive output.
The only question now is, are they willing to compromise their position on playing hard-nosed defense in order to sign one of these players?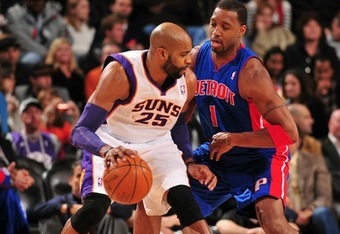 Once again, former all-world shooting guard Tracy McGrady is in the free-agent pool.  The Bulls entertained the idea of signing T-Mac during the 2010 postseason, but decided he wasn't a good fit due to his defensive deficiencies.  Stephen A. Smith recently proclaimed on ESPN Radio's Waddle & Silvy Show that as soon as the signing period begins, Tracy McGrady will be a Chicago Bull.  Defensive lapses wouldn't be the lone problem with signing the 32-year-old swingman, as McGrady's knees and back have proven to be very vulnerable to injuries over the past view seasons.
McGrady's cousin, Vince Carter, is also a name that keeps popping up in conversations.  Last season, Carter looked overweight and completely unwilling to play defense, so I don't know how likely it is that this union could materialize.  With the extended offseason due to the lockout, who knows how hard Carter worked to stay in playing condition.
Bringing back former Bull Jamaal Crawford is another option.  He has always been able to score a ton of points, but his lack of defensive prowess has kept him from being a starter on any team not run by Isiah Thomas.  One benefit of playing only one end of the court is that Crawford has managed to remain healthy for most of his career.
The last viable "superstar"-status shooting guard the Bulls are rumored to be looking at is Jason Richardson.  Out of all the options mentioned in this article, Richardson is probably the most consistent player on the defensive end.  The Orlando Magic thought acquiring J-Rich last season to pair him Dwight "Superman" Howard would be their return ticket to the NBA Finals, but Richardson failed to show up in the playoffs.  The Bulls already went through that with Carlos Boozer losing his confidence during last year's postseason, so I'm sure they are going to be very meticulous in measuring Jason Richardson's "choke-ability" before offering him any type of contract.
None of these players are the Bulls' golden ticket for a return to greatness, but one of these men could be the key to exact revenge on the Miami Heat in a possible rematch in the Eastern Conference Finals.  Nonetheless, Bulls general manager Gar Forman should not waste anytime getting his feet wet in the free-agent pool this season.