NBA Lockout: David Stern and Billy Hunter Have to Go Now
November 15, 2011
Brian Bahr/Getty Images
I'm about to tear down David Stern for his biggest failure, which is the possibility of a lost NBA season.
I'll also do the same for NBAPA leader Billy Hunter.
But before I do that, let's look at their successes.
With Stern at the helm, the NBA grew in ways that they've never grown before. Out of all the professional sports leagues, they've had the biggest presence on the Internet.
Hunter's leadership has allowed the players to prosper in ways they never have before. NBA players make more today than they ever have before. The success that the Association has had is intertwined between these two figures.
But now these same two figures, in two contrasting ways, are going to be held responsible for tearing down the sport.
Whose bright idea was it to go into a work stoppage after a season where the NBA built so much momentum?
It wasn't the idea of Stern and Hunter, however they're listening to the lunatic fringe on both sides who are in favor of it as opposed to the silent majority on both sides who want to play.
It's also worth mentioning that the NBA has had three other lockouts in the past. Two of them ended right before the start of the season, including one that lasted three hours in 1996. But they were a part of the first big one, the 1998-99 lockout that finally came to an end in January of 1999 and saw the league lose many of the gains they posted in attendance and television ratings that they enjoyed during the Larry, Magic and Jordan eras. 
Mike Ehrmann/Getty Images
For the players that lunatic fringe is known mainly as the agents. Decertifying the union is a fine idea, however it would've carried more weight and leverage had it been done in July, and the threat of it would've had a deal done by at least the beginning of October, which would've saved an 82-game season.
That was the idea the agents had, but Hunter didn't listen to them then; he's listening to them now, which has brought about this "nuclear winter" in the words of David Stern and Kobe Bryant.
Hunter simply listened to them at the wrong time.  
But Stern is by no means innocent; he's just as guilty. 
From the beginning it was reported by many NBA journalists that Stern was siding with the hard-liner owners. They're the lunatic fringe on the owners' side. 
They too wanted to overhaul the system completely, in such a way where player movement is severely limited and players are paid less. 
While I know to many the idea of players being paid less and player movement being limited may sound appealing, in reality it goes against free market capitalism. 
Players being paid less will not lead to lower ticket prices despite what you may believe. The owners became rich enough to own NBA teams for a reason, and one of them is letting the free market and supply and demand work in their favor to dictate the price of tickets. All the players want is the same thing for their services, and they aren't even in favor of baseball's Ayn Rand model that would be praised by the likes of Milton Friedman and Adam Smith (please look up these people if you don't know who they are); they'll gladly take a more mixed model with a salary cap, luxury tax and mid-level exemptions.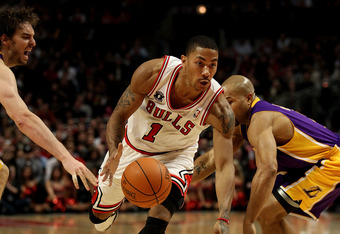 Jonathan Daniel/Getty Images
This goes back to Billy Hunter. If he really brought the owners' proposal to a vote, most players would accept it. Bills have to be paid, families have to be supported. 
But instead, Hunter listens to the agents who want to maximize their commissions. 
On the owners' side, there are plenty of owners who are willing to agree with the players' demands. They'll take a soft cap, luxury tax and mid-level exemption. 
But Stern won't listen to them. He'll fine them, but won't listen. 
Instead, he listens to the hard-liners who are willing to lose a season because it means losing more money. 
My answer to them is, "If you're not making money on the team, sell the team."
Michael Jordan once said that; now he's one of the hard-liners. I wish he'd heed his own advice here. 
My beef with the hard-line owners isn't that they want to maximize their potential earnings by changing the system, it's the fact that they want guaranteed profits. 
No business, anywhere, has guaranteed profits. 
You profit by running your business well. Look at some of these hard-liners and you'll see a history of mismanagement. 
You'll see an owner who has gainfully employed David Kahn for the last four years, an owner in a market where the NBA failed once before, owners who went broke and an owner who's become more famous for a comic-sans rant than for owning an NBA team and being one of the most successful businessmen of the last 20 years. 
What they all have in common is that they've also mismanaged their teams. They've signed the wrong players to too much money, let go of the wrong players (or draft picks that have led to great players) for short-term cash fixes and have made questionable moves that likely drove talented players away. 
And those are the people that David Stern is listening to more than the owners who have made the right decisions through managing their money wisely and putting a decent product on the court year in and year out (well, some of them—the other one is New York Knicks owner James Dolan). 
That's the main problem with both David Stern and Billy Hunter. Both guys are listening to the wrong people: One is listening to owners that want the system to protect themselves from themselves, while the other is listening to sports agents, who themselves are shady beyond belief. 
And these people are responsible for getting this mess cleaned up? If we can't trust them to listen to the right people, how can we trust them to bring back the NBA and prevent it from slipping behind the NHL?
This is already the fourth time that these two guys have been at the helm of both their sides for a lockout—when will enough be enough?
I'm almost assured right now that if the owners fired David Stern and the players dumped Billy Hunter, we'd end this lockout by next week and be able to open a 66-game season on Christmas Day. 
That's the route the NBA has to go.