NBA Lockout: Is There Still Time to Save the Season?
November 14, 2011
Patrick McDermott/Getty Images
NBA players officially rejected the league's latest proposal and have begun disbanding the union, putting many in doubt as to whether there can actually be a season at this juncture.
"We're prepared to file this anti-trust action against the NBA," union executive Billy Hunter said. "That's the best situation where players can get their due process."
Is this disbandment a unified stand from the players, or is it merely a negotiation tactic? NBA commissioner David Stern seems inclined to go with the latter.
"It's just a big charade," Stern proclaimed during an interview on ESPN's SportsCenter. "To do it now, the union is just ratcheting up I guess to see if they can scare the NBA owners or something. That's not happening."
Regardless of what the strategy may be here, we cannot ignore the fact the NBA season is in jeopardy now more than ever. As Stern said in that same interview, "The calendar speaks for itself."
But how much time do we really have, David? How much time before fans can truly throw in the towel, along with any hopes they have of watching professional basketball being played on this continent? After all, the calendar may speak for itself, but it isn't speaking volumes.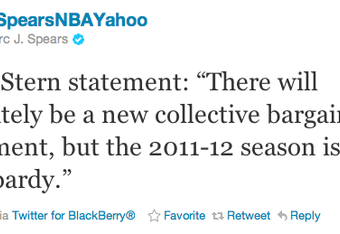 An exact date is something Stern never extended, so we are left to pillage through the rest of the information readily available to find our answer.
Chris Broussard noted that during the 1998-1999 lockout, the "drop-dead date" to salvage the season was Jan. 6th or 7th, which would be a good starting point for us to go off. Larry Coon also introduced a deadline along the same lines, stating that the "NBA labor dispute is now reaching a climax" instead of waiting for an early January deadline to "make or break the season."
If we are to believe that the NBA has until early January for the "make or break" deadline, that gives the NBA nearly two months to sort this mess out and strike a new deal. Is that enough time, especially since optimism had become frequently prevalent up until this point?
While it would be easy and seem somewhat logical to say yes, the key phrase there was "up until this point." Any progress that was made is now virtually gone; we are further back than square one.
Had the players decided to offer a counter-proposal or the league—regardless of what Stern refers to it as—resisted the urge to deal out an ultimatum, nearly two months would have served as a comfortable deadline for a deal to be struck.
This is not the case though. We are now entering the realm of litigation, which could take years to present a resolution.
We can all readily agree that if the players were going to disband, July, not mid November, would have been the time to do so. That being said, we can also agree that the players postponed such measures in the hopes that the NBA was willing to negotiate in good faith.
But we digress. With the season in greater peril than ever before, it is no longer about who is right and who is wrong, but rather if there is time to right enough of the ever-growing list of cumulative wrongs.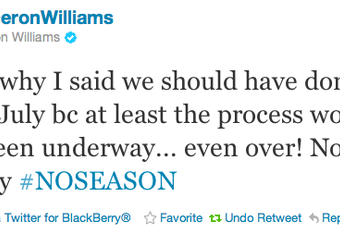 The recent turn of events suggests that cooler heads were never destined to prevail and both parties were further apart than we were led to believe.
So is there still time to save the season?
If litigation is the only way due process can be achieved—the key word here being "process"—two months isn't nearly enough time, not for the players, the owners or the courts, to right this wrong.
You can follow Dan Favale on Twitter here @Dan_Favale.