NFL Week 9: Predictions and Storylines for Each Game on the Schedule
November 3, 2011
Jamie Squire/Getty Images
Note: The quotes in this article are fictional.
Miami @ Kansas City (-5)
The Dolphins were valiant in defeat last week, falling 20-17 to the Giants after blowing a 14-3 lead. Miami is 0-7, and, along with the 0-8 Colts, one of the NFL's remaining winless teams.
"I understand Bill Cowher has no interest in coaching in 2012," Tony Sparano says. "I can relate, because there's 'no interest' in me coaching in 2012, either. In fact, there's not a whole lot of interest in me coaching in 2011. I'm not sure who the next coach will be, but I think there's only one word in the English language that would perfectly describe him: 'interim.'"
The Chiefs are playing like the team that won the AFC West last year, and after an 0-3 start, have rolled off four consecutive wins, including Monday night's 23-20 overtime win over San Diego.
"They say Philip Rivers is not himself lately," said Todd Haley, who sports the year's first playoff beard. "If he's not himself, then who is he? I'll tell you who. He's his own worst enemy. Rivers, along with his 10 Charger offensive cohorts, are collectively known as 'Blunder And Lightning.'
"As for the Dolphins, there's a successful formula for beating them. It's called playing them."
The 'Fins hang tough, and the defenses force a field goal battle between Dan Carpenter and Ryan Succup. Succup wins it for the Chiefs with a late 43-yard kick.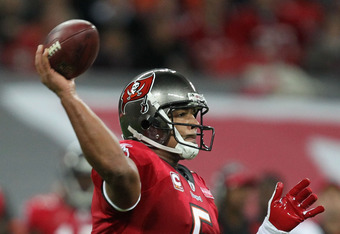 Streeter Lecka/Getty Images
Kansas City wins 22-19.
Tampa Bay @ New Orleans (-9)
The Saints were held scoreless in the first half, and went on to suffer a 31-17 defeat at the hands of the previously winless Rams. St. Louis rushed for 183 yards, 159 by Steven Jackson, while limiting the Saints to 57 on the ground.
"St. Louis turned the tables on us," Sean Payton said. "We played like the winless team; they played like a division leader. On Sunday, we were the 'Aints,' they were the 'Ams.'
"We were two-touchdown favorites over the Rams, and I'm sure a lot of gamblers placed money on us to cover, expecting a sure win and a big payoff. It didn't happen. As such, I'm not the only Saints supporter with a broken leg."
The Bucs are head to New Orleans after a bye week that followed their loss to the Bears in London. Tampa beat the Saints 26-20 in Week 6, and a win in New Orleans would give the Bucs a share of the division lead.
"After going scoreless in the first half last week," Raheem Morris said, "we know the Saints want to get on the board early. They have weapons and they'll come out firing. I know Aqib Talib will be ready, but will the rest of our defense?"
The Saints open up an early 13-0 lead. But the Buccaneers stay in it behind a solid day from Josh Freeman. In the end, Brees leads a touchdown drive that gives New Orleans a 30-23 win.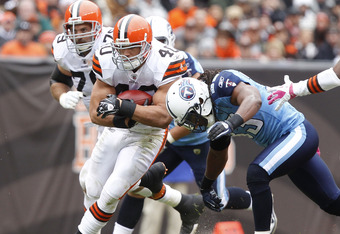 Matt Sullivan/Getty Images
Cleveland @ Houston (-10 1/2)
The 5-3 Texans beat the Jaguars 24-14 last week, improving their AFC South division record to a perfect 3-0. With a win, the Texans would enter their bye week at 6-3 with the comforting knowledge that Andre Johnson will likely return in Week 10.
"I hear that Peyton Hillis is still nursing a hamstring injury," Arian Foster said. "Nursing seems to be the key word. I've missed games because of a hamstring, but never for a sore throat. There's a name for players who miss games just because of an itch in their throats—a 'healthy scratch.'
"Anyway, if Hillis plays, we'll be ready. We're already 1-0 in games against teams with an injured 'Peyton.'"
The Browns are 3-4, holding the bottom spot in the AFC North. They'll need a strong defensive effort against the Houston rushing attack to knock of the Texans.
"The Texans are winning with defense," Pat Shurmur said, "and doing it without Mario Williams, who's out with a torn pec, which is an injury of which I would expect Antonio Cromartie to be afflicted. I'm not sure my offense scares the Texans at all. There used to be a time when saying 'the Colts are in town' sent the Texans running for cover. Not any more. So I doubt telling them 'a Colt' is in town will even register with them."
The Browns put up a fight, but Houston, behind Foster's 125 yards rushing and one touchdown, pull away for the win.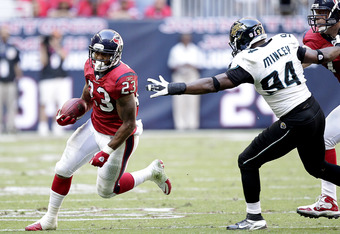 Bob Levey/Getty Images
Houston wins 27-21.
Atlanta @ Indianapolis (+9)
One week after losing by 55 points to the Colts, Indianapolis lost by only 17 in Tennessee, falling to the Titans 27-10. Indy remains winless with the 4-3 Falcons visiting Lucas Oil Stadium.
"We'll call that 'progress' and move on," Jim Caldwell said. "Which is exactly what the Colts said when they hired me to replace Tony Dungy. Anyway, Curtis Painter is making progress as well. Like Peyton Manning, he's taken this franchise to places it's never been.
"Anyway, Matt Ryan's coming to town. So, there is a franchise quarterback coming to Indy. We're hoping for a big present delivered to us right around Christmas time, when we'll have the No. 1 pick clinched. Ironically, this Santa Claus rewards you for being 'bad.'"
The 4-3 Falcons are riding a two-game losing streak and are rested and healthy after a Week 8 bye. With a win in Indy, and a Tampa win over the Saints, the Falcons would move into a three-way tie for first in the NFC South.
"Preparing for Painter is a far cry from preparing for Manning," Mike Smith said. "Manning made defenses look bad. Painter makes offenses look worse. Too bad for them it's the Colts offense."
Atlanta wins 31-17.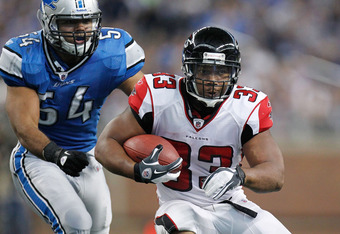 Gregory Shamus/Getty Images
NY Jets @ Buffalo (-1)
The Bills took over the division lead in the AFC East, shutting out the Redskins 23-0 in Toronto while the Patriots were knocked off 25-17 in Pittsburgh. Ryan Fitzpatrick threw for 262 yards and two touchdowns, just days after signing a six-year, $59 million contract extension.
"Canada loves us," Fitzpatrick said, "and the national anthem in Washington is now '0 Canada.'
"The Jets are on a hot streak and have won two in a row, so I suggest a little cooling off is in order. That's why I invite Rex Ryan to dip his stubbly toes into Lake Erie. If he needs directions, I'll lead the horse's ass to water."
The Jets enjoyed a bye week after a big 27-21 win over the Chargers in Week 7. Rex Ryan has the Jets playing confidently, and Ryan still stands by his guarantee that the Jets will win the Super Bowl.
"Here's another guarantee," Ryan said. "I guarantee a New York team will win this game. It's one thing to rattle the Chargers with trash talk; it's another altogether to attempt it against the Bills. Sure, I could have led the Chargers to a couple of rings, but history has made it clear that nobody can lead the Bills to a title."
With an extra week to prepare, and an extra week of ego-inflation, the Jets are primed to serve the Bills with their first home loss. And they do. Shonn Greene rushes for 98 yards and a score, and Mark Sanchez hits Dustin Keller for a score.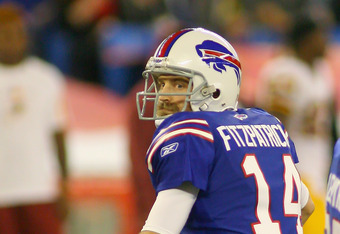 Rick Stewart/Getty Images
New York wins 29-23.
San Francisco @ Washington (+4)
The 49ers improved to 6-1 with a 20-10 win over the Browns last week, and now hold a commanding four-game lead in the NFC West. They'll head east to face the struggling Redskins, who have lost three in a row, including last week's 23-0 shutout in Buffalo.
"Sounds like somebody needs a pat on the back," Jim Harbaugh said. "Or, better yet, a kick in the backside. It's called positive and negative reinforcement, and it works. How else could I explain achieving a 6-1 record behind the services of a mediocre quarterback named Alex 'No Montana' Smith?"
The Redskins return to FedEx Field after consecutive losses on the road. They'll certainly need to protect quarterback John Beck better after surrendering nine sacks against the Bills.
"Oddly," Mike Shanahan said, "it was the Bills defense, and not Beck, running the three-step, five-step and seven-step 'drops.'
"I'd say this is a must-win game for us. We're hoping the 49ers don't feel the same way. In that sorry excuse for a division they play in, their next must-win game will be in the first round of the playoffs."
San Francisco wins 24-16.
Ezra Shaw/Getty Images
Seattle @ Dallas (-12 1/2)
The Seahawks are 2-5 after a 34-12 beating at the hands of the Bengals in Seattle last week. They'll face a Dallas team smarting from a 34-7 whipping in Philadelphia last week.
"In Jerry Jones' delusional view of Cowboys football," Pete Carroll said, "that's called playing 'smart.'
"As for us, we looked awful against Cincinnati. I never said this of my teams at Southern California, but we looked like amateurs out there."
The Cowboys were left wondering what happened after the Eagles jumped out to a 24-0 second quarter lead and cruised to the win. Dallas fell to 3-4 and into a three-way tie for second in the East with the Eagles and Redskins.
"I'll tell you what happened," Tony Romo said. "We lost a game in the first quarter, instead of the fourth."
The visiting Seahawks don't have the luxury of their boisterous "12th Man" crowd. Nor do they have the luxury of Cowboys owner Jerry Jones, the infamous "Fifth Wheel," who does more "glad-handing" that the "12th Man" in full-applause mode.
Jones slinks down to the sidelines from his luxury box after a lackluster first half by the Cowboys. There, his pep talk is met with laughter, which suitably loosens up the Cowboys for a dominating second half.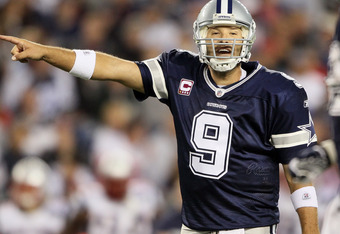 Elsa/Getty Images
Dallas wins 34-16.
Cincinnati @ Tennessee (+3)
The Titans bounced back from a 41-7 loss at Houston to handle the winless Colts with ease, winning 27-10 behind an efficient performance from Matt Hasselbeck.
"Despite rushing for only 34 yards," Hasselbeck said, "Chris Johnson swears he hasn't lost a step. Let's not jump to conclusions. He's still fast. Now, he's fast and overpaid. Chris hasn't lost anything. Then again, he hasn't gained anything either. If I didn't know any better, I'd say Johnson is still holding out.
"Let's be honest. A team should have just as much right to renegotiate a contract as a player does. Chris got his pay raise; now, the Titans are due a pay raze."
The 5-2 Bengals may be the NFL's most surprising team, trailing the 6-2 Steelers by only a half-game in the AFC North. They'll face a tough test in Tennessee in what will likely be a defensive struggle.
"Carson Palmer is out of Cincinnati," Marvin Lewis said, "and we got two high picks from the Raiders for him. I call that 'good' riddance. I wish Carson nothing but the best, if for no other reason than one of those picks could turn in to a first-rounder if the Raiders win a playoff game."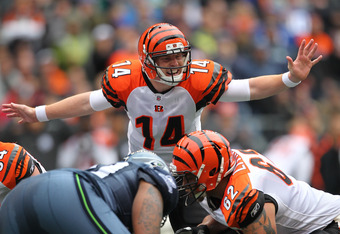 Otto Greule Jr/Getty Images
Johnson is greeted by "boos" by the LP Field fans, as well as a number of signs decrying his undeserved salary. One in particular, reading "CJ2Much," brings a tear to Johnson's eye, which he casually wipes away with $100 bill.
Bengals defensive coordinator Mike Zimmer devises a unique defense to contain Johnson—it's called "four in the box."
The Bengals defense meets Johnson at the intersection of above-average salary and below-average performance, and suitably holds the gold-toothed and gold-digging back to zero yards.
Cincinnati wins 23-16.
Denver @ Oakland (-7)
The Lions demolished the Broncos 48-3 last week in Denver, and in doing so, introduced the newest fad, "Te-bunking," which, loosely defined, means "shattering the myth that Tim Tebow is a legitimate NFL quarterback."
"Tebow laid more than one egg," John Fox said. "Enough to make a Denver omelet.
"Tebow has worked a miracle, by making Kyle Orton look like an elite NFL quarterback. Despite that, we're sticking with Tebow against the Raiders. Or, as 31 other teams would describe it, we're stuck with Tebow."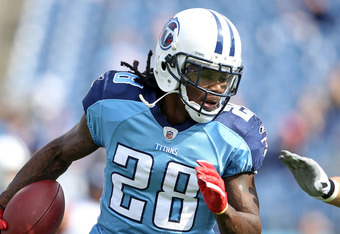 Andy Lyons/Getty Images
The Raiders will look to bounce back from Week 7's ugly 28-0 loss to the Chiefs with another win over the Broncos. Oakland took down the Broncos 23-20 in Denver in Week 1.
"I feel for Tebow," Palmer said. "I know what it's like to be thrust into a situation you're not ready for. Apparently, though, Tebow's flaws aren't as obvious to Denver fans as they are to everyone else. What's the hottest-selling item in Denver behind Tebow jerseys? Rose-colored glasses.
"I had two weeks to familiarize myself with the Raider play book, and, more importantly, my teammates. It seems they're the ones I'm supposed to throw the ball to."
Oakland wins 30-20.
NY Giants @ New England (-9)
The Giants travel to Foxboro after a narrow 20-17 victory over the winless Dolphins last Sunday at MetLife Stadium. The win improved the Giants record to 5-2, and they lead the Cowboys, Eagles and Redskins, all at 3-4, by two games in the NFC East.
"Eli Manning didn't turn the ball over once," Tom Coughlin said. "If I had a nickel for every time I said that, I'd owe you money.
"This is quite an interesting matchup. Not only is it a rematch of Super Bowl 42, but, in light of Rob Gronkowski's pictures with an adult film actress, it's the G-Men versus the 'X-Man.' Talk about a 'spread' offense. I'm appalled by Gronkowski's gumption, but not his taste in women."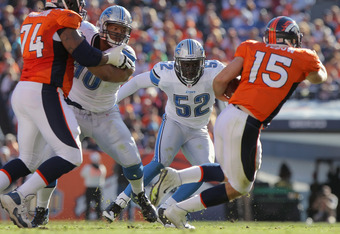 Doug Pensinger/Getty Images
The Patriots look to rebound after losing 25-17 in Pittsburgh last week, as Tom Brady was limited to 198 yards passing while Ben Roethlisberger lit up the Patriot defense for 365 yards.
"Indeed, we lost to the Steelers," Brady said. "From that statement, you can surmise two things: 1) It wasn't a playoff game, and 2) I was the only loser going home to a Brazilian supermodel.
"I implore our fans to start drinking early for the Giants game. And to be on the lookout for David Tyree, because he's the only chance the Giants have to beat us. If you don't recognize him, look for the guy with a football stuck to his head."
The Giants have a two-game lead in the NFC East. Those words can be phrased as a statement or a question. Either way, it means there's a loss coming to the G-Men. No team should have a three-game lead over any other team in the East.
Brady throws for 244 yards and two touchdowns, and an inspired Patriots defense forces three turnovers.
New England wins 34-30.
St. Louis @ Arizona (-4)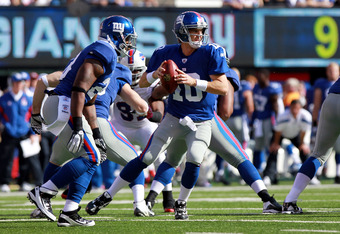 Nick Laham/Getty Images
The Rams stunned New Orleans last week, handing the Saints their third loss of the year with a 31-21 victory. The Rams found inspiration in the St. Louis Cardinals, who won the World Series two nights before.
"We figured if the Cardinals could win four of seven," Steven Jackson said, "the least we could do was win one. This is the only game on the schedule pitting one 1-6 team against another. Both teams are looking for the 'single' elimination."
Arizona blew a 24-3 lead before falling 30-27 at Baltimore. Afterwards, Ken Whisenhunt revealed that Kevin Kolb played the game with a painful turf toe injury.
"Sam Bradford is also hurting," Whisenhunt said. "So, it looks like Kolb and Bradford are both 'doubtful' or 'questionable.' Everyone else, on both teams, are 'hopeful' or 'wishful,' that Kurt Warner will somehow return."
Arizona wins 24-21.
Green Bay @ San Diego (+6)
The Packers put their undefeated record on the line against the Chargers, who have lost two in a row after a 4-1 start.
"The Chargers are chronic underachievers," Aaron Rodgers said. "Thus, Sunday's game is the Packers versus the 'Slackers.'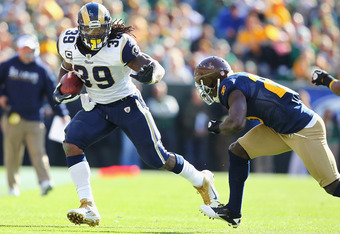 Dilip Vishwanat/Getty Images
"The Chargers are calling this their 'Super Bowl. That's probably not wise on their part. Why? Because they can't win the Super Bowl, much less a Super Bowl."
Philip Rivers had three turnovers in Monday's 23-20 loss to the Chiefs, eight days after his two interceptions helped the Jets turn back the Chargers 27-21.
"I may be getting booed," Rivers said, "but at least the people on the streets of San Diego now recognize me."
With the Packers trailing 23-20 late in the fourth quarter, Rodgers faces a crucial 3rd-and-12 situation with under two minutes left. Recognizing an all out blitz, Rodgers changes the play, calling the "discount double check down," then hits Jordy Nelson on a crossing pattern. Nelson beats safety Eric Weddle and cruises to the game-winning score.
Green Bay wins 27-23.
Baltimore @ Pittsburgh (-3 1/2)
The Ravens overcame a 24-3 first-half deficit to beat the Cardinals 30-27 last week on Billy Cundiff's 25-yard field goal on the last play of the game. On Sunday, they'll face a Steeler team bent on avenging Week 1's 35-7 blowout in Baltimore.
"I don't think we can expect another 28-point victory," John Harbaugh said. "The Steelers won't allow that, and neither will Joe Flacco. Joe's either good, or he's bad. He's like Roger Goodell—there's no middle ground. Sometimes, I don't know whether Joe's coming or going. Our defense, however, knows that when Joe's got the ball, they'll likely be 'going,' back on the field."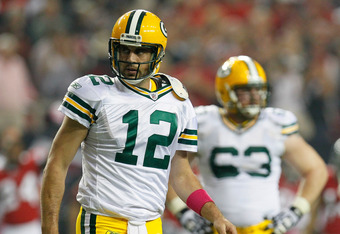 Kevin C. Cox/Getty Images
It's a typical hard-hitting Ravens-Steelers affair. Hines Ward and Ed Reed engage in a heated pre-game argument over The Blind Side, the movie, not Ward's preferred method of delivering a block. Troy Polamalu gets his bell rung after taking on an offensive lineman, then skirts NFL rules by sending a passenger pigeon with a note informing his wife that he's okay.
In the end, revenge motivates the Steelers. Sean Suisham kicks the game-winner.
Pittsburgh wins 31-28.
Chicago @ Philadelphia (-7)
The Eagles crushed the Cowboys 34-7, and finally looked like the team many expected to see after a flurry of free-agent signings this offseason. With a win over the Bears, the Eagles would even their record at 4-4 and potentially pull within one game of the division lead.
"Call me crazy," Michael Vick, "but we're thinking Super Bowl again. We were the 'Dream Team;' now, we're the 'Dream (The Impossible Dream) Team. The outcome of this game will come down to quarterback play. Our defense won't give Jay Cutler time to do anything, except dump the ball to Matt Forte, who's earned every penny of his salary and about half of Chris Johnson's."
The Bears are 4-3, in third place behind the undefeated Packers and 6-2 Lions in the NFC North.
"I hope to complete an improbable 'double,'" Cutler said. "No, not completing two halves of an NFC Championship game. But winning in England and beating Ron Mexico in the span of two weeks."
Philadelphia wins 30-24.