Will Jason Kapono Be a Good-Value Pickup in 2011-12?
October 23, 2011
Ronald Martinez/Getty Images
One unrestricted free-agent that may be considered to be "under the radar" and looking to pick up his NBA career is former Philadelphia 76er Jason Kapono. Kapono, who played college basketball at UCLA, will be entering his ninth NBA season.
More likely to find an opportunity for the minimum amount rather than a long-term offer, he can make a contribution to a team that is seeking help from beyond the arc. Although Kapono saw his playing time disappear last season in Philadelphia, he is a candidate for teams due to his three-point shooting abilities.
Since entering the NBA in 2003, and starting his career with the Cleveland Cavaliers, Kapono has shown that he can hit the three-point shot with consistency. During his rookie year, he shot 47.7 percent from the three-point line, the highest on the team. He later was selected by the Charlotte Bobcats in the 2004 expansion draft and saw his scoring average increase to 8.5 points per game in 81 games with the Bobcats.
In 2005-06, Kapono signed with the Miami Heat and shot a career-best 51.4 percent from the three-point line during the 2006-07 season. That season he led the league in three-point percentage, averaging a career-high 10.9 points and 26.4 minutes played per game, proving that he is a worthy addition to a team seeking help shooting the ball from distance.
He also went on to win the Three-Point Shootout contest in both 2007 and 2008 during All-Star Weekend festivities.
Kapono, with his status at an all-time high for a free agent, signed a four-year $24M contract with the Toronto Raptors at the start of free agency. This was a lot of money for a player who is an outstanding shooter, but Kapono was looking for a long-term contract rather than moving from team to team like he did earlier on during his career.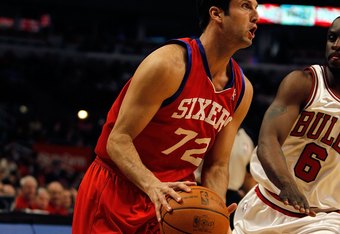 Jonathan Daniel/Getty Images
In his first year with the Raptors, Kapono averaged 7.2 points while shooting 48.3 percent from the three-point line. However, during the playoffs he averaged 15.6 points while shooting 54.2 percent from the three-point line in five playoff game appearances. In his second year with the Raptors, Kapono saw his scoring average increase to 8.2 points per game even though his three-point shooting accuracy dipped to 42.8 percent.
Kapono was eventually traded to the Philadelphia 76ers in exchange for Reggie Evans. The 76ers were looking to improve their three-point shooting, and bringing in Kapono (who opted to wear jersey No. 72) seemed to be the right move at the time. In his first year with the team, he saw his minutes become inconsistent and he averaged 5.7 points per game, appearing in 57 games while playing 17.1 minutes.
In his second year with the team, Kapono saw his numbers take a turn for the worst, as he averaged only 0.7 points and 4.7 minutes played per game. Kapono was thought to be a prime candidate to be traded before the trade deadline this past season, but it did not happen. The 76ers also announced that they were not going to buy Kapono out, as his contract was going to expire at the end of the season.
Hopefully Kapono gets a chance to pick up his career and show that he can be a part of an offense with his outstanding three-point shooting ability. With much of the defensive schemes in the NBA focusing on clogging the painted area, effective outside shooters can be one way to keep defenses guessing.