Denver Nuggets: The Top 5 Players in Denver Nuggets History
Streeter Lecka/Getty Images
The Denver Nuggets have never won the NBA championship, but this does not take away from the fact that the franchise has had some great players, past and present.
Although great players like Allen Iverson and Chauncey Billups have put on the Denver uniform, they do not compare with the top five players in Denver history.
With a little more time on the team, they may have achieved the distinction, but they both left the team way too early to be considered for this honor.
Read on to see the top five players in Denver Nuggets history.
5. Dan Issel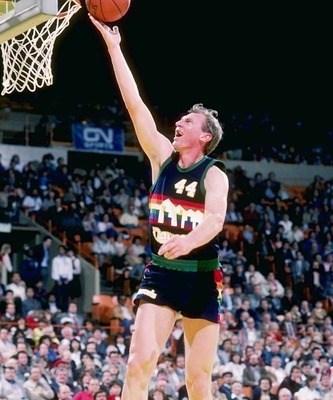 Dan Issel is the second-leading scorer in Denver history. Issel managed to score 16,589 points for the Nuggets, averaging out to 20.7 PPG.
Issel tacked on 8.3 RPG with Denver and is the all-time leader in rebounds and free throws for Denver.
In eight seasons with the Nuggets, Issel made the NBA All-Star game one time and was an ABA All-Star in '75.
Issel was inducted into the Basketball Hall of Fame—the first Denver Nugget to be bestowed with such high honor.
4. David Thompson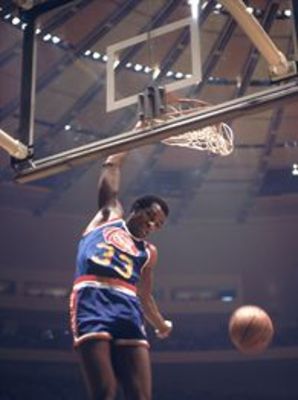 In David Thompson's first season with the Denver Nuggets, he was named Rookie of the Year and took the Nuggets to the ABA Finals.
Thompson is best known for his 73-point performance against the Detroit Pistons in 1978, but
he averaged 26 PPG his rookie season and averaged 22.7 PPG in his career.
Thompson was an NBA All-Star three times (and four times total).
With all of this, Thompson was inducted into the Hall of Fame in 1996.
3. Dikembe Mutombo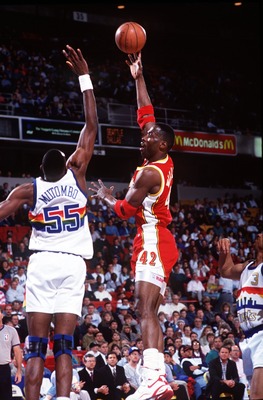 Tim DeFrisco/Getty Images
Dikembe Mutombo is one of the best shot blockers in NBA history, averaging 3.8 BPG with Denver. He had an immediate impact with the Nuggets, averaging 16.6 PPG, 12.3 RPG and 3 BPG his first year.
In five seasons with the Nuggets, Mutombo managed to be an All-Star three of those seasons. That is not to mention, he was an NBA All-Star five more times and earned the Defensive Player of the Year award four times, one being with Denver.
Although Mutombo's time in Denver was short, he will go down as the Nuggets' best defender of all time. Being the all-time leader in blocked shots, in just five seasons with Denver, is proof of this.
2. Carmelo Anthony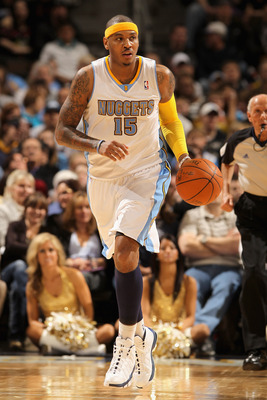 Doug Pensinger/Getty Images
Carmelo Anthony led the Denver Nuggets to the playoffs every year that he played for them. In just seven seasons, Anthony has the third-most points in Denver history with 13,970.
Anthony was a four-time All-Star in Denver and has averaged 24.8 PPG, with 6.3 RPG in his career thus far.
His scoring ability is easily his best asset, and year after year, Anthony is one of the top scorers in the league.
If Anthony would have stayed longer with the Nuggets, he may have been the best player to ever don the Denver Nuggets uniform. However, he did not.
1. Alex English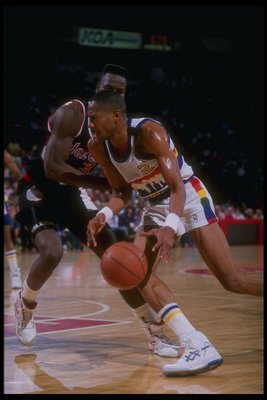 Tim DeFrisco/Getty Images
Alex English is arguably the best player in Denver Nuggets history.
English was one of the most prolific scorers in the NBA in the 1980s, finishing in the top 10 in scoring in nine straight seasons.
English is the all-time leading scorer in Denver history with 21,645, was the NBA scoring champion in '83, and made eight NBA All-Star games in his career—all with Denver.
Most impressively, English led the Nuggets to nine straight playoff appearances.
With 21.5 PPG and 5.5 RPG, English was inducted into the Basketball Hall of Fame in 1997.
Keep Reading

Denver Nuggets: Like this team?