LA Lakers' 5 Biggest Ball Hogs in Franchise History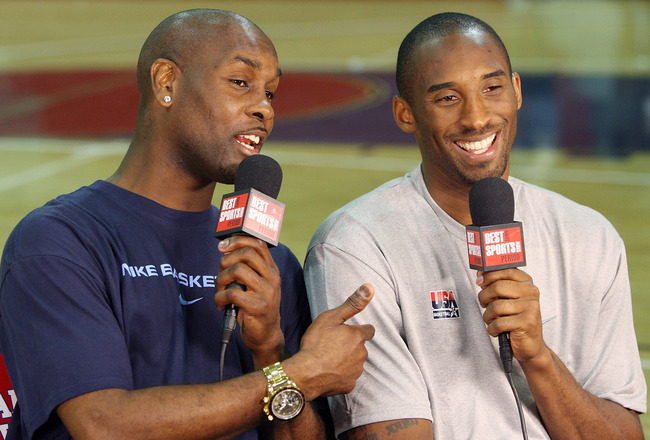 Ethan Miller/Getty Images
This article will look at five of the biggest ball hogs in Los Angeles Lakers franchise history.
Considering I did not become a fan of the Lakers until 1995, this article will only feature players who have played for the team the last 15 or 16 years. I cannot comfortably deem someone a ball hog who played for the team before then without sufficient, firsthand evidence.
You will also see decorated, famous Lakers on this list in addition to some of the more infamous players who have donned purple and gold.
(Here comes a bad ball hog joke.) So pass the rock and let's take a look at five of the biggest ball hogs in franchise history.
5. Kobe Bryant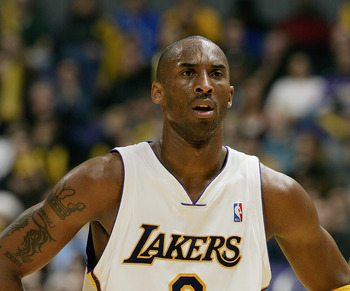 Lisa Blumenfeld/Getty Images
I have never considered Kobe Bryant to be a true ball hog, unlike many basketball fans. Has he had stretches and even seasons when he could have been considered a ball hog? Yes. But a career ball hog? Absolutely not.
For example, during the team's three consecutive championships, I thought Kobe played Robin to Shaquille O'Neal's Batman quite admirably despite the two players' feud. Also, Kobe proved to us he could defer to his own sidekicks, as was the case in 2009 and 2010, when Kobe led the Lakers to consecutive titles.
As well, anyone who can honestly say with a straight face Kobe was a ball hog in the seasons in between Shaq being traded and Pau Gasol arriving is full of it. Outside of Lamar Odom, the man practically played with a D-League roster.
Therefore, I believe Kobe's two most selfish, I am getting my points "ball hog" seasons were 2002-03 and 2003-04. At that point, Kobe was convinced he was better than Shaq and was tired of humoring him. Also, I will always believe Kobe felt like the odd man out in 2004 when Karl Malone and Gary Payton joined the team, while he was battling his court issues in Colorado, acting out on the court in the process by trying to dominate the offense.
4. Gary Payton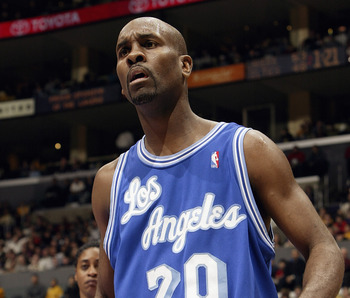 Stephen Dunn/Getty Images
In his one and only season with the Los Angeles Lakers, Gary Payton was second on the team in field-goal attempts in addition to having the same assist average (five per game) as Kobe Bryant did that season.
Am I the only one who thinks Payton should have had more assists and fewer shot attempts? After all, he had more talent surrounding him than he ever had playing in Seattle and Milwaukee.
3. Nick Van Exel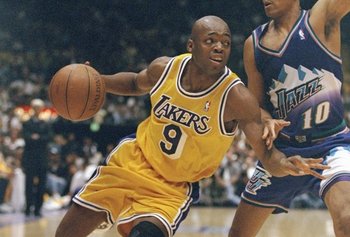 Todd Warshaw/Getty Images
Nick Van Exel has been the only All-Star point guard the Los Angeles Lakers have had since Magic Johnson retired. But not only did Van Exel do a little too much dribbling (hence the pick as an all-time ball hog), but I always got the impression he didn't have a very good work ethic and/or attitude.
2. Smush Parker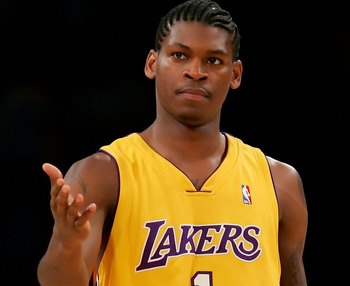 Lisa Blumenfeld/Getty Images
When Smush Parker (unfortunately) served as the team's starting point guard for two seasons, Kobe Bryant rightfully took the majority of the team's shots. Not only did Kobe have to share a backcourt with Smush, but he also had to work with Kwame Brown as his featured post player. Yikes.
Thus, it's not as though Smush was jacking up too many shots. However, there were times when he would totally disregard what the team was trying to do on offense and try to do things the "Smush Way," which resulted in him dominating the ball for way too long.
It was as though he thought he knew more about the game of basketball than Kobe and Phil Jackson.
1. Cedric Ceballos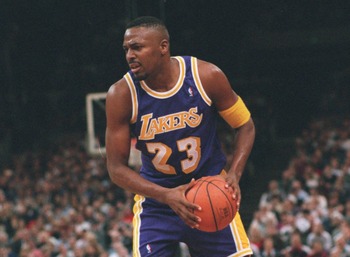 Otto Greule Jr/Getty Images
Cedric Ceballos led the Los Angeles Lakers in scoring for two seasons in the mid 1990s.
In his two seasons as the team's leading scorer, Ceballos averaged 21 points a contest.
However, he only managed to average one measly assist per game.
Make no mistake about it—when Cedric got the rock, he had one thing on his mind: Score.
Keep Reading

Los Angeles Lakers: Like this team?