NBA Free Agents 2011: 10 Players Who May Not Get Signed At All This Summer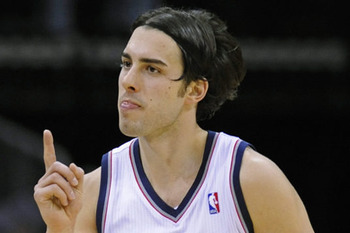 Sasha Vujacic is one of many who may not get signed
The NBA season may be in limbo, but that doesn't mean players who are on the brink of unemployment aren't thinking long and hard about their futures.
Times are tough, the economy isn't the robust fountain of opportunity it used to be, and the NBA—a generally profitable empire—is slowly falling apart at the seams squabbling over greenbacks.
An NBA lockout for the entire 2011-12 season is becoming increasingly probable for a league that will have no choice but to take a markedly more conservative financial approach in regards to splurging on sub-par, feeble or dubious talent.
That is, when the Association does return from hiatus, teams cannot give out max contracts to players like Joe Johnson who fall short of the franchise label.
Furthermore, by the same token, each team will have to exercise prudence when it comes to choosing role players to round out its roster.
In the past, a solid "hand" could be used to whip the remaining fans in the stands into a frenzy during "garbage" time, or at the very least, offer a body to pound against during practice.
Now, with cost-cutting measures a guaranteed priority, NBA general managers might have to jettison some of the flotsam that got by, innocuously, on comparatively modest contracts.
Previously a luxury requiring little forethought, NBA's version of the national minimum wage, or thereabouts, must sooner or later be doled out judiciously.
Likewise, the players who could impact a team's success but are no longer able to, due to age, injuries or attitude, may also encounter buyer-resistance from general managers who see them as damaged goods—bargain-priced or not.
Goodbye Vladimir Radmanovic?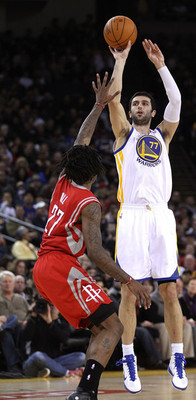 On the bright side, Vladimir might have more time for ski trips
Once dubbed the "Space Cadet" by arguably the greatest NBA coach in history, Phil Jackson, Vladimir Radmanovic is the epitome of the "one-trick" pony.
Yes, he can spot up from behind the arc, flat-footed, to launch three-balls, but even those either go down or clang off the rim in bunches.
The streaky, former L.A. Laker hasn't played defense in over five years, and when he does, he either gets lost into a murky haze of confusion or needs to be incessantly reminded to "help" on defense.
He isn't a fluid transition player and lacks the mental toughness to play during crucial in-game moments.
On the flip side, he is always sporting a stylish beard, but that might not be sufficient to entice an NBA general manager, other than Mitch Kupchak, to pay him a sum that is agreeable to all parties.
Unfortunately, for "Rad Man," he can probably forget about anything close to the mid-level exception.
Granted, he's probably worth the minimum, but he can sign a more lucrative offer overseas.
Leon Powe, It Was Nice Knowing You?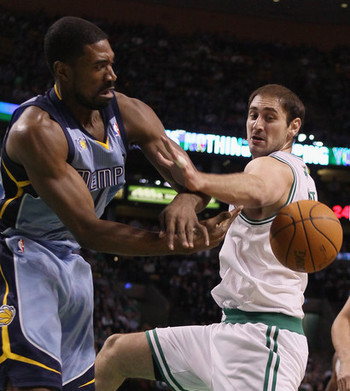 Leon Powe has been riddled with knee injuries
Memphis Grizzly Leon Powe's claim to fame is utterly discombobulating the Lakers in game 2 of the 2008 NBA Finals.
He single-handily shot more free-throws than the entire Lakers team in that game, and for the duration of the series, looked like an all-star caliber player with unmatched physical tools and heart.
The second-coming of the NBA's next premiere power-forward was not to be after Powe sustained a catastrophic left knee injury requiring microfracture and cartilage repair.
To make matters worse, he injured his right knee this past year, and as a result, had to go under the knife, again.
With both of his knees creaky, unstable, and ravaged by hapless circumstances, Powe's playing days might be prematurely behind him.
A reluctance to donate money to his cause to remain in the NBA may result in an early retirement for the former Celtic.
Good Riddance to Eddy Curry?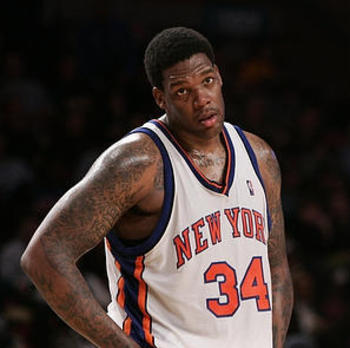 Don't worry, the man is already set for life
New York Knicks fans seem to have the odd urge to stick their heads in the nearest toilet bowl and flush every time Eddy Curry's name is mentioned.
Besieged by an impressive array of injuries, Curry has been a permanent fixture on the bench for seemingly the last few years.
Many can, however, take solace in knowing he upgraded his usual chair cushion on the bench to lavish Italian leather to alleviate potential butt cramps.
The personification of a "downer," even while on the court, Curry has driven Times Square denizens to deep depression with his lumbering gallops and slow-motion offense. As for defense, the less said the better.
The New York salary cap now unencumbered by his suffocating weight, literally and figuratively, it's unlikely any other team will take a chance on the former high school prodigy, and if one does, it will be for a modest price only.
The question is, though: Would Curry be willing to swallow his pride and sign on the dotted line for relative peanuts?
That may not be enough to feed the big man's ego, who may just decide to pack it in, anyway, after making enough for 200 lifetimes.
Brian Scalabrine's Services No Longer Required?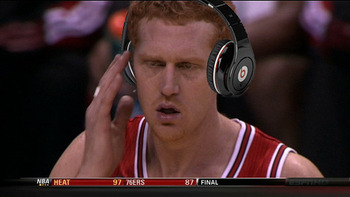 The Bulls might have to fire their mascot
Brian Scalabrine became a Boston icon after helping the Celtics trounce the Lakers for their one and only championship since the Bird era.
After suffering a devastating concussion during his tenure with the Boston Celtics, Scalabrine sported a rock-solid headband that was literally attached to the rim of his skull to mitigate future blows.
Somehow, someway, Brian's game became even more dazzling and deadly, with his ability to make you swoon before smiting you.
Now that the power of the headband is gone, so is his "mojo." Now moonlighting as a mascot for the Chicago Bulls, the "Gingerbread man," when not experiencing the symptoms of post-concussion syndrome—such as nausea, vomiting, dizziness and early signs of dementia—is known to park behind the three-point line for the occasional hand-off from a Bulls' teammate during the "beat the parking lot traffic" closing moments of the fourth quarter.
To save money, it's very plausible the Bulls' GM, or any other for that matter, will pass on re-signing/signing him.
Not all is lost for Scalabrine, who can expect bronze statues to be built in front of both the Boston Garden and right next to Michael Jordan at the entrance of the United Center, giving his cult following the opportunity to worship him for millennia.
The NBA Might Have to Live Without Tracy McGrady and His Lazy Eye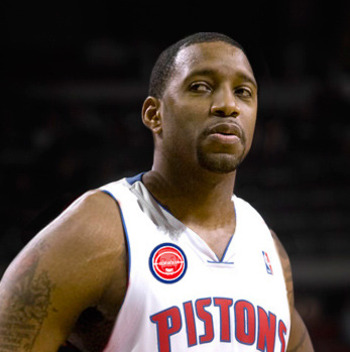 T-Mac might never shed the choker label
Lazy eye notwithstanding, the direction Tracy McGrady's career has taken is a bit of sad story.
Not too long ago, the shooting guard had all the promise in the world, having carved super stardom for himself in Orlando and Houston where he either became the NBA's leading scorer or came very close to it.
issues with his back, as well as knee surgeries, have derailed one of the most exciting players in NBA history.
Many compared him to Kobe Bryant during a large part of his career; however, that comparison proved to be untrue once it became clear McGrady's durability would be a problem.
Now languishing on the Detroit Pistons, many fans hope and pray the fallen star can see a resurgence in his game, with just some of the flashes of brilliance that used to ingratiate fans.
Like Allen Iverson, however, McGrady will have to either accept a job with a European club or retire from the NBA altogether.
Simply put, McGrady has very little to offer as his body has almost nothing left to give. Additionally, many general managers are likely to be leery of the overall hit to McGrady's ego, as a result of rapid physical deterioration, not jibing well in a locker room full of young, impressionable players.
DJ Mbenga's Last Hurrah?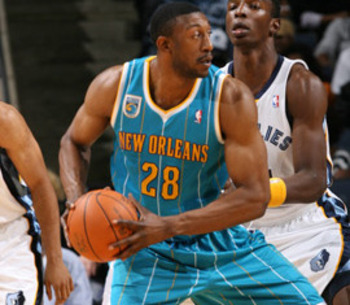 DJ is known to be a nice guy per his peers who would be sad to see him go
The former New Orleans Hornets' and Los Angeles Lakers' member is known as a "banger."
Despite a lack of skill, Mbenga is known to let it all hang out on the court, reaching for the ball, scrambling in crowds, and badgering offensive-minded power forwards.
His offense, usually in the form of the occasional jump shot, will sometimes make an appearance, but it won't be pretty in the old-fashioned sense.
In fact, his shot looks like a "jab" shot, ricocheting off his bare knuckles.
He is one of those sturdy, stout bodies alluded to previously that coaches have used as a luxury in practice situations. And even if he did play only sporadically, his six fouls were seen as a boon to stymie, or at least frustrate, opposing players at his position.
Be that as it may, he may be considered an expendable asset going forward.
Because the NBA's economic milieu is foggy, it's no foregone conclusion that "Congo Cash" will have a home next season (whenever that is).
Bon Voyage to Sasha Vujacic?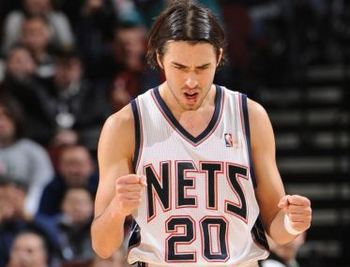 Don't cry for Sasha; he has Maria Sharapova waiting for him at home
New Jersey Net Sasha Vujacic, another former Laker, is world-renowned for his pristine hair and uncanny ability to effortlessly preen his long, billowy locks during literally any part of the game.
He can do it while giving a nearby referee a piece of his mind, harassing an opposing guard and while celebrating a crucial shot (whether it misses or goes in is irrelevant).
Given the moniker, the "knat," by Phil Jackson, and the "machine" by Lakers fans, Sasha's most valuable "attribute," besides being a long-distance cannon-baller, is his habit for being able to get on the nerves, into the psyches of and propensity for thoroughly annoying the men he is assigned to.
Most of the time, nothing is accomplished except for the barrage of foul calls whistled against the "machine," but at least it's amusing to watch a man so possessed with stopping someone else yet fails to do so literally every time.
The coup d'etat levied against Sasha's defensive reputation occurred in Game 5 of the 2008 NBA Finals when Ray Allen "tango'd" Vujacic right to the layup line. To Sasha's credit, he displayed a fiery disgust with himself not seen since, splatting a nearby towel against the floor upon being benched for his faux pas.
New Jersey may take a pass on Mr. Sharapova, and understandably so, not to mention, like his bosom buddy Vladimir Radmanovic, it is expected a European organization will offer a similar contract perhaps with even more incentives.
Au Revoir Jason Williams?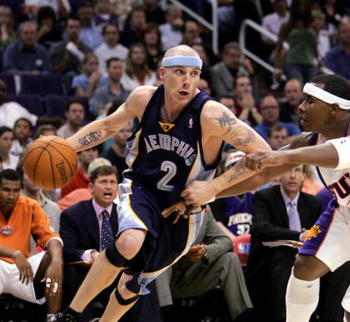 Quite frankly, it's hard to believe Williams is still in the league
Known to general NBA fans as Jason Williams, and his loyal fanatics as "White Chocolate," the Memphis Grizzly is winding down his chronicled career.
Making his name with the Sacramento Kings, and last seen on the NBA radar with the Miami Heat, Williams is an anomaly to many considering his game hasn't matured one iota since being drafted over a decade ago.
He represents a street-ball disposition that has slipped by the wayside in recent years as a result of the NBA's concerted efforts to improve its image among consumers.
His age, me-first mentality, utter absence of defense, unorthodox offensive style and proclivity for having conniption fits in the locker room don't bode well for a starring or auxiliary role in today's NBA.
Luckily, the Memphis Grizzlies did not suffer any setbacks with him on the team if their surprising playoff run was any indication, but going forward there are very few rational arguments that can keep Jason Williams an active performer as a Grizzly or otherwise.
Adios Theo Ratliff?
Theo's days are numbered...
Current Laker Theo Ratliff was signed last summer with the intention of shoring up the Lakers' front line defense and spelling Bynum or Gasol at opportune parts of the game.
Suffice to say that prognostication never came to pass, leaving Lakers fans puzzled at how the leaping, agile blocker, just a few years ago on the rival Trailblazers, could regress so drastically.
Then again, if the Tracy McGradys of the world can go flying off the precipice, so can the Theo Ratliffs.
Age is obviously a factor (38), as well as a pile-up of injuries, which have stifled the player who modeled his game after Dikembe Mutumbo.
He can no longer be of any substance on the court let alone find a way to get healthy for a long enough period of time to get on it.
He should, however, be proud of his satisfactory service, knowing he tried to push his body beyond their parameters, but to no avail.
Unless he decides to take the assistant coaching or consulting route, expect Theo to retire from the league once he realizes his phone stopped ringing.
Joe Smith's Final Salute?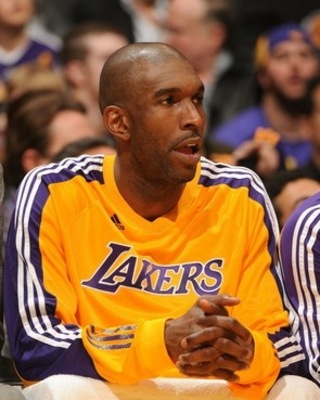 The former Maryland Terrapin did nothing wrong; he just got old
Who else can it be but another former/current Laker, Joe Smith?
Some may opine Joe never lived up the billing of being the No. 1 pick in 1995, but I disagree noting he isn't even the worst No. 1 pick to play for the Lakers—that distinction goes to Kwame Brown.
Like Theo, Joe was offered a minimum contract to fill out the bench and spruce up the Lakers' toughness and mettle in the paint.
A power forward by nature, Joe was always a reliable shooter up to 15 feet out and could rebound at a high, efficient rate despite his size or lack thereof.
Father Time, unfortunately, has a way of withering living beings and Joe Smith is no exception to the rule. And the one coach, Phil Jackson, who was famous for disregarding the repercussions of time in prized, veteran players (i.e., Derek Fisher), even refused to give Joe any ample playing time.
When the Lakers' season ended, Joe's "ticket" was effectively stamped for a job well done as the NBA will now look to players under 40 to compose their rosters.
Keep Reading