Kobe Bryant, Dallas Mavericks Among 5 Winners and Losers from the NBA Lockout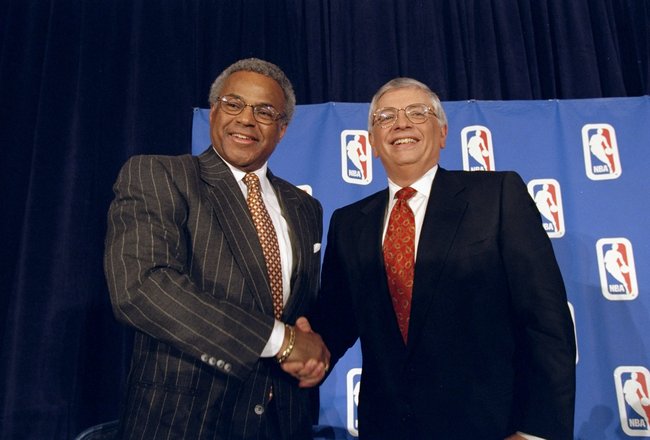 Ezra Shaw/Getty Images
As we all know by now the NBA has cancelled the first two weeks of games for the upcoming season. Do not be fooled. There will not be an NBA season. I haven't seen this much incompetence and laziness since I went to the post office last week.
By the end of last season, the NBA had finally gotten momentum going for the first time in a decade. Say what you want, but the formation (or attempts at forming) of "super teams" like the Heat, Knicks (attempt) and Timberwolves (just making sure you're still paying attention) got more people talking about the NBA than had been in a long, long time.
The Mavericks' miraculous playoff run and toppling of the hated Heat created a tremendous buzz that was supposed to get the NBA back on the map, especially with the uncertainty of the NFL over the summer. Too bad that has all been wasted.
The difference between the NBA and NFL lockouts, to me, was simple: I always knew the NFL would work it out, and I never felt the NBA would work it out. The NBA decided to just toil along twiddling their thumbs before making a pathetic attempt to save face by meeting at the last second to make it look like they tried to get a deal done.
So who loses and who wins in this hilariously sad farce of a negotiation? Here are ten that do:
Loser # 5: The Dallas Mavericks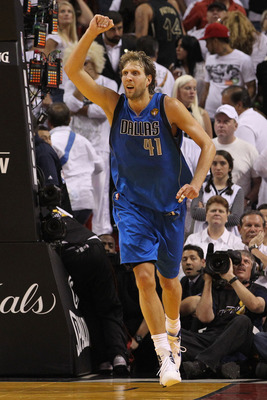 Ronald Martinez/Getty Images
Isn't it funny how no one thought the Mavericks would get out of the first round?
Everyone had reasons for picking against the Mavs. Portland was too long. Dallas couldn't get past the first round. Dallas was too old. Portland was too athletic. Then Dallas dismantled the Trail Blazers in six, took the Lakers out to the shed and took away their manhood in a second round sweep, crushed the upstart Thunder in five, and then exercised their Miami demons in the finals where Dirk Nowitzki elevated himself to the upper echelon of all-time greats.
And how do they build on it?
They don't.
The Mavericks were already old last year, relying on six players with ten years or more of experience. Jason Kidd played some of the best basketball of his career in the playoffs, especially defensively, and he can't be counted on to continue that, especially with an entire year before next season. Any momentum the Mavericks could have carried into this season will be extinguished by the layoff.
Loser # 4: Kobe Bryant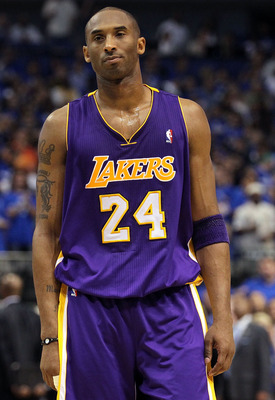 Ronald Martinez/Getty Images
See the trend? Old = Losers.
We all know that Kobe is getting older and that his window for playing at an All-NBA level is closing, along with his window to win another title and tie MJ's six. Depending on your view of Kobe, you might argue that the latter is most important to him. Not just winning a championship, but matching Jordan.
Kobe is currently 4,424 points behind the GOAT. He scored 2,078 points last year, so it's a very manageable gap to close, but if he misses a full year can he reach it? Kobe is 33 years old, and the last few years he's been able to deal with various injuries, but the older he gets the less able he'll be to play through them.
Here's a breakdown of the major awards/milestones Kobe is set to achieve compared to MJ:
All Star Games
MJ- 14
Kobe- 13
First Team All-NBA
MJ- 10
Kobe- 9
First Team All-Defense
MJ- 9
Kobe- 9
MVP Awards
MJ- 5
Kobe- 1
Of all those, Kobe is in very good shape to match or pass MJ in all but MVP Awards, but if he misses a whole season, he is not guaranteed to make another First Team All-NBA or All-Defense. He will probably wind up with at least three more All-Star selections depending on when he retires, but missing this year makes winning that sixth championship that much harder.
Loser # 3: Tim Duncan and the San Antonio Spurs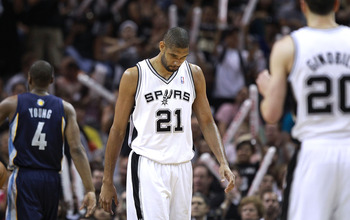 Jed Jacobsohn/Getty Images
It seems like the Spurs have been old for a long time, but they continue to win 50-plus games and have the best coach in the NBA. Last year it looked like age finally caught up with them, as Duncan had the worst statistical season of his career and the Spurs lost to the younger, more athletic Grizzlies (more on them later). Each season that passes, their core gets that much older, so if they lose a season it hurts them that much more.
Aside from that, another reason the Spurs are losers is because they are one of the few teams that practiced fiscal discipline and didn't hand out outrageous contracts to average players—instead building a team according to the proven winning formula of a superstar surrounded by a couple playmakers and role players.
Loser # 2: The Memphis Grizzlies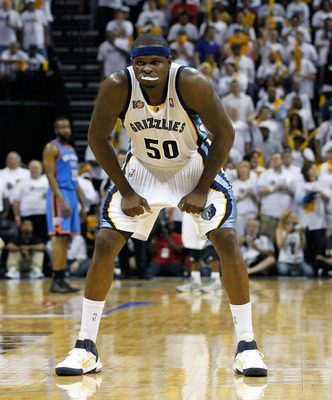 Kevin C. Cox/Getty Images
If any team needed to build off the momentum from last season's playoffs it's the Grizzlies. They peaked at the right time, dismantling the favored Spurs and becoming one of the most fun teams to watch due to their scrappy play and the resurgence of Zach Randolph, along with the sudden development of Marc Gasol as a top five center.
The Grizzlies have a tough decision when it comes to Gasol, but they were also poised to get Rudy Gay, who missed the entire playoffs, back for this season. Now, they have a whole lost season to lose that camaraderie and momentum.
And to think, this was the same team who got laughed at when Chris Wallace hand-delivered Pau Gasol and two championships to the Lakers in what was hailed as one of the worst trades of all time.
Your move, David Kahn.
Loser # 1: Diehard NBA Fans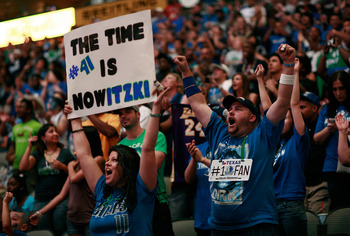 Tom Pennington/Getty Images
I'm not talking about the casual fans, because I don't want to hear their complaints. I'm talking about the true NBA fans who have stuck with the league through good and bad. I'm talking about the fans who vehemently defend the NBA against attackers who claim the league is a bunch of overpaid, lazy players who care more about money than anything else.
Those fans are the ones who are hurt by missing this season. I could have lived without the NFL because I had baseball and the NBA, but with no NBA? No fantasy roster to set every day? No clips of Ron Artest haplessly trying to dribble with his head up? What do I do now?
Hey, at least we still have the WNBA....
Honorable Mention Losers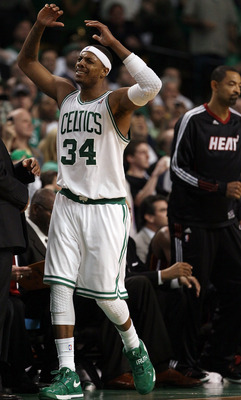 Elsa/Getty Images
Washington Wizards - Young core that needs to break in Jan Vesely along with the needed development of John Wall.
Boston Celtics - See: Spurs
Rookies - Talk about stuck in limbo. The rookies are now way behind the eight-ball in their development.
Oklahoma City Thunder - Young team that needed to keep playing together and take advantage of their youth.
And now, for the "Winners" of the lockout:
Winner # 5: Overseas Leagues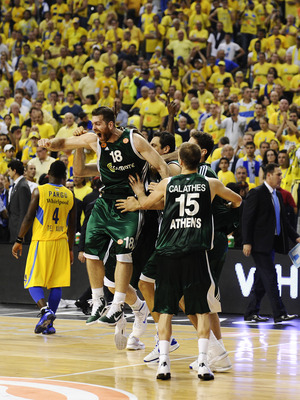 David Ramos/Getty Images
We've already seen plenty of NBA players sign contracts overseas or express interest in going to Europe or China. This is the main difference between the NFL and NBA lockout. NBA players had another option, which slowed the negotiations and eliminated the sense of urgency to get a deal done.
With so many foreign players in the NBA, it was only logical for many of them to head back home instead of gamble on a deal getting done before the season started.
While not many big name players have signed yet, many are in negotiations, and now that the first two weeks have been cancelled I expect many more to make the jump rather quickly. If they couldn't get a deal done while everyone was in the same country, how are they going to get one done when everyone is scattered across four continents?
These leagues overseas see dollar signs when it comes to an NBA player coming over to them, and now their fans get to see the great players that WERE singular to the NBA.
Winner # 4: Miami Heat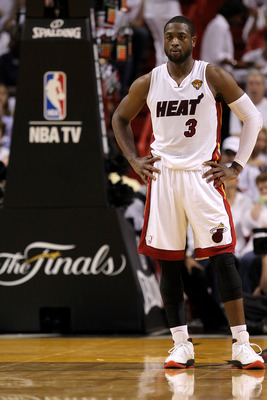 Ronald Martinez/Getty Images
I know this sounds a bit odd, as it seems to make more sense for the Heat to keep playing together so that their core can continue to get better, but hear me out.
It's clear their setup didn't work. It's not necessarily that it can't, but I don't think it can with these three players. Bosh seemed lost throughout the season, and obviously LeBron was a joke in the finals and wasn't able to play with Wade at the end of games.
If they lose the season, Miami doesn't have to face the mounting pressure of not winning again, even though LeBron predicted "Not two, not three, not four..." championships instead of the zero they'd have.
With no season, Wade, LeBron and Bosh can either figure out how to play together, or at least hide from all the scrutiny they would be facing right now during training camp.
Winner # 3: Player Agents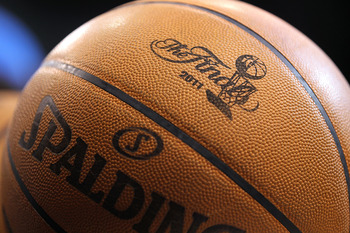 Mike Ehrmann/Getty Images
This was a big power move by the Agents, and for that I hope they're really happy with the job they've done. They are scum and I have nothing else to say. They aren't even worthy of a picture.
Winner # 2: The General Managers and Owners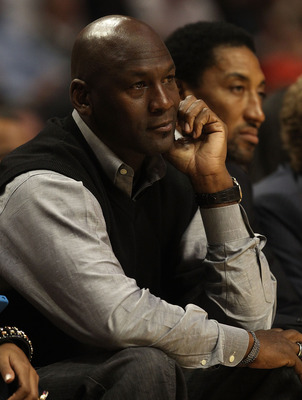 Jonathan Daniel/Getty Images
Apologies to the good ones. It is no secret as to why there's a lockout. The owners claim they were losing too much money but no one wanted to claim responsibility for it. If they didn't give out ludicrous contracts to the likes of Gilbert Arenas and Rashard Lewis, we wouldn't even have been in this situation. It's not hard, folks.
Yet, somehow they're off the hook. The terrible GMs of the league get to paint the players as greedy and nobody looks to blame the idiots that gave them all that money. Was the market for Amir Johnson and Travis Outlaw really fierce enough to warrant $35 million contracts?
Give me a team and I'll turn them into a winner in three seasons, tops.
Winner # 1: No One That Deserves It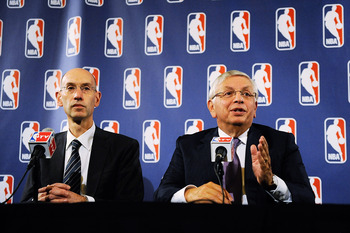 Patrick McDermott/Getty Images
Look at my winners and losers. Which list do you want to see succeed more? The losers. That really sums up the lockout. The idiots responsible for this catastrophe all get off free and unharmed, yet all the people who worked hard and were smart, lose. It's pathetic that we are in this situation.
The NBA was on its way to a huge popularity surge, and now potentially faces such a drop in interest that they may not be able to recover from it. This is a sad time in NBA history.
Keep Reading