Seattle NHL/NBA Arena Could Be Waterfront Retractable Roof at Pier 46
October 3, 2011
This past Saturday the controversial stadium tax that funded Safeco Field and paid off the imploded Kingdome expired, rending King County voters in a situation rarely seen in the State of Washington.
A tax that actually ended, proving that miracles can happen.
The taxes, enacted during the hoopala and excitement of the first real Seattle Mariners playoff run in 1995, funded a new baseball park to replace the dreary confines of roofed concrete on sunny days that made July feel like late November.
Taverns and bars have been collecting an extra half percent sales tax on foot and beverage sales, with car rental agencies pitching in another two percent, which all told generated $26.5 million in 2010 alone.
On July 11th, King County advised the Washington State Department of Revenue that the final payment on those bonds would be made by the end of September, and instructed businesses to stop collecting the tax.
When word of this got to politicians like Tina Orwall, a Democrat from Des Moines, and Representative Hasegowa, the plotting of ways to steal the funding source commenced.
Orwall sponsored a bill designed to divert the funding from the detested and uncouth professional sports camp to the more acceptable and cherished "Arts and Culture" folks, where sophisticated patrons would attend events in something more attractive than the spaghetti stained T-shirts so common at Seahawk games.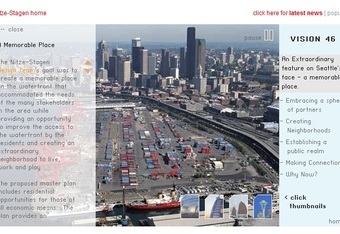 It was like having mom shut off the video games while demanding you attend your sister's piano recital.
An effort to put those funds "to better use."
Meanwhile, unidentified KJR sports announcers were popping neck veins in outrage, furious that the same group that opposed building the stadiums in the first place were now trying to swipe the funds.
Enter yours truly, with a talent at attentive full creative energy of all things suspect.
I have an idea for these funds that could bridge the two groups, and might actually have a chance at getting all the city council nerds on board.
Remember that wild retractable roof basketball arena that Fred Brown proposed? The one we all forgot about?
Back in 2008 during the failed negotiations to save professional basketball for Seattle, out of the blue came a rather radical vision led by former Sonic Fred Brown and public-relations executive Dave Bean, to build a new privately funded project known as the Emerald City Center.
It would be a $1 billion sports and exposition complex that would include a a retractable roof arena capable of housing both an NBA and NHL franchise. Once fans across Seattle stopped laughing and listened to the proposal, it wasn't as crazy as it sounded.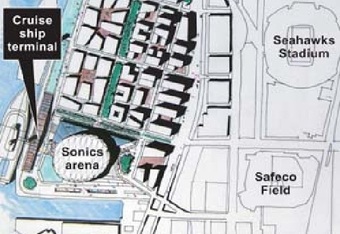 In fact, it was sorta cool.
Especially since Seattle had a popular "Summer Nights on the Pier" concert series located at Pier 62/63 along Alaskan Way that was sucking in tourists from across the planet. That was until, the pier deteriorated so badly that the series had to be relocated.
It was a big hit all summer long when it was going, with 18-22 concerts played by well-known artists on warm summer nights with private small craft swaying to soft waves midst the setting sun. Glistening waters of the Puget Sound, seagulls in the night, the Olympics beyond. The works!
A huge tourist draw too, but the venue was too small for the really big acts.
Fred Brown's group didn't have the funding for this stadium, nor a secure site, nor even a plan, other than a conceptual plastic model on cardboard. Hardly the kind of fiscal structure necessary to get the project rolling. But it was a nifty idea.
So nifty that Seattle developer and high-end residential consultant Nitze-Stagen & Co. became interested, since they'd been trying to wrest control of the 89 acre Pier 46 site from the Port of Seattle since before 2003. 
Back then the Port leased it to the agency's largest shipping customer, Hanjin, for 10 years with an option to extend it another five. And with their tight lease deals already signed, the Port has long scoffed at this group of enthusiastic developers, according to Frank Stagen, who claimed back in 2004 that one port official mocked "You don't own one spoonful of the dirt" when Stagen's group were probing for planning details and irritating DCLU officials for info.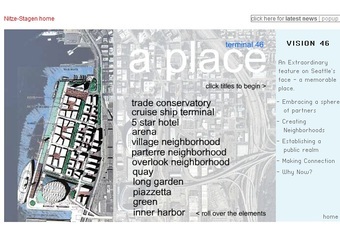 In fact Nitze-Stagen, the same group that just cut dirt on the new North Lot Development apartment project and is involved with massively redeveloping parts of the Pioneer Square area, has a glitzy website with snazzy schematic drawings bragging about a potential Pier 46 project.
Entitled "Vision46," the debate for the site was that of Containers vs Condos.
Nitze-Stagen argues the entire cargo area, which was created from backfill during the 1970s, should today be redeveloped with a mix of high-density urban village activities, such as a major hotel, thousands of housing units and offices, a cruise ship terminal, retail, education and even a trolley line.
Included in residential buildings and commercial space is an anchor arena building right there on the water. 
Now imagine this building incorporating what Fred Brown's group proposed in 2008. A new basketball/hockey arena, perfect for concerts and whatever else might want to retract a roof. It's the perfect location too.
Located at the south entrance of the new waterfront tunnel project, there's already existing freeway connections to nearby Safeco Field, the convention center and the football/soccer stadium.
With all the connections already built, what's not to love? Plus it's close enough to the ferries for walkers, and light rail already connects the area too!
And with construction gearing up as the viaduct is about to be razed, the timing appears perfect too.
On the water, large crowds of 20,000-25,000 could swoon to summer tunes with a removed roof in the summer. Shows wouldn't have to worry about the weather, because any formerly rained-out events could still carry on. Especially if the venue was open on the water side, with a "U" shaped arena bowl facing fans towards the Olympic Mountain Range.
Imagine a new Sonics team playing Game 7 of the finals under partly cloudy skies with the water in background. Imagine an NHL team doing the same. Or a national political convention with sunsets and flying fish.
Not so crazy an idea after all, now is it?
But is it enough to get city nimrods on board who still look stupid for their comments about how the Sonics offered no cultural value? Especially now that we have a funding source that might actually bridge the arts and culture folks with the sports crowd.
Everybody wins, the city makes big bucks, the developers make big bucks, taxes are hauled in by the truck loads, and fun is had by studs and nerds alike.
It could be a project that actually does represent many different diverse groups, and the timing is pretty good from both a construction and potential funding standpoint.
Most importantly, with private developers leading the charge, funding might not be as difficult as it otherwise might be, since we just proved it works beautifully.
What are we waiting for?!? Build this project! Do it now!