Chicago Bulls: The Starting Two Guard May Not Be the Issue in Chicago
September 29, 2011
Marc Serota/Getty Images
The Chicago Bulls went 62-20 in 2010-11. That was with a starting lineup of Derrick Rose, Carlos Boozer, Joakim Noah, Luol Deng and Keith Bogans.
Wait, Keith Bogans?
Really?
At this point in time, it is no surprise to people that Keith Bogans was the odd ball compared to the rest of the starting rotation, but perhaps he was still the right fit. I do agree that the Bulls need to find another scorer, but should we be so quick to dismiss Bogans as a viable starter for the Bulls?
Remember, this Bulls team went 62-20 with starters Carlos Boozer and Joakim Noah missing a combined 57 games. 57 of 82 is a pretty nice chunk of the season to be missing at least one, and sometimes two of your primary players.
If Noah and Boozer stay healthy next year, not something they have yet to prove over their careers, who knows how well the Bulls could play all season long. Noah has been improving his skills overseas, while Boozer has been relatively quiet on his position since announcing he would explore options.
Either way, I just want to see them healthy because their injuries perhaps cost the Bulls eight or nine wins.
Still, the Bulls managed to win many games while the two were out. Keith Bogans did not miss one game the entire season, making him and Luol Deng (ironic) the only two players to start all 82 games.
Now, I don't see Bogans being an answer as a scorer, but each player has their function on the team. Bogans is clearly there for his defense and durability. He knew his role last season, and if you ask me, he played it close to perfection. Nobody expected Bogans to come in and score ten points a night, and I am sure he didn't either.  Bogans only shot the ball on average four times a game.
I do believe the Bulls will explore all their options once they are able to, and they will have a few roster spots open up. The Bulls starting rotation played perfect last season, and their bench was one of the best in the league.
The Bulls do have to consider their financial decisions when regarding the two spot. Considering the money they just gave Noah, Boozer and Deng a few years ago, the Bulls don't exactly have money to spend.
With that in mind, remember that Rose's contract is up after the 2011-12 season, and I don't expect him to expect anything other then the maximum. A starting caliber free agent may not be the best financial option.
They could explore another scorer, perhaps a solid addition to come off the bench or fill in for starter minutes.
The Bulls could also find an ideal sixth man. They have not had one since Ben Gordon left, so the addition of a guy like Nick Young or O.J. Mayo could fulfill that role well. That would require some sort of trade (or sign and trade with Young) for the Bulls to free up some sort of money for 2012.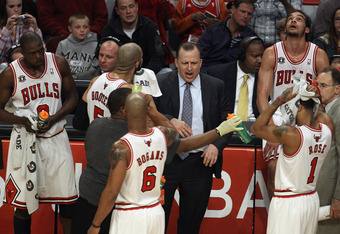 Jonathan Daniel/Getty Images
I think the sixth man role is the Bulls' true problem.
Kyle Korver and Ronnie Brewer are not reliable first options off the bench. They are great players, but they are not immediate impact players like Ben Gordon was night in and night out.
The Chicago Bulls should consider not damaging the chemistry within their starting rotation, but rather build a new threat to fit between the starters and the bench mob.
The Bulls have a good thing going with their set rotations, so just remember this: You shouldn't fix what is not broken.
More Articles by Jeff Chase:
Best NBA Draft Pick of the Last 10 Drafts
D-Rose Going Overseas is Not a Problem
Chicago Bulls' Seasons Best Player After MJ
Top 5 Coaches in Chicago Bulls History
Worst Lottery Picks Over the Last 10 Seasons