Dunking Master: Top 10 Jams of Nate Robinson's Career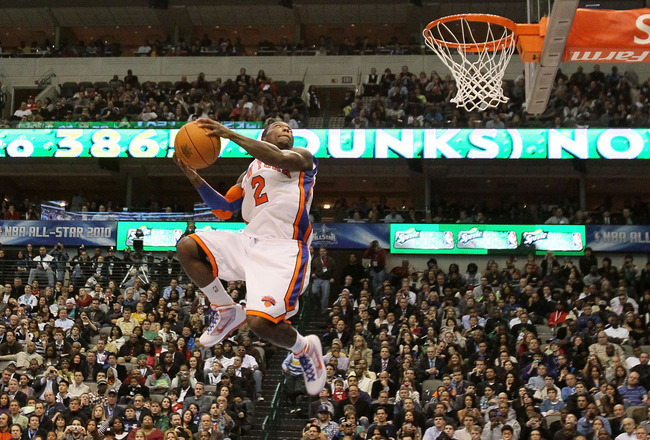 Jed Jacobsohn/Getty Images
Nate Robinson is a spitfire of a player, standing at only 5'9" but packing an insane vertical jump.
Robinson, currently a backup point guard with the Oklahoma City Thunder, is mostly known for his high flying acrobatics and jams.
He is the only three-time NBA Slam Dunk champion in league history, one-upping dunking greats like Michael Jordan, Vince Carter and Spud Webb.
Here is a collection of Robinson's top 10 throwdowns in his basketball career.
10. Against Arizona in 2005
During Robinson's days with the Washington Huskies, he was a formidable college baller. He was named a third-team Associated Press and National Association of Basketball Coaches All-American.
Here is a nice alley-oop against Arizona in 2005.

9. Robinson over Shaq
Robinson was traded to the Boston Celtics in 2010 to shore up the point position.
There, he teamed up with Shaq and some hilarity ensued during practice.
8. Ally-Oop Against Toronto Raptors
This was a baseline ally-oop from Knicks teammate Chris Duhon.
7. Robinson Goes Through Charlotte's Boris Diaw
Robinson shows his speed in transition in this monster slam.
6 and 5. 2010 Slam Dunk Contest
These two dunks were featured not only for their height and power, but because the Dallas Cowboys cheerleaders are in it.
4. 2006 Slam Dunk Contest over Spud Webb
A fellow shorty, 5'7" Spud Webb won the 1986 Slam Dunk Contest and agreed to be a prop for Robinson.
3. Robinson Posterizes James Posey
As a rookie in 2005-2006, Robinson was trying to make a name for himself.
James Posey annoys me, so this epic throwdown should make all like-minded souls laugh.
2. Welcome to the Celtics
Just a few games into his Boston Celtics stint, Robinson made a playground-like play on a fastbreak to help aid his team during the 2010 playoff run.
1. Clinching 2009 Slam Dunk Contest
Robinson this time uses Superman 2.0 (Shaq was the original and best Superman) with perfect showmanship that tops Blake Griffin's 2011 moving car.
Bob Bajek is a freelance reporter and can be followed at Patch.com and Twitter.
Keep Reading

Oklahoma City Thunder: Like this team?