Chicago Bulls: 6 Frontcourt Combinations Tom Thibodeau Should Use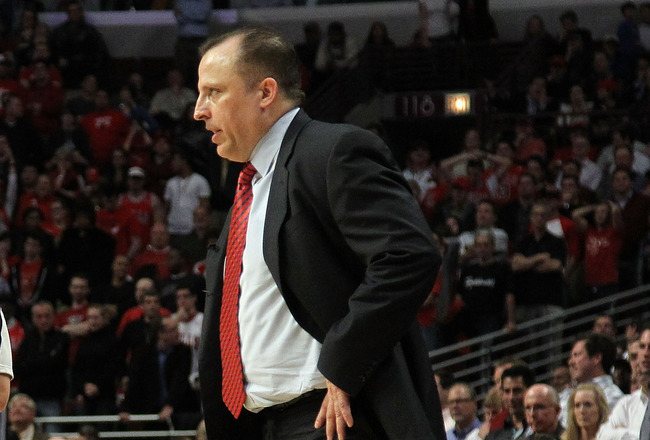 Mike Ehrmann/Getty Images
Chicago Bulls head coach Tom Thibodeau is a very smart guy, and on top of that he is a workaholic. He is a defensive guru who won the Coach of the Year award in his first year in Chicago, leading the Bulls to the best record in the league.
Due to injuries last season to Carlos Boozer and Joakim Noah, the coach had to use a lot of different players and a lot of different combinations along his front line. Thankfully, he had a very deep bench and a lot of proven players to insert into the lineup.
Heading into next season, whenever that starts, he will have many of the same players and possibly some new additions. Gone, most likely, are Kurt Thomas, Rasual Butler and Brian Scalabrine. The only new addition to the mix that we currently know about is rookie Jimmy Butler. So that leaves Ronnie Brewer, Kyle Korver, Luol Deng, Taj Gibson, Carlos Boozer, Omer Asik and Joakim Noah for the coach to use in whatever way he sees fit.
I actually had the chance to talk to the coach on Monday, and I ran this topic past him—and trust me, he has thought of all the ones I came up with and many more. But after going through all the possible combinations, I narrowed the list to the six most common combos we will see. With a few, I left open the possibility of players switching.
Did I miss one that you think coach Thibodeau will use often or that you would like to see? Let me know in the comments below after you take a look...
The Bench Mob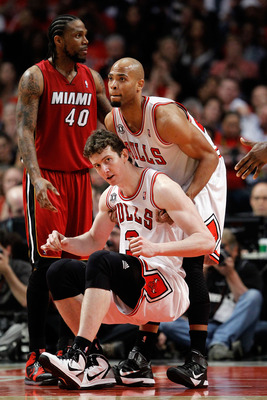 Gregory Shamus/Getty Images
How can I not mention the Bench Mob?
The combo of Ronnie Brewer, Taj Gibson and Omer Asik played extremely well last season probably because all three could be starting elsewhere.
The best part is this unit will only get better with a year of playing together under their belts and if the starters stay healthy. Omer was a raw rookie and improved as the season went on and averaged nearly a double-double in the FIBA European Championships this summer.
When these three come in the game the players on the other team know they aren't getting a break like they might get when other teams go to their bench.
Small Offensive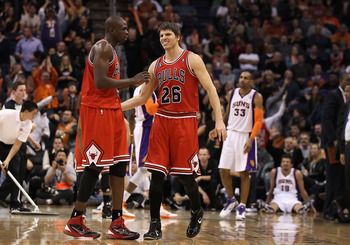 Christian Petersen/Getty Images
For years when the Bulls went small for offensive purposes it meant playing three point guards (Duhon, Hinrich and Gordon or Hinrich, Rose and Gordon) but now the Bulls have tall, athletic wings they can put out there instead.
Carlos Boozer is a down low presence while Luol Deng is just as tall and can drive to the hoop or settle for the outside 15 footer, but then throw in a long distance shooter like Korver and you have a fantastic trio.
Carlos Boozer or Joakim Noah could be played depending on if Coach Thibodeau wants a taller rebounder who might get the tip in or a more proven post scorer. Korver is one of the best three-point shooters in the league and having another shooter like Deng at the power forward spot would help space the floor and not allow them to double Korver without leaving someone else open.
Small Defensive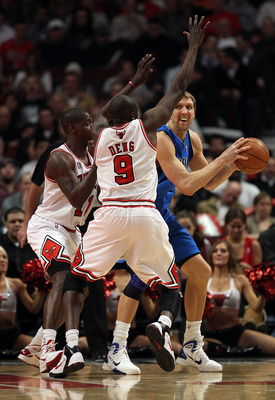 Jonathan Daniel/Getty Images
The best part about this combo is that it can still provide some offense as well.
If someone goes small with a guard like Jason Terry at small forward then on the other side of the court he is going to have to go against Ronnie Brewer.
Joakim Noah, Luol Deng and Ronnie Brewer can score just as well as prevent the other team from scoring. Both Brewer and Deng have the quickness to keep up with smaller players while Luol at 6'9'' has the size to match up with big small forwards like Hedo Turkoglu and Rashard Lewis who play as power forwards.
Omer Asik could be subbed for Joakim Noah.
The Twin Towers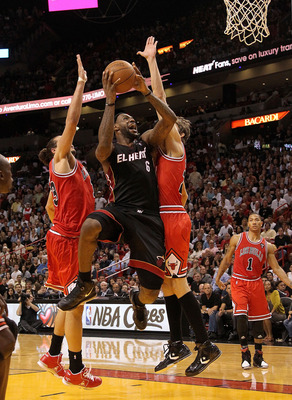 Mike Ehrmann/Getty Images
It worked for the Spurs with Tim Duncan and David Robinson, why can't it work for the Bulls?
Joakim Noah and Omer Asik are a defensive force to be reckoned with who can only get better. Some around Chicago actually think that Omer might be a better fit alongside Carlos Boozer, and they might be right, but allowing him to play center and having Noah slide over to the power forward spot is just so tempting.
These two could be paired with almost anyone at small forward from Luol Deng to rookie Jimmy Butler and I still think it would be awesome. The idea of Kyle Korver launching a three and either Omer or Joakim knocking it back for him to do it again would be fun.
Starters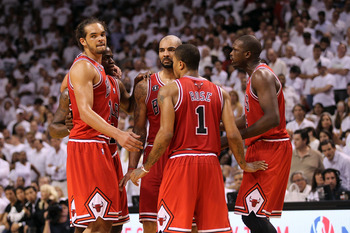 Mike Ehrmann/Getty Images
If the Bulls are going to be successful this combo has to be the most successful.
The pair of Dukies alongside the man in the middle need to all be healthy and play well together. Of course I am talking about Carlos Boozer, Luol Deng and Joakim Noah.
This lineup saw limited action during the regular season and failed to really impress during the playoff run. Whenever the season kicks off the Bulls need a healthy Noah and Boozer to learn to coexist on the floor together or some chances will have to be made.
Also, Luol Deng started all 82 games for only the second time in his career. Let's hope he can keep that up instead of going back to being injury prone and missing 20 games a season.
However, if Boozer and Noah fail to coexist, I can think of one lineup we know that works.
Deng, Gibson and Noah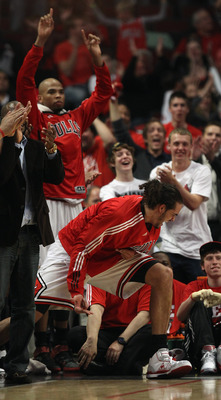 Jonathan Daniel/Getty Images
During the playoffs it was almost painful hearing the crowd cheer every time Taj Gibson would stand up and come into the game for a struggling Carlos Boozer.
Taj Gibson, in his first two years in the league, has played in 162 games and started 89 of them. He is averaging eight points and almost seven rebounds per game while playing almost 25 minutes a night. Gibson plays great defensive and knows how to play with Joakim Noah. And don't think about telling me you forgot about that amazing dunk over Dwayne Wade he had in the playoffs.
Noah, Gibson and Deng have the benefit of playing together for two seasons now and may be the best combo of all depending on if Boozer and Noah are able to learn to play together.
Keep Reading

Chicago Bulls: Like this team?