On Blogs with Balls, Sports Media, Untitled Awards and Muppets
September 26, 2011
I had an interesting conversation with the guys who run Blogs with Balls on Saturday.
Blogs with WHAT, some of you may be asking.
Balls.
That's the name of a sports media conference that took place for the fourth time this weekend in New York City. BwB, as it was shortened to this time around, has done more than put bloggers in the same room as mainstream media and sports business types. BwB has helped extend the conversation of the growing grayness – for lack of a better term – between what we traditionally consider mainstream media and new media; writer and blogger. 
We talked about the term "blogger" in the conversation.
One of the BwB founders, Kyle Bunch, qualified his use of the term to define those of us at the conference, using it almost pejoratively. I cut him off, as I tend to do to people, to remark that I kinda like the term "blogger" because I feel the definition – or at least the perception – has changed. This conversation, by the way, took place during an interview with ESPN. I don't know which of us that makes more right.
The first BwB was in the basement of a bar, with 100 or so sports bloggers and MSM packed in like sardines to talk about the future of the industry. Now, just a few years later, the term blogger doesn't have that "basement" gag attached to it anymore.
Blogger can mean something different. Being a blogger can be a good thing. It means you can adapt and survive in a changing media landscape. It means you can take news and opinion and not feel limited to choose one or the other. It means you can take risks when you write, talk about yourself more than other people can and steal words your favorite writers spent hours thinking of without feeling guilty, just as long as those words are slightly indented into a gray box and have a link attached.
"Consigning the person you disagree with into their mother's basement is just admitting you've run out of arguments...[I]t's wrong. My mother's basement was a wonderful place. It is, in so many ways, where I became a man. I visit there often in my mind. I'm usually wearing pants." – Joe Posnanski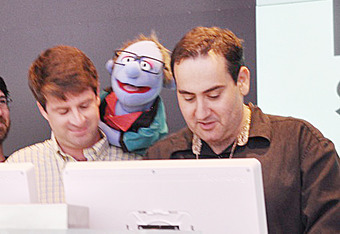 This weekend was the fourth iteration of BwB (fifth if you count their panel at SxSW). Each time, the event has gotten bigger and better, so big that this year's conference was at Bloomberg Tower. Moving on up, as it were.
The first one honestly felt like we were changing the conversation. I was a panelist on a terrible panel about Twitter and a moderator for what I thought was the best panel of the day about media access.
The second BwB was part of Blog World in Vegas. I ran a celebrity charity poker tournament with a ton of poker pros and got to moderate yet another panel. I forget what that panel was about. All I remember is getting a text during my time as moderator to call my mom when it was over. My grandmother had died.
I missed the third BwB in Chicago because my wife was too pregnant for me to leave and missed SxSW last year because we were still trying to dig out from the hole of learning our son has hemophilia. I use life experiences as professional mile markers too much. It's a writing crutch, I know, but in this case, it pertains. That poker tournament was my life for months. Missing the two BwB events felt like I was skipping a good friend's wedding.
This time, I never anticipated how much work it would be.
About a year ago I was having breakfast with Don Povia, founder of BwB, and we were coming up with some ideas for future events when I asked him about doing an awards show. I had recently read an article by Spencer Hall and thought, "this guy should get an award." Since there aren't many awards for sports bloggers, I thought it made sense to create one.
In the year since that discussion, the internet caught up. The playing field is far more level than ever before and while Hall may not be getting many traditional mainstream writing awards, he is getting the kind of recognition (and traffic) that many mainstream writers get. So, in order to do an awards show, we needed to evolve too.
Long (read: looooooong) story short, we created the Untitled Sports Media Awards Project (click that link to see who won the awards). The name was born out of a long (read: loooooooong) conversation about what to call this event and when we couldn't come up with a suitable name, calling it "Untitled" seemed like the bloggy thing to do.
Besides, the name gave us a great Twitter hashtag, #USMAP and we could say that the name was a play-on-words. After all, blogs put "us" on the "map."
Awards were given out in 15 categories across all of sports media. We collected thousands of nominations and tens of thousands of votes to determine who the best in our business really is. We hope we got it right, because it was more work than anything has ever been.
And we gave out Muppets.
The event was obviously more than just awards and Muppets.
BwB had great panelists talking about a host of different topics that covered all parts of the industry (and, in the Deadspin panel, all parts of the human anatomy.) There was way too much talk about Twitter and not enough talk about getting jobs for young writers who are coming into a business and looking for work. Or maybe there was.
Honestly, running part of an event precludes you from seeing most of the panels. When I wasn't trying to coordinate awards I was doing my best to schmooze – there's a ton of schmoozing at these events – that made it worth the price of admission. Just getting to meet some of the people who read my work or hear them asking when it's coming back (soon, I hope) was worth being a part of it. It's good to know people care.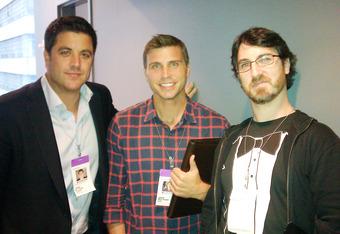 After each BwB event, I feel like I sit at my computer and do that Doogie Howser "what did we learn today" post, so that's probably what this is.
I learned today that I have some great friends in this industry, but more than anything I learned that I belong in this industry. Floating around as a free agent for a while before this Bleacher Report situation, I felt about as disenfranchised as one could feel. The one thing about writing on the internet that people may not realize is that there is no safety net. You have a job, and the next day you don't. Even from the basement, that fall can feel precipitous.
I spoke to a lot of great writers and a lot of talented folks in media this weekend. Not all of them have jobs, but they have the talent to do great things. I hope some of them will think about doing them with me, here. At the very least, it was an honor and a privilege to share the stage with them for a day.
For me? Well now I write for a site that gets a ton of traffic and work for people who seem to like what I produce in an industry full of folks who put up with my nonsense because they know, in the end, I'm trying to help the industry grow.
That, and they know there's a decent chance that, someday, they might get a Muppet out of me. Not literally.