Could Kobe Bryant's Ego Handle Being Anything Other Than Lakers No. 1 Option?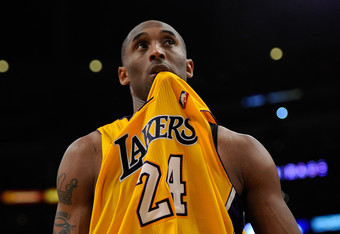 Kevork Djansezian/Getty Images
Kobe Bryant has lived in the proverbial sports spotlight since coming directly into the NBA from high school in 1996. While he deferred to veteran players his first year or two in the league, it wasn't long before Bryant considered himself the Lakers' No. 1 option.
The big question now looming is, how will this aging yet still incredibly productive superstar handle it all when he no longer is the first choice in the Lakers offense?
In order to answer that, we need to look at the 15-year career of Bryant and how his bigger-than-life ego played into his role as the game's best closer and one of its best all-around players in history.
Bryant and Shaquille O'Neal tried sharing the stage in Los Angeles from 1996-2004. Everyone knows how that played out.
Always the hardest-working player in the gym, Kobe nonetheless alienated the veteran O'Neal with his swagger and confidence that seemed to suggest the young kid was the future of the team, not the Big Diesel.
Despite the fact that Shaq and Kobe seemed to genuinely dislike each other, they managed to lead the Lakers to three consecutive world championships from 2000 to 2002. Bryant's ego was firmly established, although there was a time when the two found mutual respect for each other on the court, and that turned Los Angeles into a powerhouse.
Bryant's famous alley-oop pass to Shaq in Game 7 of the Portland series in 2000 illustrated just how much Kobe had stuffed his ego in his back pocket in order to win.
Phil Jackson commented at the time to Phil Taylor of SI.com, "Kobe didn't have a selfish agenda; he just felt that the way he had been playing was the best way he could contribute." It marked a turning point, and the Lakers went on to win their first of three straight titles.
Will Kobe Bryant's ego get in the way of another Lakers championship run?
Although that one play happened more than 10 years ago, it signaled an often overlooked facet of Bryant's game: the unselfish passer giving up the scoring opportunity because he had the confidence in a teammate to get the job done.
There is no questioning the size of Kobe Bryant's ego, and there has been no real questioning of his status as the Lakers' No. 1 option for more than a decade. But will he be able to one day put that ego aside and accept someone else as the "go-to" guy?
It's a hypothetical question, but I believe he knows the answer. The older Kobe Bryant gets, the closer he comes to retirement. More than scoring, more than individual accolades, what continues to drive No. 24 is the quest for a sixth championship ring.
If you'll recall, Bryant so badly wanted to beat the Boston Celtics in Game 7 of the 2010 NBA Finals that he shot just 6-of-24 and tried to do it all himself. The entire Lakers team (except for Derek Fisher) was horrible offensively for three quarters as the Celtics defense rose to the occasion.
Frustrated by his lack of scoring and finding his team trailing Boston by 13, Bryant turned up his defense and became a facilitator on offense.
His pass to Ron Artest for a three-point shot (that he made) as the 24-second shot clock was set to expire exemplified Kobe's desire to put the ego aside and place confidence in his teammate. "He wanted to win as a team, though, not going off on his own," Artest said of Bryant after the game. "He never passes me the ball, and he passed me the ball. Kobe passed me the ball, and I shot a three."
Ronald Martinez/Getty Images
Bryant will continue to pass the ball if he has confidence in his teammates to make shots. Heading into this season—which may start in a few months if the owners and players can get their act together—Kobe is still the No. 1 option for the Lakers.
Bryant is like the heavyweight champion who keeps defending his crown while challenging anyone to take it from him.
If and when that day comes to step aside, Bryant may not like it, but if there's a world championship hanging in the balance, you can rest assured he'll be the first player on the court to hand off the torch to the new No. 1.
His place in NBA history long secured, it really is all about the rings for Kobe Bryant.
This article is
What is the duplicate article?
Why is this article offensive?
Where is this article plagiarized from?
Why is this article poorly edited?

Los Angeles Lakers: Like this team?