Kobe Bryant Must Change His Approach to the Game for Lakers to Win Another Title
September 19, 2011
Harry How/Getty Images
Undoubtedly, Kobe Bryant is one of the most highly criticized athletes in sports.
When the Los Angeles Lakers lose, critics rush to blame Bryant. If he scores 30-plus points, critics say that he should've been more submissive. On the other hand, if he scores less, critics believe he should've been more aggressive.
The same criticism continued in the 2011 NBA Playoffs, when the Lakers were ruthlessly swept by the Dallas Mavericks.
Bryant, who averaged a mere 23.3 PPG and 22.7 percent from the three-point line, was disparaged for his underwhelming and passive performance. 
However, his performance against the Dallas Mavericks displayed anything but passiveness. It was apparent that Bryant was trying to be his team's alpha dog—he did, in fact, average 21 field-goal attempts per game.
Clearly, Bryant's physical deterioration, especially with his style of play, limited him from singlehandedly carrying his team, although his mental toughness is still very much present.
Thus, Bryant must adjust his approach to the game if he wants his Lakers to continue their winning tradition. Bryant must channel his mental toughness into motivating others in addition to becoming, ironically, a more passive scorer.
The Los Angeles Lakers have a variety of other offensive options, including Lamar Odom and Ron Artest, and the most advantageous and intimidating, other than Bryant himself, are Andrew Bynum and All-Star power forward Pau Gasol.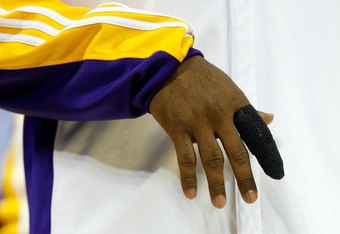 Ronald Martinez/Getty Images
Mike Brown, the Lakers' new head coach, believes Bynum and Gasol can be utilized like Tim Duncan and David Robinson of the Spurs of the late '90s to early 2000s.
With teams getting smaller, Bynum and Gasol have the potential to dominate in the low post.
But how can the Lakers rely more heavily on players who didn't show up in the playoffs?
Bryant, the leader of the team, will have to embody the role of the ultimate motivator. He has to let Bynum and Gasol know that the team relies on the success of the two big men and that he will not be physically capable of carrying them for the entire season.
In order for this to work, however, Bryant must trust his teammates and accept a new role as a passive scorer.
Surely, Bryant is going to get his touches in Mike Brown's new offensive system.
Nonetheless, every one of his touches should be utilized with calculated risk. Bryant must discover when it's appropriate for him to score and when it's right for him to exploit the team's advantage—its arsenal of offensive weapons—and create for others, particularly Bynum and Gasol.
After years of being an aggressive attacker of defenses, it will definitely be difficult for Bryant to adjust into a new role.
However, if he does so, the Lakers will become an even more formidable and well-rounded team, as other players will be used to their highest potential.
Thus, there is no doubt in my mind that the Los Angeles Lakers will be the champions of the world once again in the near future, but their hopes hinge on Bryant's ability to adjust.