Los Angeles Lakers: 10 Craziest Moments of Ron Artest's Life
Eugene Gologursky/Getty Images
If you hadn't heard, Ron Artest officially changed his name to Metta World Peace today. Because his name change is so recent and none of us are used to calling him Mr. World Peace, we will refer to him as Ron Artest in this article.
This marks one of many crazy acts that he has done in his life, let alone his NBA career. But he's definitely done crazier things.
Here are the 10 craziest moments of Ron Artest's life...at least the craziest moments that have been documented.
Monopoly at the Beach
When Ron Artest first signed with the Lakers back in the summer of 2009, he vowed to hang out with random fans in random places.
Here is one of those instances. He's eating a Filipino dessert called halo-halo and enjoying a game of Monopoly with some Laker fans at the beach.
There's no doubt that he's probably the first professional athlete to voluntarily play a game of Monopoly with a group of fans he doesn't know.
Moment of Silence for the Champions
Ron Artest released his rap song "Champions" right after the Lakers defeated the Celtics in Game 7 of the 2010 NBA Finals. As many know, Artest was very instrumental in that victory over Boston as he hit a clutch three-pointer late in the game to seal the victory for the Lakers.
Many basketball stars have gotten their feet wet in the music industry, so this isn't too out of the ordinary, but the fact that Artest had the song ready to be released makes one think that Artest wanted to win Game 7 badly not because of the ring, but so he could release this single.
Malice at the Palace
Just because it brought negative attention to the NBA it doesn't mean it wasn't crazy. Remember, this is a list of the craziest moments of Artest's career.
This brawl has been well documented over the years. It occurred when he was a member of the Indiana Pacers. During a skirmish on the floor between Ben Wallace and Artest, Artest went and lied down on the scorer's table (which is crazy in itself) as a way to say that he's not going to get involved in an altercation with Wallace.
Then, a fan threw a plastic cup of beer at him. The enraged Artest overreacted and went after the fan.
The altercation between Artest and the fan in the crowd was just the beginning. Pretty soon, many of the Pacers and Pistons players were in the crowd and a huge brawl between the fans and players broke out.
The aftermath of the brawl was detrimental for Artest. He was suspended for the rest of the season and was seen as an eccentric, violent character. He really didn't repair his reputation until he signed with the Lakers and won a ring.
"I Got Wheaties!"
After Ron Artest became the hero of Game 7 in the 2010 NBA Finals against the Celtics, he walked into the press conference room after the game hungry for a box of Wheaties cereal.
He exclaims "I got Wheaties! I got Wheaties box! Where's my Wheaties box? I got Wheaties!"
These exclamations by Artest make one think hard if he had a full deck. But we'll let it slide because of his clutch performance. He truly deserved the breakfast of champions.
The Jimmy Kimmel Interview
Ron Artest forgot to bring his clothes to the Jimmy Kimmel interview. He came very prepared, though, in other ways. He had Jimmy Kimmel's name shaved on his head.
Just let the interview do justice for Artest's craziness. The interview highlights Artest's tendencies to randomly spend time with strangers in Los Angeles, how he introduced Khloe Kardashian to Lamar Odom, his encounter with Kobe in the shower in Boston, and his pointless modeling photos.
"I'd Like to Thank My Psychiatrist."
Many athletes are speechless after they've just won the championship. If they're not speechless, they thank their teammates, coaches, family and friends for all the support throughout the season.
Ron Artest had something else in mind when he thanked his psychiatrist for letting him overcome his fear of late-game situations and bank the big three in the fourth quarter of Game 7.
Unpaid Speeding Tickets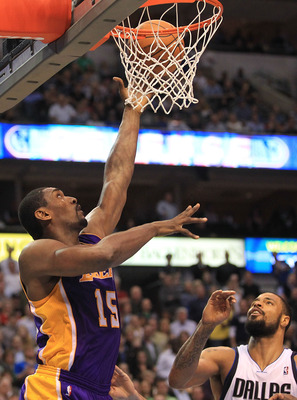 Ronald Martinez/Getty Images
Today wasn't Ron Artest's first attempt in changing his name to Metta World Peace. He tried to do it about a month ago, but the Los Angeles court rejected his name change because he had unpaid speeding tickets.
Only Artest.
Coffee Spill
Many basketball players fly into the crowd to try to save the ball from going out of bounds. But how many of them stop and clean the spectator's face when coffee spills all over them?
Ron Artest Playing Dodgeball
In this clip, Ron-Ron is representing Zankou Chicken Restaurant with one of their shirts and playing dodgeball. As you can see, he gets pegged and it's pretty obvious that dodgeball isn't his best sport. His arm is not up to par as well.
Ron Artest is not the best option in dodgeball, because he's so big and that makes him an easy target.
Artest Pulled over in Indy Car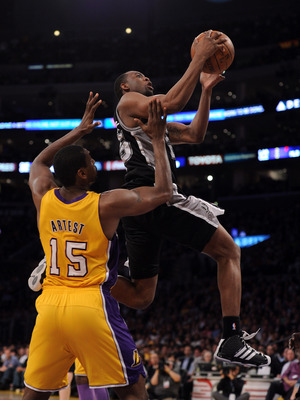 Harry How/Getty Images
Ron Artest was pulled over a while ago because he was driving the streets of Los Angeles in an Indy-style car. He wasn't pulled over speeding, though.
Obviously, this is a Ron Artest, story so there has to be a twist. He was pulled over because his registration had expired.
Sheesh.
Keep Reading

Los Angeles Lakers: Like this team?