Can Ty Lawson and Andre Miller Co-Exist on the Denver Nuggets?
September 7, 2011
Doug Pensinger/Getty Images
Youth and exuberance.
Patience and wisdom.
These words describe the Nuggets' backcourt duo of dynamic point guards.
For legendary coach George Karl, the decision on which one to start at the one position must be excruciating.
On one hand, Karl has Lawson, the humming bird quick and cheetah fast guard that can attack the seams of the court, pushing defenses and forcing them to react to his athletic abilities.
On the other, there sits Andre Miller, one of the favorite players Karl has ever coached—a true quarterback of any basketball team's offense, able to bring the ball up the court reliably every time.
Both have their strengths offensively; Lawson can drive the hoop explosively and has worked on his outside shooting game, while Miller is one of the best in the league at getting to the lane and either throwing up a floater or a step-back jumper for two points.
And, make no mistake about it, Miller is one of the best in the league at distributing the basketball—he understands what it means to get every player involved in the offense and how to keep his teammates happy.
Doug Pensinger/Getty Images
It's why Marcus Camby scored so many points in Denver, because Miller knew how to get him the rock at the right time.
Lawson is a good passer in his own right, but he still lacks the leadership and understanding it takes to know who to get the ball to and when to feed them.
It can't be missed that Miller enjoyed some of his best years in a Nuggets uniform. From 2003-07, Miller averaged 13.8 points and 7.6 assists per game, including a career high 9.1 assists per in 2006-07.
But another valid point is that Lawson is an up-and-coming star in the NBA. From year one to two, Lawson increased his points (8.3-11.7), rebounds (1.9-2.6), assists (3.1-4.7) and steals (.7-1.0), getting to start for the last 20 games of the season after Chauncey Billups was traded away.
If Lawson gets to start this season from jump, the ceiling for this 5'10" player seems astronomically high.
So who does Karl choose?
It's really a good problem to have (a quote Karl would have undoubtedly used if the season was gearing up to be played on schedule) because Karl has two starting point guards on his roster.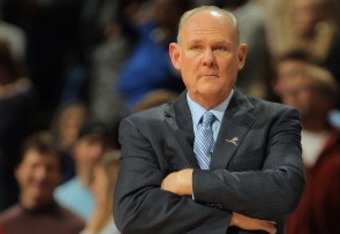 Doug Pensinger/Getty Images
But after he decides which point guard will start, he must focus on keeping the other one satisfied with the backup minutes he'll be receiving.
Miller may be in his 12th year as a professional player, but there's no way he's ready to just assume the roll of backup.
Likewise, after playing second fiddle to Billups for a year and three quarters, Lawson won't be satisfied as being back to backup point guard.
But Karl is a master of these sort of situations, he knows how to work with egos and how to get them to play nice with one another.
Karl will ensure the both of them that they will each get lots of minutes, and that the label of "starter" will not necessarily matter once the game is underway. And with so many questions at every other position, including shooting guard, the Nuggets are almost forced into playing both of them together at times.
And Karl showed last year that a two point guard lineup can work, when he used speedy Lawson and steady Raymond Felton on the floor together at the same time, with great success in the regular season.
The point is, while both Miller and Lawson may be unhappy at times depending on who is the starter, having both on the team is a plus because the two are like the yin and yang of point guards.
If Lawson is playing too erratically, Karl will bring in Miller to slow the pace and play efficient basketball. And if Miller's tempo is to slow, Karl can put in Lawson to push the pace and score transition buckets.
Not only will Andre Miller and Ty Lawson co-exist on the Nuggets, they will prosper while pushing Denver to a competitive level.
Rich Kurtzman is a freelance journalist actively seeking a career in journalism. Along with being the Denver Nuggets and an NBA FC for Bleacher Report, Kurtzman writes for Examiner.com, Blake Street Bulletin, Stadium Journey, and Swoosh Nation.
Follow Rich on Twitter for breaking news, need-to-know retweets and interesting insight on the Rams and everything Colorado sports related.
Follow Rich on Facebook to links to all his pieces and breaking news.