San Antonio Spurs: Trade Value for Every Roster Player
Jed Jacobsohn/Getty Images
The outing the San Antonio Spurs had in the first round of the playoffs against the Memphis Grizzlies made their 61 win season seem like an enigma.
Their regular season made them look like tip top contenders as they stuck to the normal Spurs format of solid defense, fundamentals and teamwork. The idea of a fifth championship in San Antonio was swiftly cut short once they ran into Memphis. They really never stood a chance as they got pounded in the paint, and revealed their old age in an extreme manner.
Needless to say, some changes should probably be made.
Here is an evaluation of the trade value of players on the current roster who actually have value.
Tim Duncan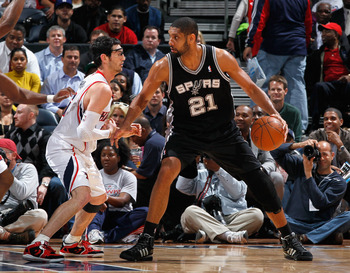 Kevin C. Cox/Getty Images
The Big Fundamental finally took a heavy step back production wise. His averages dwindled down to about 13.5 points and nine rebounds a game in 2011.
It's not like he was completely useless, however. He still anchored the defense well, covered his man effectively, and handled the glass.
Even with that though, his trade stock is not great.
He's 35, clearly on his way out, and is owed over $21 million next season on top of that.
His expiring contract and early termination option are probably the most attractive things about trading for him. Even still, the Spurs shouldn't expect much in return if they were to shop him.
Trade Value Grade: D+
Tony Parker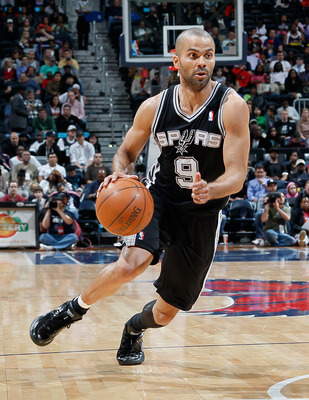 Kevin C. Cox/Getty Images
Despite his lengthy contract worth, $12.5 million a season, extending into 2015 at the latest, Tony Parker is probably the most valuable trade piece the Spurs have to offer.
He turned 29 in May, and is coming off a season where he averaged 17.5 points and 6.6 assists. He's not in the upper echelon of modern point guards, but he can surely hold his own against them.
The only thing holding the Spurs back from getting really good value in return besides Parker's big contract is the wear and tear on his body. Even though he's still in his 20's, he has some relatively steep mileage on his resume. Through his 27,000 plus minutes in his career, he has ran around the court at high speeds and has been knocked around a lot as well. He might not be too useful by the end of his deal.
Trade Value Grade: B

Manu Ginobili
Andy Lyons/Getty Images
As I complete the evaluation of The Big Three's trade value, I conclude with Manu Ginobili. Even though he's 34 he still has some trade value for San Antonio.
He is one of the most unique players in the league and is very crafty. Despite his age, he had one of his best seasons in 2011 which featured a career high in assists and the second highest point average in his career.
Since he is showing little signs of slowing down, the two years and $27 million that is left on his deal isn't so bad. I could see a team taking a chance by bringing him in and using him until 2013.
Trade Value Grade: B-

Richard Jefferson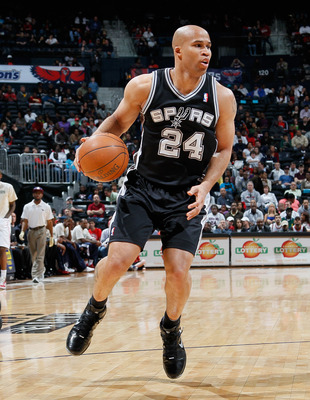 Kevin C. Cox/Getty Images
Richard Jefferson put up a scoring average only higher to that of his rookie year last season. It was the third straight season that his point production dropped from the previous season.
Whether he is on the decline or just struggling to find comfort in Gregg Popvich's system, his trade value is not particularly high. He's locked up for at least another two seasons, maybe three, and between $19 and $30 million after re-signing with the Spurs last summer.
Not many teams will rush to try to trade for him taking all of these facts into account.
San Antonio shouldn't expect any kind of treasure if they want to ship him out.
Trade Value Grade: D

Antonio McDyess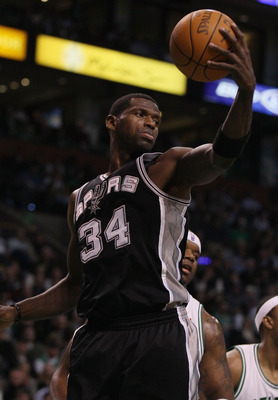 Elsa/Getty Images
At least one savvy veteran is needed on every team. And Antonio McDysse completely defines that term. After 15 seasons in the NBA, he has all the experience you could ask for. A strong locker room presence goes a long way, and no team wouldn't want that.
His contract is highly reasonable as well. His contract has one guaranteed, $5 million season left on it. No complaints there.
Despite his financial attraction, the reality is he's a 37-year-old, third string power forward who is a threat to retire at any moment.
No team will break their back to give up something in a trade for an experienced player when they can just sign one.
Trade Value Grade: C+
Tiago Splitter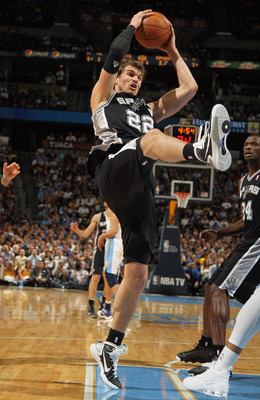 Doug Pensinger/Getty Images
The Spurs' latest overseas project, Tiago Splitter from Brazil, has not quite panned out so far.
In his rookie season, he was never consistently a part of the rotation. Outside of a few solid rebounding performances, he showed very little in his 788 total minutes on the floor.
Regardless of his contract size, four points and three rebounds a game won't field much in return in a trade if anything at all. If anything, his potential would be his asset.
Trade Value Grade: F+

Matt Bonner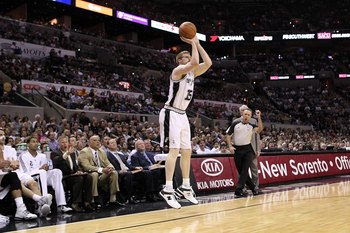 Ronald Martinez/Getty Images
Matt Bonner has served as a very nice role player in San Antonio the last few seasons. He is relied on to knock down open three pointers, and connects on a good deal of them.
He has a pretty fair contact that is guaranteed nearly $7 million for two more seasons. It would be pretty easy to deal him away.
However, he is a one-denominational player for the most part. A big time player won't be netted in exchange.
Trade Value Grade: C
DeJuan Blair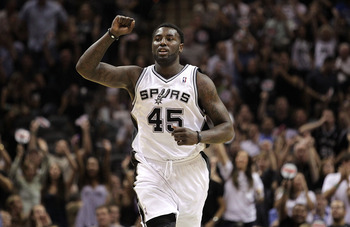 Ronald Martinez/Getty Images
Through his first two seasons DeJuan Blair has been a pretty sturdy source of production. With a 265 pound body and solid explosiveness, he's a very effective banger in the post. Last season he posted eight points and seven rebounds a game in 21 minutes.
Blair is only 22 as well. He still has some room to grow most likely. A lot of teams could use his services.
Money wise he is pretty appealing too. He is still on his rookie contract and is making under a million dollars this coming season. That is music to GMs' ears considering what kind of player he is.
Trade Value Grade: A

Gary Neal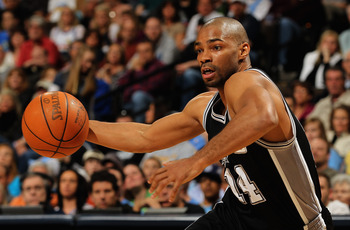 Doug Pensinger/Getty Images
After finally making it to the NBA following a tedious route of hard work, Gary Neal emerged as a stout role player. He was a perfect fit in the Popovich system and contributed in all the ways you want a complementary player to do so.
Neal is making $788,000 next year in the final and guaranteed season of his contract. That's overly reasonable.
A near 27-year-old role player isn't dripping with value from an on court standpoint though.
Trade Value Grade: B-
You can follow Nigel Broanax on Twitter @BroadnaxWrites.
Keep Reading

San Antonio Spurs: Like this team?