Detroit Pistons: 10 Most Important Trades in Team History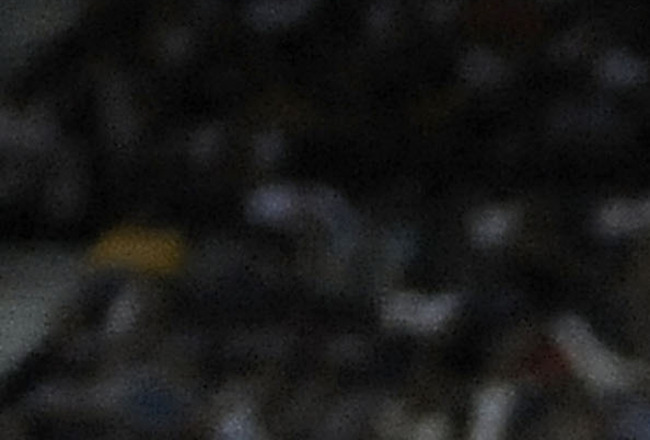 Gregory Shamus/Getty Images
As this lockout continues, we again take a look back at the past.
In the last episode of this series, we took a look at some of the worst contracts in team history.
But I am in an optimistic mood given how great the Lions and Tigers are looking these days. Therefore, I want to explore some moves that have been crucial in the formation of the history of our Pistons.
Here are the 8 most important trades in franchise history.
Richard Hamilton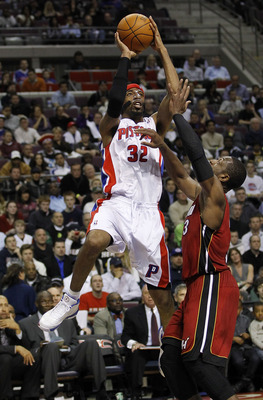 Gregory Shamus/Getty Images
Often forgotten due to the terrible extension he signed a few years back (sadly i personally forgot that this was a trade and not a signing), the Richard Hamilton for Jerry Stackhouse deal was very controversial at the time.
The Pistons had just come off of a very underwhelming performance in which Jerry Stackhouse had looked lackadaisical and without any type of a sense of urgency as the series wound down. I'll never forget, Magic Johnson while doing one of the games for NBC kept saying that Stackhouse needed to take over the game and be the star he was capable of being.
It never happened, and the Pistons struggled mightily to score.
In the offseason, Joe Dumars dealt his former teammate to Michael Jordan's Wizards for Hamilton.
Most Pistons fans thought Dumars got fleeced, and feared that Hamilton was too frail to contribute.
But we warmed up to him, and Hamilton would develop into the top scorer on the contending teams of the decade.
Jerry Stackhouse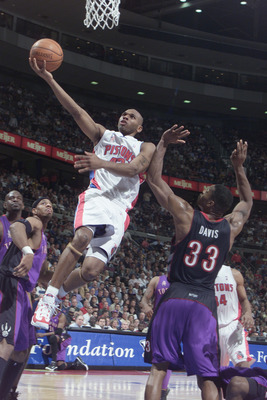 Tom Pidgeon/Getty Images
The Jerry Stackhouse era in Detroit was an unpopular one to say the least. In a lot of ways, the mind glosses over these years due to how supbar the team tended to be (do you remember Oliver Miller lugging around his 300lbs in Pistons teal?).
But the Pistons were able to deal Theo Ratliff, Aaron McKie and a draft pick for Eric Montross, Stackhouse and a second rounder, and it actually worked out pretty well for both teams.
Stackhouse, who was a top pick of Philly just two years prior, was expendable because he and Allen Iverson couldn't co-exist.
Detroit still had Joe Dumars, so Stackhouse was groomed to be his successor. For a while, this worked and Stackhouse became a nice compliment to Grant Hill.
But once the team was given over to Stackhouse, the win totals went down while his scoring average went up.
That being said, Stackhouse did eventually lead the Pistons to the playoffs but was ultimately dealt for Richard Hamilton, ushering in the glory years of the mid 2000's.
Bill Laimbeer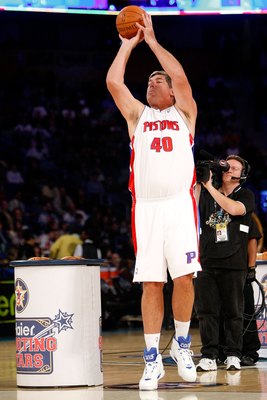 Chris Graythen/Getty Images
Few people remember Laimbeer playing for anyone but Detroit, but he in fact was originally with Cleveland and was sent packing with Kenny Carr for Paul Mokeski, Phi Hubbard and a couple draft picks, most notably Dave Bagley.
Those players never were better than bit players for a number of teams, while Laimbeer became one of the best rebounding centers of the past 30 years.
Laimbeer played in four All Star games and helped the Pistons win two titles.
Rasheed Wallace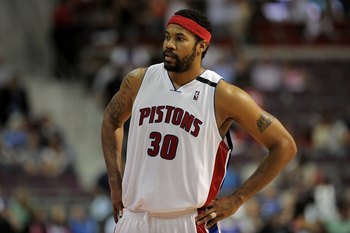 Gregory Shamus/Getty Images
When the Pistons dealt for Wallace and Mike James in 2004, the pundits believed it was an absolute steal that would put Detroit in the drivers seat for the playoffs.
For once, the pundits were right.
The three team trade worked out well for both Detroit and Atlanta as they were able to draft Josh Smith with the pick they received.
Sadly, Boston was not as fortunate, really only getting Tony Allen in the deal and gift wrapping a title for Detroit.
Sure, after that first season the Pistons probably should have cut bait with Wallace, but that one season alone and the title was enough to guarantee this as a top notch deal.
Ben Wallace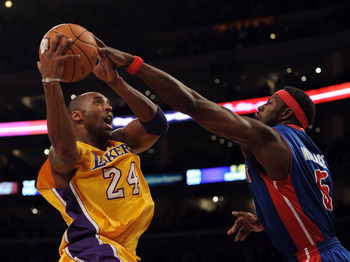 Harry How/Getty Images
When the Pistons lost Grant Hill, everyone and their mama (outside of the five "diehard" Magic fans) was depressed.
Here was one of the top five players in the game, and he had spurned us for greener pastures.
So what if it was a sign and trade that gave us some nobodies. We just lost our franchise.
Talk about the ultimate lemonade out of lemons story. Not only was Ben Wallace a great player, but he single-handedly revitalized Detroit.
Wallace was the perfect personification of Detroit, and to this day is one of the most exciting, truly Detroit-esque players to ever wear the red, white, and blue.
Adrian Dantley
Jonathan Daniel/Getty Images
When the Pistons dealt Kelly Tripucka and Kent Benson to Utah for Adrian Dantley, some fans didn't know what to expect.
Tripucka was a solid scorer that was groomed in Detroit. Sure, Dantley was a dynamic scorer that had led the league in scoring just a few years prior. But he wasn't exactly a fast-paced guy, and some worried that he would slow the Pistons down too much.
This marriage was not without it's ups and downs, but Dantley helped to bring the Pistons to the precipice of the title.
Dantley is one of the players that you will never see again. A 6'5 post player that can score at will.
Tripucka and Benson, meanwhile, were never heard from again.
Mark Aguirre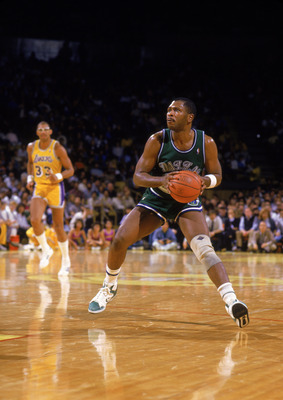 Rick Stewart/Getty Images
Mark Aguirre, like Dantley, was a remarkable specimen. Sure, he wasn't big and he couldn't rebound or defend. But he sure could score.
When the Pistons traded Dantley for Aguirre, everyone called "foul". He was Isiah Thomas' best friend, and Thomas and Dantley openly feuded.
But Aguirre was the perfect piece for the Pistons. He didn't require the ball like Dantley did, and he was comfortable taking a backseat to the back court.
The Pistons needed a complimentary scorer, not a ball hog. And Aguirre helped them win two straight titles.
Vinnie Johnson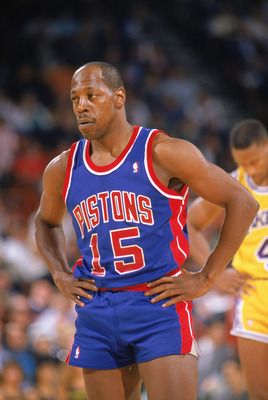 Mike Powell/Getty Images
Vinnie "the Microwave" Johnson was one of the most dynamic scorers in franchise history, and arguably one of the top five sixth men in NBA history.
However, few remember him as a Seattle Sonic. He was, after all, drafted number seven overall, and had a few lackluster years in the Pacific Northwest.
He also was traded for a hometown legend, one Greg Kelser.
And while some questioned the move at the time, Johnson became the face of the deepest bench in the league, and hit the series clinching shot against the Portland Trail Blazers in the 1990 Finals.
Lindsey Hunter
Jim Rogash/Getty Images
Now while it is easy to remember how Lindsey Hunter fizzled out as the heir to Isiah Thomas, it is also just as easy to remember him as a supreme veteran on-the-ball defender.
The Pistons had given up on Hunter as the point guard of the future, banishing him to Toronto to play for mediocre teams.
However, they eventually swung a deal for Michael Curry, bringing back the cherubic-faced guard.
Hunter became a force on the 2004 Pistons, leading the second unit on the court, and causing many a backcourt violation.
The Pistons full court traps would not have been the same without Hunter, and they certainly owe a lot of their title to him.
Otis Thorpe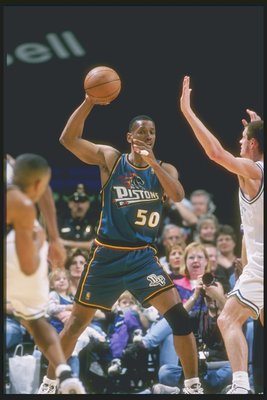 Stephen Dunn/Getty Images
Okay, so this is an interesting one.
The Pistons absolutely fleeced the Portland Trail Blazers for Thorpe with the lackluster deal of Randolph Childress and Bill Curley.
They then got two very productive years from the power forward, before dealing him to Vancouver for a first round pick.
Sure that pick turned into Darko Milicic, but it could have been Chris Bosh, Dwayne Wade or Carmelo Anthony.
So this player not only was had for nothing, but he could have garnered tons. Just a great trade any way you slice it.
Keep Reading

Detroit Pistons: Like this team?