Philadelphia 76ers: Elton Brand, Lou Williams and Their Bold Leadership Moves
September 1, 2011
Rob Carr/Getty Images
What common traits are shared by Elton Brand and Lou Williams, other than being Philadelphia 76ers teammates? They're proven leaders who joined forces to organize their team during the NBA lockout.
It was a bold and brilliant move on their parts. Lockouts are meant to be taken advantage of without the fear of risking injury. NBA medical staffs aren't available to work with players during the imposed standoff.
Thanks to Brand and Williams, the 76ers stood apart from the rest of the NBA last weekend. Eight Sixers, stand-up guys, spent time together honing their chemistry and conditioning.
UCLA, Jrue Holiday's former school, was the setting. Holiday probably acquired the gym. To be sure, NBA players have been very publicly active in offseason pickup games this summer. The 76ers, however, are the only ones to do it as a team.
It was mostly the brainchild of former man child Elton Brand. He's a grown man, now. Gone is the young man who seemed to vacate both his emotions and vocal and physical presence from the team during his first Philadelphia season.
"Brand New," evidently seasoned, took the old Brand's place. The new Brand was recently seen and heard taking the initiative to speak out about the difficulties of the NBA lockout. He proceeded to organize hard workouts for his Sixers teammates.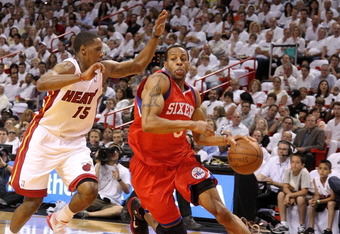 Mike Ehrmann/Getty Images
Andre Iguodala, Evan Turner, Jodie Meeks, Spencer Hawes and Craig Brackins were the others reportedly in attendance. And the guys who couldn't make it such as Thaddeus Young had prior commitments.
In an interview with Dei Lynam, Brand was sounding more like a coach, or an executive, than a player.
"The guys came out. We are having a great time together, bonding together. That's what it is about," he said. "I think that creates a winning environment, having each other's back out there."
Right there, Brand showed his caring side.
"So you have to care, you have to grow; you have to know where someone likes the ball. When a guy can't play defense or can't show as well on a pick; you have to know that. You have to be there to help your guy and have their back."
Spoken like a future coach.
A leader is a person who has two important characteristics: first, he is going somewhere; second, he is able to persuade other people to go with him. Being a former Duke star, Brand definitely has those credentials.
The Sixers followed him to L.A. last weekend to enjoy a team workout. The fact Andre Iguodala was there is huge. There has been speculation about his desire to return to Philly. The current situation shows some leaders are made and men not born.
It doesn't take an extravagant man's brain to realize basketball coaches and executives all around the world will be talking about this Sixers initiative for most of the upcoming NBA season—when on earth that is.
It's so impressive because often there isn't enough time to bond like this during the regular season, and guys go their separate ways after the lights are turned off in the arenas. This could be a moment for life that the players who participated in will remember after their careers are over.
The psychology of it all means the Sixers grew tremendously as friends and teammates. If they keep it going, then their chemistry should be off the stratosphere.
While other teams with more chemistry such as Dallas, the Lakers, San Antonio and Boston are sitting on their rumps and growing apart, the said 76ers are coming together.
As I said, Brand recently expressed his view on the NBA lockout, and it wasn't pretty. He basically said that it doesn't look good for the season to start on time. His teammate, Iguodala, had earlier expressed the same view.
Yet, they didn't sit around sulking about it. Instead of growing out of shape mentally and physically, they did something about it and should be commended.
Elton has been viewed as being anywhere from a "Philly Max" contract bust, to an aloof teammate, to an outright individual. He signed a five-year maximum contract in 2008 with the 76ers. 
Much was given to and expected of the New York native who came from the Western Conference back to the Eastern Conference, where his career began with the Bulls as the No. 1 overall draft pick in 1999.
It's extremely difficult for one to lead farther than he or she has gone. Brand has become a workout warrior and fit to lead the team. The true leader turns weakness into strength, obstacles into stepping stones and disaster into triumph.
Believe it, please, ladies and gentlemen; Brand is stepping up and earning his $17 million salary due in the upcoming season. May the triumphs continue
I want you, my dear readers, to continue to catch me. Find me next time on Lake's Philadelphia's L.A. Weekend Report.
Comment or contact Lake Cruise at lakecruise@att.net.