Kobe Bryant: Why Do His Contributions During Shaq's Lakers Era Get Overlooked?
August 31, 2011
Jed Jacobsohn/Getty Images
Next year will be the 10th anniversary since the Lakers' three-peat. Hard to believe we're that far removed from when summer parades were an annual thing to look forward to in Los Angeles.
With Shaquille O'Neal enjoying retirement and Kobe Bryant starting to exit his prime, enough time has passed to look back and appreciate what they did together as a mini dynasty.
Read that again. Appreciate what they did together. There's still a group of fans who want to give Shaq the lion's share of credit while minimizing Bryant as a sidekick.
Full disclosure. Shaq's my favorite NBA player of all time. I grew up watching him in Orlando and then enjoyed every minute of him in LA. So there's no scorn when I say that Kobe's contributions get overlooked first because Shaq was on another level.
His 2000 MVP season was one of the greatest in NBA history, and in those 2000-02 postseasons, he took it up higher.
You can't argue with a guy who averaged 29.9 points and 14.5 rebounds in those three championship runs. But Kobe Bryant wasn't just along for the ride and collecting rings. He had moments to shine that established his own legacy.
In the 2000 Finals, he won Game 4 by out-dueling Reggie Miller in overtime and hitting the go-ahead shot with 5.9 seconds left.  Not to mention his Game 2 game-winner in the Western Conference Semifinals or his role in the fourth-quarter comeback against Portland.
You can argue that Bryant was the 2001 postseason MVP as he set career highs in rebounds and assists as the Lakers steamrolled to the title with a 15-1 record.
The following year, Bryant hit a go-ahead shot to put San Antonio away in Game 4 of the Western Conference semis. In the Western Conference Finals, he set up O'Neal for the game-tying basket in Game 7.
Putting up 30 points, 10 boards and seven assists in a do-or-die game on the road didn't hurt, either.
Fans tend to be distracted by who wins the awards, but that doesn't tell the whole story. Shaq may have won the Finals MVP awards, but it was Kobe who won as many games down the stretch.
Critics of Bryant want to dismiss him because he wasn't the clear-cut leader. They want to call him the Scottie Pippen to Shaq's Jordan, Robin to his Batman.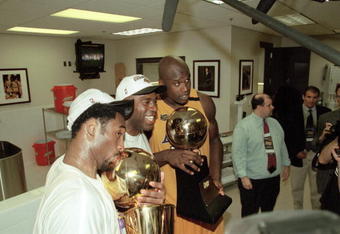 Jed Jacobsohn/Getty Images
Yet the problems with that argument are that, 1) It devalues Pippen, who did a bit of everything en route to being one of the better all-around players of the '90s, and, 2) It devalues Bryant, who did a lot more offensively than Pippen and was also one of the best perimeter defenders of that era (just ask Allen Iverson in 2000).
People who minimize Scottie Pippen's contributions when discussing Michael Jordan should remember one thing. Jordan needed Pippen as much as Pippen needed Jordan. Go watch those old Bulls teams when MJ put up all-around numbers but had nobody alongside him that was a feared threat.
There were games were Kobe supported Shaq. There were games were Shaq took a backseat to Kobe after setting the initial tone. 
In the fourth quarter, who do you think teams feared more? The guy the Hack-a-Shaq was created for or the clutch perimeter scorer who found ways to win ball games?
Both could take over when necessary, but unfortunately, not giving Kobe his equal credit in winning the three-peat is a byproduct of the time in which we live.
We live in an era that promotes individuals over group and collective efforts. In the last 10 years, we've seen it with not just sports, but music and entertainment. The last R&B/hip-hop group to make an impact? B2K, although the jury is out on Odd Future. The WWE hasn't had a great tag team in years and pop music is filled with individual stars.
Ultimately, Kobe gets overlooked because Shaq was such a dominant presence in 2000-02 and some fans choose to be ignorant of the full story. Folks can't credit both because they think someone has to take more credit when the facts say otherwise.
Kobe later proved his value by winning two more titles on his own, but it should validate exactly what he did half a decade prior with O'Neal. The Diesel may have been powering the ship, but Kobe was right there shouldering the load and then some.
Ten years later, it's easy to see that their equal partnership ranks up there with the best in NBA history, and no revisionist should ever tell you otherwise.