Chicago Bulls: Looking Back at the Michael Jordan Brand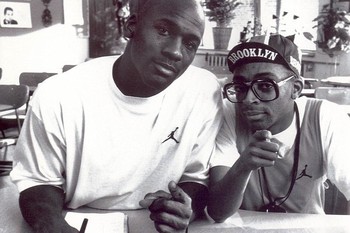 Every individual has a brand whether they like it or not. If you are a person who is chronically late for meetings or fails to show up to meetings, you are branded as not dependable.
We all have a reputation. Athletes rival world leaders when it comes to the creation and protection of their brand.
The following slides take a look at the Michael Jordan brand, by looking back at 1991 commercials.
I examine through commercials, how marketers took the Michael Jordan brand from the young upstart to marketing domination and how that spilled over on the basketball court.
1991 – Wheaties – Michael Jordan, James Worthy
Michael Jordan's young upstart days had passed. He was openly calling out competitors. He had the fire in his eye.
Looking for the first NBA championship in 1991, it didn't matter his opponent's training regime.
Even if they copied his training regime, he felt he had the extra to win.
This commercial sums up that brand. Wheaties hit a the jackpot in this ad.
1991 – Nike – Michael Jordan, Spike Lee – Is It the Shoes?
Michael Jordan left his opponents scratching their heads and powerless to stop him.
He left many asking if it was the shoes?
Something had to explain his extraordinary play. Nike raised the shoes as an issue, and this question stuck with a generation.
It captured what many thought when it came to Michael Jordan.
Many believed we were overlooking something trivial, and Nike tapped into our curiosity.
1991 – Nike – Michael Jordan, Spike Lee – Genie of the Lamp
If you were a young man or woman in 1991, this commercial captured one of your wishes if one found a genies lamp.
From ages 8 to 14, one would have tax problems if they were given large sums of cash. And, of course, driving was not an option.
Becoming Michael Jordan, however, could make the previous wishes of riches and cars come true. Great use of comedy and tapping into their audience at a deep gut level.
The funny thing about this commercial: We only saw Michael Jordan for less than five seconds.
1991 – Coca Cola – Michael Jordan
At the beginning of this ad, one would think E.T. was finally phoning home.
This ad connected the past with E.T., arguably one of the most successful movies in history, to Michael Jordan and the Coca Cola product.
This commercial set the template for Michael Jordan connecting himself to concepts that were previously successful.
This worked so well that even today when people talk about quality they'll say something is the Michael Jordan of whatever the subject matter is.
1991 – McDonald's – Michael Jordan
In this commercial, Michael Jordan didn't speak a word—he let his play on the basketball court speak for him.
He is known as a legendary trash-talker on the court. But a big part of the MJ brand is letting his play on the court speak for itself, and McDonald's taps into this. It works for them and the McLean deluxe.
1991 – Nike – Michael Jordan, Spike Lee – Do You Know?
I think that means he had great leaping ability. But when we are talking about Michael Jordan, it's best to call in the experts.
Again, Nike tapped into our deeply profound questions. But the NBA announcers at the time were about the same.
The Jordan brand was designed to create more questions than it answered.
Conclusion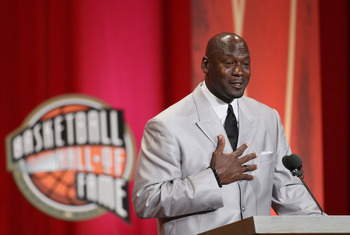 Jim Rogash/Getty Images
The guy in the picture above giving his Hall of Fame acceptance speech was the product of careful branding.
In many ways, the marketers responded to the products play on the basketball court and adjusted their ad campaigns accordingly.
1991 was a year of questions on a deep level, bold proclamations, calling out opponents and marrying the greatness of the past with the future.
Michael Jordan's play shaped the marketers, and that messages shaped his image.
Many believe he was shaped by marketers. These clips leading into his first championship show otherwise.
Keep Reading

Chicago Bulls: Like this team?